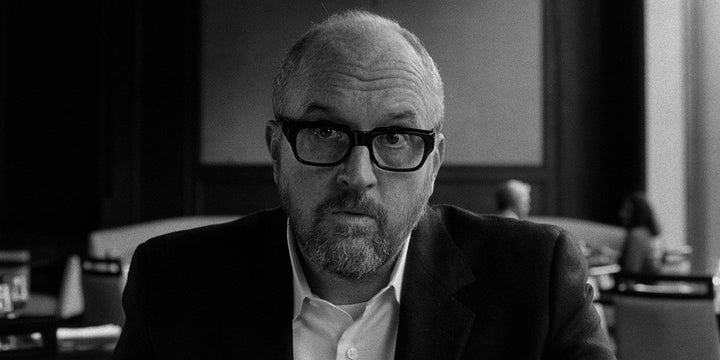 Louis C.K. knew this moment was coming. He must have.
Any Hollywood luminary with years of sexual predation rumors to his name, who then makes a movie about a Hollywood luminary with years of sexual predation rumors to his name, would have known this moment was coming.
What is "I Love You, Daddy," the project Louis C.K. filmed quickly and cheaply this summer? Is it his confession? His farewell? A misguided attempt at a public self-reckoning? A two-hour-long Freudian slip?
The allegations lodged against Louis C.K. ― first suggested in a blind item published by Gawker in 2012, and more recently investigated by The New York Times and published in a report on Thursday ― assume an even ickier subtext when held up against "Daddy." (Just putting the words "Louis C.K." and "daddy" in the same sentence feels vile.)
Not even the comedian's publicist knew Louis C.K. was making "I Love You, Daddy," until the Toronto International Film Festival added the movie to its lineup in August. Louis C.K. wrote and financed "Daddy," and shot it in June on a modest budget, casting himself as a successful television writer who idolizes an esteemed director (played by John Malkovich) long accused of pedophilia and child molestation. Who cares, Louis C.K.'s character, Glen, says in regard to this sordid backstage behavior; it's "just a story" ― until the director pursues Glen's 17-year-old daughter (Chloë Grace Moretz). Only then does Glen think twice about his hero. We often see this dynamic with men who invoke their female relatives to express concern about systemic harassment; it only matters when it's personal.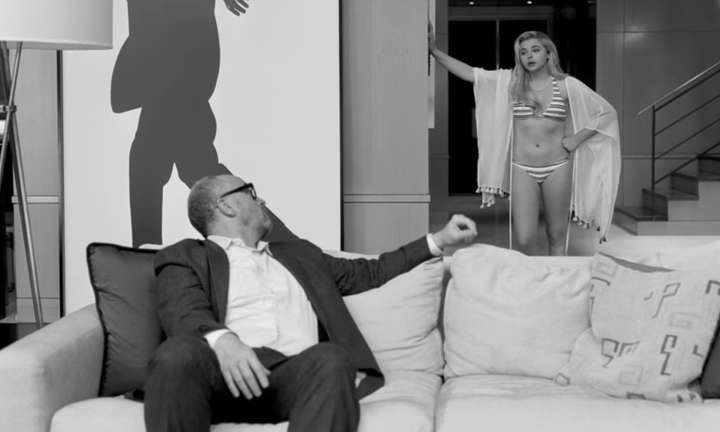 Yep, Louis C.K., whose stand-up sets regularly include jokes about rape, child molestation and masturbation, created a fictional manifesto about processing a public figure's sexual deviancy, years after he was first accused of jerking off in front of female colleagues and mere months before five women went on the record to confirm such accusations. (The incidents occurred between 2002 and 2005.) Furthermore, the film's lush black-and-white cinematography resembles that of "Manhattan," the 1979 comedy in which now-alleged sexual abuser Woody Allen cast himself as a television writer romancing a bright 17-year-old (Mariel Hemingway). The allusion is no accident.
As Louis C.K.'s career blossomed ― his FX series, "Louie," racked up a bevy of Emmy nominations, and he landed supporting roles in movies like "Blue Jasmine," "American Hustle" and "Trumbo" ― he evaded the allegations in defiant tones.
"I don't care about that," he told New York magazine in 2016.
"I'm not going to answer to that stuff, because they're rumors. If you actually participate in a rumor, you make it bigger and you make it real," he told The New York Times in September, when "I Love You, Daddy" premiered in Toronto.
In response to the Times' investigation, Louis C.K.'s publicist, Lewis Kay, said, "Louis is not going to answer any questions."
When HuffPost reached out for comment on Thursday, Kay said, by email, "In the coming days, Louis will issue a written statement." (Kay announced Friday that Louis C.K. was no longer his client.)
That statement was disseminated Friday afternoon. Louis C.K. finally acknowledged the accusations' veracity. "At the time, I said to myself that what I did was okay because I never showed a woman my dick without asking first, which is also true," he wrote. "But what I learned later in life, too late, is that when you have power over another person, asking them to look at your dick isn't a question. It's a predicament for them. The power I had over these women is that they admired me. And I wielded that power irresponsibly."
As many critics have noted in their reviews, it's hard to parse the self-awareness of something like "Daddy." Glen eventually attempts to impart upon his daughter why her relationship with the director shouldn't continue, in turn evoking cultural conversations surrounding industry fixtures like Roman Polanski and Woody Allen, the latter of whom directed Louis C.K. in "Blue Jasmine." (As recently as September, during an interview with Uproxx, he said he still "keep[s] in touch" with Allen.)
What cause would someone accused of unseemly behavior toward woman have to make such a movie, if not to induce queries about his own sleazy reputation? Knowing that Louis C.K. had, for years, hatched plots and punchlines about sexual misconduct ― in 2014, a hot-button episode of "Louie" depicted an attempted rape ― erases the already vague line that separates this artist's personal life from his art, as his "Daddy" character attempted to do for the auteur he worshipped. Louis C.K.'s work was informed by his own wrongdoings. He'd handed us all the clues.
Was Louis C.K. baiting us with "I Love You, Daddy"? Was he coaxing us to probe his past? Was it a dare?
After all, it's not as if he were merely adding another title to his illustrious big-screen catalog. He hadn't helmed a movie since 2001′s dumb "Pootie Tang."
Whatever his motive, the whole endeavor reads like a macho ego trip. Either he was telling the world, simply, "You can't stop me now." Or, knowing the truth would emerge soon enough, he persuaded indie distributor The Orchard to shell out a sizable $5 million for the rights to a personal therapy session. Plenty of qualified filmmakers who know how to keep their genitals covered when appropriate will never land a deal like that.
"It's a multi-layered comedy that tackles provocative issues head-on, combining a style that shows a clear passion for cinema with Louis' singular voice," Danielle DiGiacomo, The Orchard's vice president of acquisitions, said in a statement in September. "We are thrilled to start this journey with Louis and bring his film to audiences worldwide."
Oh, OK, sure, that works, if "multi-layered comedy" is code for "movie in which Louis C.K. has Charlie Day's character pantomime jerking off in front of colleagues and Rose Byrne's character explain why adults fornicating with teenagers maybe isn't so bad, before ultimately arriving at a moral posture best summed up as, 'Well, it's complicated.'"
The Orchard canceled the movie's New York premiere on Thursday, just a few hours before the Times report was published. The company, which said it was "giving careful consideration to the timing and release of the film and continuing to review the situation," announced Friday that it will no longer distribute "Daddy." Too late: The Orchard's general endorsement of Louis C.K. had already been granted. "I Love You, Daddy" is a provocation, full stop, a predator's demonstration of the very power he now stands accused of exploiting. Whatever his exact design, Louis C.K. knew what he was doing ― even if, in his words, it's "just a fucking movie."
Popular in the Community