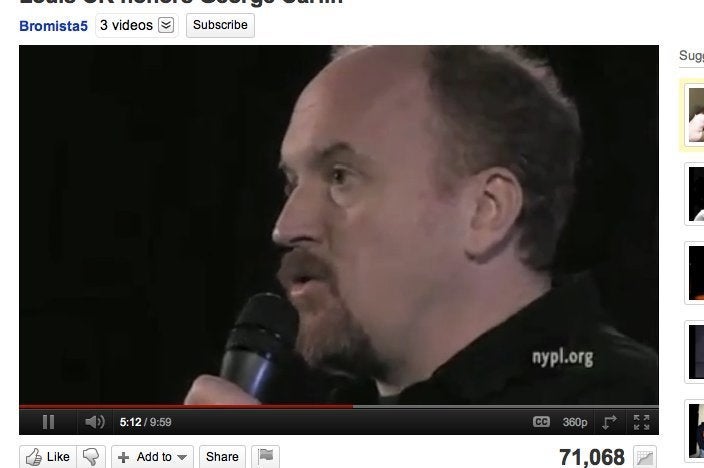 After spending 15 years doing essentially the same hour of stand-up comedy, Louis C.K. decided to throw it all out and start over. Not just once, but every year. It's the comedy method that birthed the universally acclaimed "Louie" and skyrocketed C.K. to the status of comedy legend.
It turns out that another comedy legend is responsible for fixing C.K.'s act: George "Seven Words You Can Never Say on Television" Carlin. In the video below taken at a 2010 tribute to Carlin that was just uploaded to YouTube, you can hear 10 minutes of C.K. talking about the profound effect Carlin had on him as a child and throughout his comedy career.
Things get emotional as C.K. discusses the most despereate parts of his career, including performing comedy in a Chinese restaurant to a begrudgingly captive audience, and how he wished he could be like Carlin and do new albums and specials every year -- all of them brilliant. It wasn't until much later in his career that C.K. would get the important advice from Carlin to throw out all of his material every year and start fresh:
"He gave me the courage to try," C.K. said. "And I thought, well OK, when you're done telling jokes about airplanes and dogs and you throw those away, what do you have left? You can only dig deeper, start talking about your feelings and who you are."
Watch the full clip below to hear the rest of Carlin's impact on Louis, who gives him full credit for turning his act around and obviously misses his mentor dearly.
"I'm doing exactly what he taught me to do," C.K. said.
Calling all HuffPost superfans!
Sign up for membership to become a founding member and help shape HuffPost's next chapter