The disgraced comedian popped into the club for a surprise set on Sunday night for the second time since last fall, when he admitted to sexual misconduct, and HuffPost spoke to two people who were in the audience.
"When [Louis C.K.] got up he expressed gratitude for the cellar/audience having him, and that he knows not everybody is happy about him performing," James Richards wrote in an email, adding that the comedian never specifically apologized or addressed his sexual misconduct against a number of female comedians.
Another person at the show, who asked to remain anonymous because the individual did not want attention, corroborated that account, saying that Louis C.K. "made a joke about how it wasn't 'unanimous' that people were excited to see him."
"He talked about how he took a 'really long break' and was coming back now, but beyond those two mentions, didn't really acknowledge his past / the allegations," wrote the audience member via email.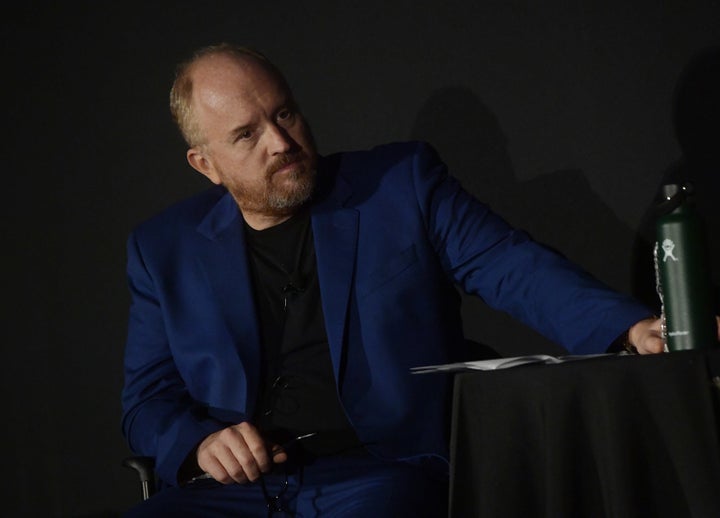 As for his latest set, there have been conflicting reports about whether anyone walked out. Page Six reported that two women walked out, but Richards told HuffPost that as far as he knew, "nobody left." The other audience member HuffPost spoke to said the same.
Comedy Cellar owner Noam Dworman told HuffPost last month that the club would "institute a new policy" allowing any audience members who weren't pleased with a comedian onstage to leave without having to pay their checks.
"Essentially, swim at your own risk. We don't know who may pop in that's not on the lineup. If someone does come in that you don't want to see, you are free to leave, no questions asked, and check completely on the house," he said at the time. "Having said that, we don't expect Louis back anytime soon."
Signage at the club and emails received by the two individuals HuffPost spoke to indicate that Dworman followed through. On Louis C.K.'s cropping up yet again, Dworman simply said that he stands by the opinions he expressed in an interview he did with The Hollywood Reporter last month.
Richards said that Louis C.K. seemed "very nervous at first" and that his jokes included quips about "his kids, his physical health, a story of watching a professional ice skater dying during an act" and "a surreal and wacky bit about a freaky Friday scenario."
The other audience member said one of the jokes about his 9-year-old daughter "made people uncomfortable."
"There were a few jokes that I thought made people uncomfortable mainly because of the context," the person said.
"One was a joke about taking his 9 year old daughter to Old Navy and seeing that they have boyfriend shirts for 9 year old girls, and then graphically describing, 'Oh, is my 9 year old supposed to be f-ing her boyfriend all night and taking his shirt?' and another was about how much he liked 'his doctor touching him.' He had a Freudian slip, saying 'I love it when my father touches me' (instead of doctor)."
That audience member said that despite the laughter and applause Louis C.K. received, others there said the set made them feel "some discomfort because of his past and how some of his jokes kind of [came close to] the line."
"I talked to a few women sitting near me afterwards, and they described a similar sense of tenuous discomfort, like, 'Is it OK to laugh at this?' especially some of the edgier jokes."
To that, we have to say we're still not sure.
Popular in the Community