Monday night, Caroline's in New York hosted FX's premier of "Louie," the Seinfeld-esque series by Louis C.K., that follows his life in New York, going through a divorce and raising two young daughters. The show relies on gag-riddled skits to show the awkwardness and abuse that comes with making this major life transition, but only succeeds when Louis C.K. goes Norman Lear on us, tapping into the times as the legendary producer did with Archie Bunker and "The Jeffersons."
Case in point from "Louie": Over a game of poker with the guys, Louis C. K. asks his friend, a comic who is gay, whether he's offended by the word "faggot." The man pauses, and says no, then goes on to gently explain how "faggot" was the British word for kindle during the Middle Ages, and that when they burned witches, they burned homosexuals too but did not bother with the stake, and instead threw them on the faggots. Then someone makes a stupid joke to break the tension. Just like Louis C.K. in one skit moves all the white children away from the windows when the school bus for the field trip he's chaperoning breaks down in Harlem, he's only engaging when he's poking political correctness in the face.
His stand-up, which opens each episode, airs the same frustration that makes "The Daily Show" and "Real Time with Bill Maher" huge hits and news sources. I hope "Louie" evolves to rely less on gags--(an awkward date bails on him by escaping into a waiting helicopter)--and tells us more about the Jamaican lady, the only adult watching over all the kids at his daughters' public school. Just like his stand-up on "The Daily Show" sent waves through the blogosphere, Louis C.K. succeeds when he gets social, doing things like pissing off the Catholic Church. In the gaggy stuff punctuating his post-divorce dating and Facebook searching, he tends to sport a blank, helpless expression when there's a political she-cat under there that we, as an audience, and a society on the brink, need to take the lead.

SmallScreenScoop.com has clips of the show's premier. "Louie" premieres on FX this Tuesday, June 29th, at 11 PM ET/PT.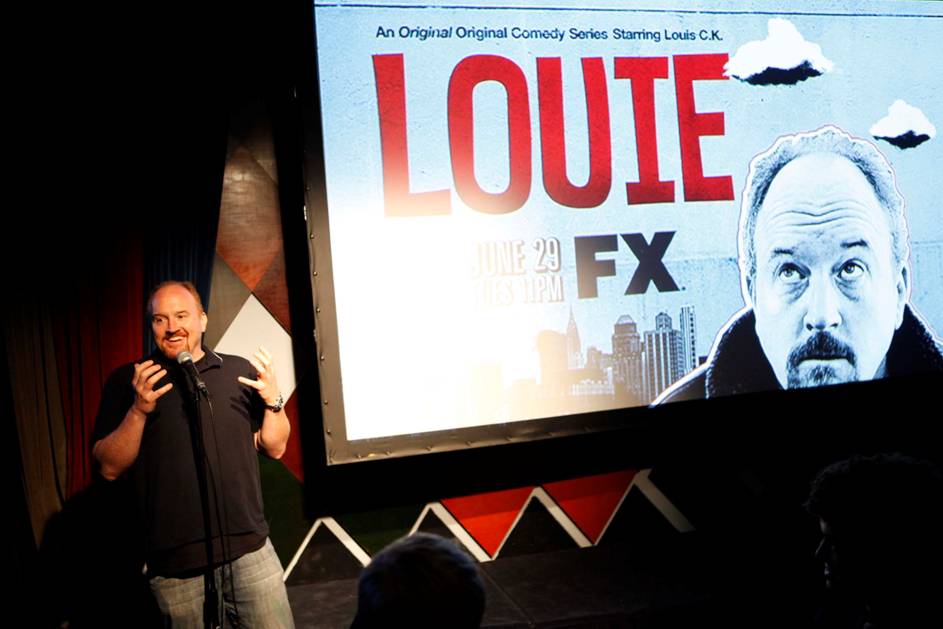 Popular in the Community