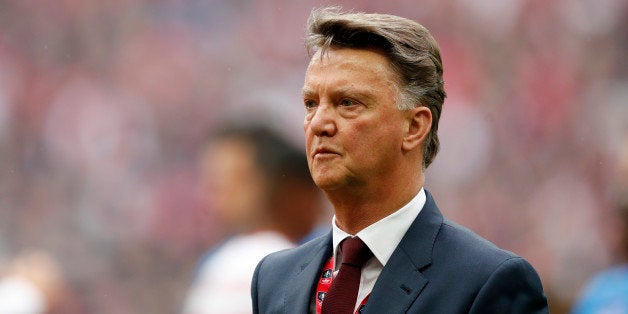 It seems that Louis van Gaal's Army has been decommissioned. Unfortunately for the Dutchman, his reign at Manchester United has been fraught with fan mutiny, media scrutiny and a board that has apparently been dishonest with him for months.
United's supporters at Old Trafford booed him during his end of year speech at their last home game victory against Bournemouth where he promised to bring home the FA Cup trophy for the first time since 2004, which, he did. Winning silverware was not enough to keep him in the United job, though he was convinced it would be until Sunday night, when Executive Vice Chairman Ed Woodward delivered the news to van Gaal at his Cheshire home.
LVG was rightfully upset at the way this whole thing went down. Jose Mourinho's agent, Jorge Mendes, leaked that LVG was to be fired Monday to the press immediately after United's victory in the FA Cup Final Saturday evening, before the United boss could even get his hands on his winner's medal. That is typical Mendes -- leaking information to undermine both the incumbent and also embarrass the club in the process. According to reports, the deal to hire Mourinho had already been in place for several weeks before the FA Cup final, but Woodward and the American owners of Manchester United, the Glazers, never told van Gaal.
It was typical backroom dealing and disloyalty to a manager who has won 20 medals in four countries and United's first since Sir Alex Ferguson retired in 2013. United has now become a club that hires and fires managers freely, which is not a recipe for sustained growth and success. Van Gaal deserved more time at United. Here's why.
After being appointed manager of United in May 2014 following the disastrous run of David Moyes' spell in charge at Old Trafford, he was touted as a "tactical genius" by the BBC, the United Board, and Sir Alex himself. This is the man who led clubs like Ajax, Barcelona, AZ Alkmaar, Bayern Munich, and the Netherlands national team on two successful occasions. He won trophies with every team he managed (save the Dutch national side) and his tactical formations became the envy of Europe's major football clubs. His ability to coach his team to use a 5-3-2 and then shift into a 4-2-3-1 mid-match, to dominate possession and completely control a match won him praise from fellow managers and players alike. Jose Mourinho was his apprentice at Barcelona in the 1990's and some elements of 'The Special One's' style are remnant of van Gaal's reign at the Catalan giants.
United fans, however, never grew comfortable with his style of play. Under Ferguson, United relied on fast paced wingers (think Ronaldo, Cole and Giggs) to carry out a fast-paced attack that would out-manoeuvre and defence with its pace. United fans have always wanted their side to attack furiously and score lots of goals. Van Gaal's style is more measured and meticulous. It was enough to have upwards of 70% possession, one or two goals and deny the opponent and chances to win a game, hence, United having the second-best defensive record in the Premier League for two seasons in a row (both under LVG). Fans and pundits alike complained that watching United play in this new style was "boring" and "mechanical" but it brought results.
In the 2014-15 season, United finished 4th, securing Champions League football and improving from its 7th position the year before. United had two six-match unbeaten runs and were in 3rd position for much of Spring 2015, narrowly slipping to 4th after 3 consecutive defeats in April.
The 2015-16 season also began strong. Between August and November, United fluctuated between 1st and 4th, retaining a top 3 position for five weeks between 12 September and 17 October. It all went wrong for United at the end of November, however, went United dropped from 2nd to 5th, then down to 6th after drawing or losing 6 consecutive matches between Leicester on 28 November and Chelsea on 28 December. 17 of United's 23-man strong first team picked up injuries and United remained out of the top 4 for the rest of the season, despite beating Arsenal, Manchester City and drawing with Leicester.
If Champions League is the target, then van Gaal fell short. United have secured a Europa League place, meaning an exemption from qualification matches, but the coveted top-flight of European football is out of reach. Even though this is certainly disappointing, do the board and the owners want to compete in the UCL for the football or for the money it brings to the Club with TV spots and merchandise sales? Yes, we should be good enough to play against Bayern, Barcelona, Real Madrid, Juventus and the like, but we won the FA Cup! That's not nothing.
But here's the thing. There is more than one way to lead Manchester United to title success. As United supporters, we often fall into the dangerous line of logic that Fergie's way is the only way to win and point to his success over 27 years as evidence. But here's the hard truth. Fergie didn't come in and start winning trophies immediately either. In fact, van Gaal won his first trophy with United a full season before Sir Alex ever did and did it with arguably less talent and more issues (not to mention less fan support). Ferguson is a god among mortals in the footballing world, sure. But his styles and methods are not the only way to win. That's why he enthusiastically backed van Gaal to become manager in 2014. He saw potential in him.
Others have questioned the signings and releases of van Gaal over the years. Angel di Maria and Rademel Falcao are two examples of signings that didn't work out. LVG demands a lot from his players, specifically in training, where the sessions are often rigid and involve studying their opponents on tape in team meetings. Van Gaal was critical of Di Maria and Falcao after United released them saying they were not focused or dedicated to the Club's methods. Players need to follow their manager's methodology to be part of the team. It's that simple. Letting go Robin van Persie, Javier Hernandez, Nani, Silva and Evra, as well as others, has also been criticised by van Gaal's detractors as evidence of his misunderstanding United's needs.
United needed to bring in new talent. Van Persie was 31, Hernandez had really never thrived under Ferguson or Moyes, Nani lost a step and Evra had been with the club for a long time. Selling Evra to sign Luke Shaw was a great move. Despite injuries this season, Shaw has played incredibly well for United and should be the team's starting left-back when he's fit. Selling RVP and Nani to Fenerbache and Chicharito to Bayer Leverkusen allowed the board to buy Herrera, Schneiderlin, Martial, Depay, Schweinsteiger, Blind, Rojo and Darmian. Van Gaal was building the team he wanted and when this team was 100% fit, it was competing in the top 3 of the Premier League. United fans are quick to forget that.
Sure, Rojo and Memphis have not been the most consistent or successful signings United have ever had, but what's to say that Depay cannot become the next Pogba, who Ferguson sold to Juventus on a free transfer in 2012? Look at how that turned out. Van Gaal said very often that United are a team in transition and that's 100% true. After Moyes, the team needed rebuilding- perhaps it needed to be rebuilt even in the last years of Alex Ferguson. Success was possible, especially after lifting the FA Cup trophy last weekend. The transition was not totally complete.
Lastly, LVG's use of young players fit him in line with United's tradition of moulding players through the Academy right up to the first team. Under Ferguson, this was clear. The Class of '92 or Danny Welbeck, for example. This season, we had the likes of Jesse Lingard, Cameron Borthwick-Jackson, Tim Fosu-Mensah, and the star man, Marcus Rashford. Van Gaal has always given youth a chance throughout his career (which is why the Dutch FA offered him a job developing young players in the Netherlands, which he turned down thinking he would remain at Old Trafford). LVG even went so far as to use young players at United as centrepieces of his squad. Rashford would assume the lone striker position, and Mata, Rooney and Martial would flank him and provide through balls for him to take to the opposition and tear apart. Jesse Lingard came on as a sub during the FA Cup Final for the more experienced Mata who had already equalised in the 83rd minute. Many were critical of this decision, until Lingard fired home the winner in the 111th minute in the second half of extra time. Van Gaal has probably never run as fast in his life as he did when he sprung off the bench and into the technical area to celebrate the young Mancunian's title-winning shot. Louis van Gaal loves young players; he loves developing them, loves coaching them, and certainly loves to see them score.
Here's the bottom line: Louis van Gaal is a masterclass manager and has been for over 20 years at some of the world's biggest clubs. He is a brilliant tactician and is a savy coach. Sure, some of his antics may be a bit quirky and if a player isn't performing to his standards, he may call them out publicly in an effort to spurn them towards a better attitude and greater effort. He's a bit unorthodox and can come off as dry and impersonal. But he's none of these things. The people who know him best admire him and those who have only been given the chance to know him for the past two years in the United dressing room will appreciate him for his dedication in the face of adversity and drive to lift the FA Cup, which he did. United will not be the same under Mourinho. He will not give youth the chance it deserves, he will "park the bus" against big squads and likely cause more controversy with the players and staff like he did at Chelsea this season. Van Gaal is a professional, and he deserved to see out his contract rather than be sacked by the Club in such a dishonest manner and attacked by the media day in and day out amidst rumours leaked by Mendes and the Club. He deserved better.
Calling all HuffPost superfans!
Sign up for membership to become a founding member and help shape HuffPost's next chapter