No one can ever accuse Marc Jacobs of running late ever again. Earlier today at the Louis Vuitton Spring/Summer 2011 show, the American designer fooled the fashion world by not only running on time but starting earlier than planned. At 2:29pm (the show was slated for 2:30pm), the lights went dark at the Carree du Louvre, steps from the grand pyramid on Rue de Rivoli forcing editors to scramble to find their seats in the pitch black venue. Some stragglers were still left standing as the first model traipsed down the black marble runway while others plainly missed the show.

For early birds, there were leaflets handed out on each seat bearing a quote from writer Susan Sontag reading, "The relation between boredom and camp taste cannot be overestimated. Camp taste is by its nature possible only in affluent societies, in societies or circles capable of experiencing the psychopathology of affluence."

So is Marc Jacobs bored? That might explain the explosion of campiness and glamour overdrive on the runway. From the taxidermied tigers donning jewel-encrusted chokers to a gold and black zebra print curtain under which the models appeared, this show was certainly about animalistic ferocity and excess.

In the tradition of Studio 54 with a dose of Boardwalk Empire, the collection celebrated two different golden ages with equal fervor. This meant ornate silk chinoiserie suits, over-sized sequin obis and voluminous silk jumpers a la Bianca Jagger in rich tones of aubergine, turquoise and gold. Not to mention the tassels! Fringe was ubiquitous on everything from earrings to culottes. But perhaps the most memorable part of the show was Jacobs' set of cheeky animal prints from tiger-printed jackets, zebra capes and giraffe pantsuits. Was he serious or poking fun at our society's tendency for lavishness? Only Mr. Jacobs knows for sure.

As editors were left pondering the panda blouse fashioned out of white and black sequins, grunge-chic icon and former supermodel Kristen McMenamy appeared at the top of the catwalk in nothing but high-waisted tuxedo pants and a bare torso, hand-painted to resemble a shimmering zebra (thanks to the genius make-up by wunderkind Pat McGrath). Leave it to Marc Jacobs to sending his models down the runway without clothes. From the applause at the riveting finale, it looks as though Mr. Jacobs remains king of his jungle once again.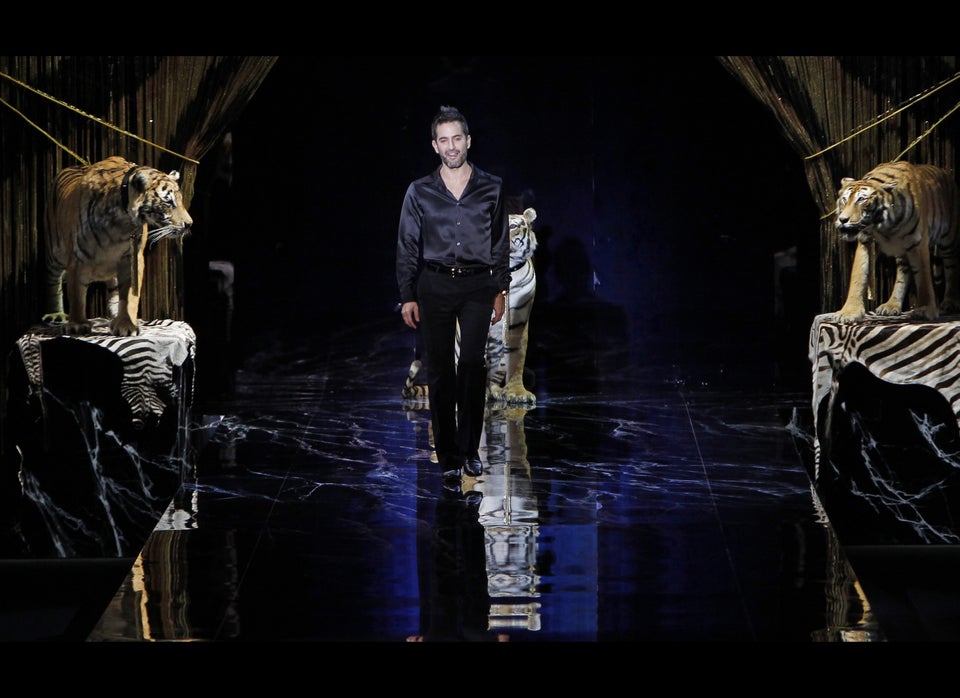 Popular in the Community