Louis Wade Sullivan, the only African-American to serve as a cabinet secretary under former President George H. W. Bush, said Wednesday that he's crossing party lines to endorse the Democratic nominee for president, Hillary Clinton.
"I'm an American, and I'm concerned about my country," Sullivan told The Huffington Post. "Though my enthusiasm for Hillary Clinton is somewhat tempered, I certainly believe she is an infinitely better choice for president than Donald Trump."
Sullivan, who was health and human services secretary throughout Bush's presidency, said he has not publicly supported a presidential candidate since he left his cabinet position in 1993.
He described himself as a lifelong moderate Republican, with the exception of a vote for John F. Kennedy in 1960. Sullivan was honored in 2014 at a Republican National Committee event saluting the party's black trailblazers.
Sullivan praised Clinton's experience and temperament and shared a laundry list of concerns about GOP presidential nominee Donald Trump, from his polarizing rhetoric to his unwillingness to release his tax returns.
"He has impressed me as someone who is unstable, who regularly changes his mind, who has not articulated a clear underpinning for the policies that he has espoused," Sullivan said.
"I'm concerned about his attitude toward minorities," he added. "His statements against Mexicans I find repulsive; the same of his statements toward Muslims and his ridicule of women. I want to have a president that I can be proud of."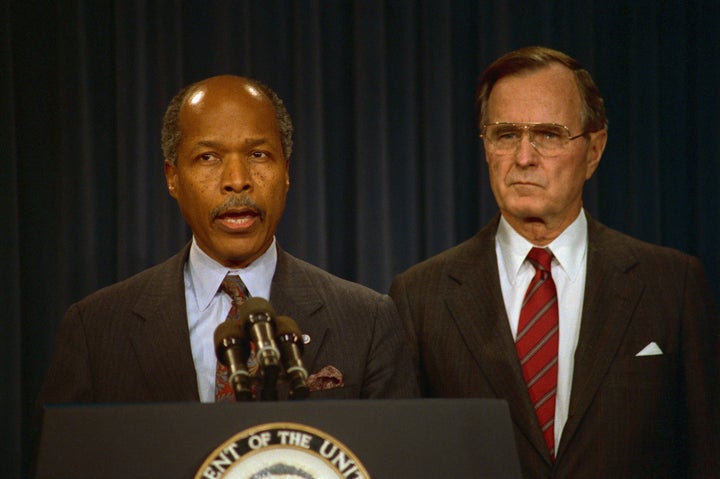 In 1975, Sullivan founded the Morehouse School of Medicine, now one of the country's leading medical schools for black students. Asked about Trump's recent efforts to woo black voters, Sullivan was unimpressed.
"I see them as very superficial," he said. "They don't convince me as being genuine. He's said that blacks don't have anything to lose if he was president. Well, I'm interested in: What do they have to gain? He has not articulated that."
"Both Clintons have worked over the years with the black community on a number of issues, so I have every confidence that their relationship is genuine," Sullivan added. "On the other hand, I'm not aware of anything that Trump has done positive with the black community."
Of the cabinet secretaries who served under the last Republican president, George W. Bush, nine have endorsed Trump while seven have said they will not support the GOP nominee, according to a tally by HuffPost. Another 18 have not publicly declared a position on either candidate.
Steve Preston, a Republican businessman who headed two federal agencies under the younger Bush, told HuffPost that he remains undecided.
"I think both Trump and Clinton have pretty significant policy positions that would be out of line with my thinking and I'm really looking forward to listening to the debates," he said.
Preston bemoaned what he described as a lack of specificity from the major candidates on the economic issues he cares most about, particularly regulatory, tax and trade policy.
"I think the whole debate has gone toward rhetorical, emotional sound bites on both sides," he added.
Preston acknowledged both candidates have been heavily critical of the type of free trade agreements he supports, although he sees opportunities for deal-making under a President Trump.
"If Trump wins the presidency, and you've got a Republican legislature, there are a lot of things that can happen," he said. "There's a lot of horse-trading that can happen when you've got people of the same party in both branches of government to move things across the line."
"I do not know what I'm going to do when I walk into the voter booth," Preston added. "I have three voting-age children who ask me every other day what I think they should do. I honestly don't know."
Popular in the Community