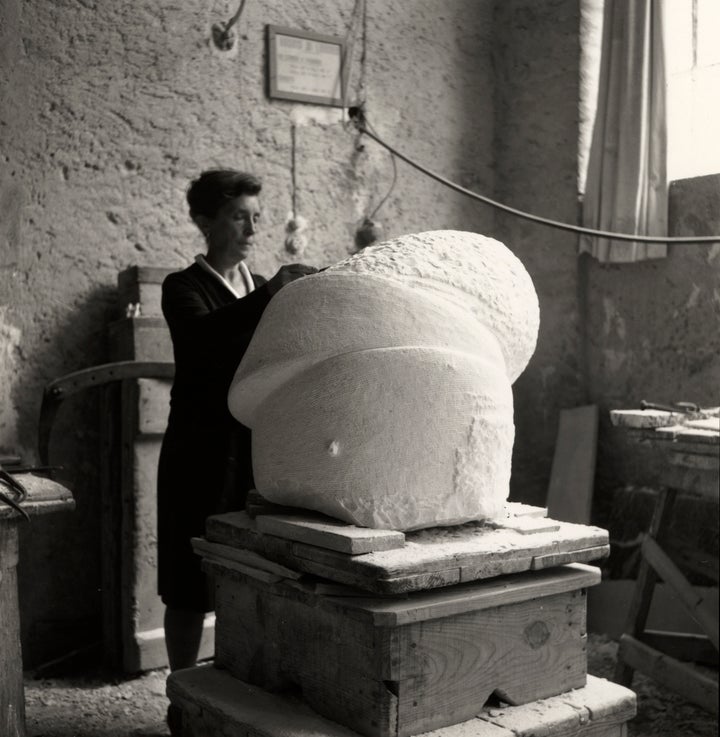 Louise Bourgeois created haunting sculptural forms inspired by femininity and domesticity. But through her touch, these 'soft' subject matters morph into twisted sites imbued with dark emotions.
She is most well-known for her 30 foot sculpture of a spider entitled "Maman" (French for "Mama"). Her works, grotesque yet witty, bridged surrealism and minimalism. Bourgeois was born in Paris in 1911, and passed away in 2010; just like that, almost a century's worth of secrets, knowledge and artistic innovation disappeared.
Bourgeois referred to childhood trauma as a source of both disturbance and inspiration throughout her adult life. Specifically, she was continuously haunted by her father's affair with Bourgeois' childhood tutor when she was 11 years old. She told the Washington Post "You see, I always hated that woman... My work is often about murder."
In turn, Bourgeois is regarded as the founder of confessional art. Although some of her works come off as abstract, most refer directly to her own complex emotions and complicated past. "My work is a form of psychoanalysis," she said to the Los Angeles Times. "It is a way of coming to grips with my anxiety and fears. It is an attempt to be a better person." Though she kept it a secret, she underwent psychoanalytic therapy for three decades. Parallels between the Freudian psychological method and Bourgeois' craft is strong; both involve heavy emphasis on childhood events and the ritual of confession.
The exhibition "Return of the Repressed" will feature Bourgeois' psychoanalytic musings alongside her artworks. They will be appropriately shown at the Freud Museum, the final home of Sigmund Freud and his daughter Anna. Almost 50 original manuscripts will be on view for the first time, including sketches, notes, dream recordings, lists and drawings.
The exhibition will bridge the ideas of trauma and creation, as well as provide a new lens through which to examine a groundbreaking artist whom we dearly miss.
"Return of the Repressed" will show at the Freud Museum, London until May 27.

See a slideshow of her work below, and let us know what you think in the comments section.
REAL LIFE. REAL NEWS. REAL VOICES.
Help us tell more of the stories that matter from voices that too often remain unheard.
BEFORE YOU GO