Like many artists before her, and many artists after her, Louise Bourgeois felt comfortable in the murky territory of contradictions.
Her famously monstrous spiders, scattered in public spaces across the globe, toe the line between maternal and malevolent. Their spindly bodies make us fear them, while their nested egg sacks remind us that they're meant to be mothers. Her smaller sculptures -- bulging bronze, fabric and marble figures -- are equally contrary. Some seem phallic, others innately feminine, yet most bottle both inside. Hard materials were made to look like liquid, soft forms were made to appear ceramic or bone. "Louise was a complex puzzle of a thousand pieces," her longtime assistant Jerry Gorovoy wrote in 2010. "There was a split in her psyche, as if her past with all its demons kept returning to invade the present."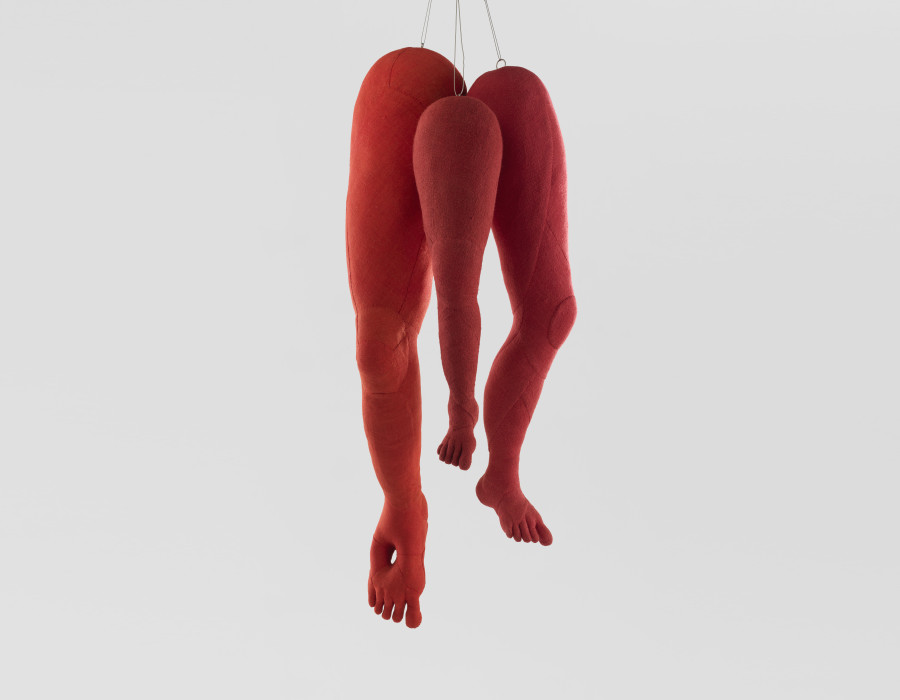 Louise Bourgeois (1911 - 2010) LEGS 2001, Fabric, 76 x 34 x 22 1/2 inches, 193 x 86.4 x 57.2 centimeters
Bourgeois and her contradictions have made a reappearance in New York City this season. In a show titled "Suspension," the Manhattan gallery Cheim & Read presents a collection of her hanging sculptures, crafted out of everything from old clothing to urethane rubber to aluminum. Over four years after the French-American artist's death at age 98, the exhibition details the visual psychology hidden behind four and a half decades of Bourgeois' art and life.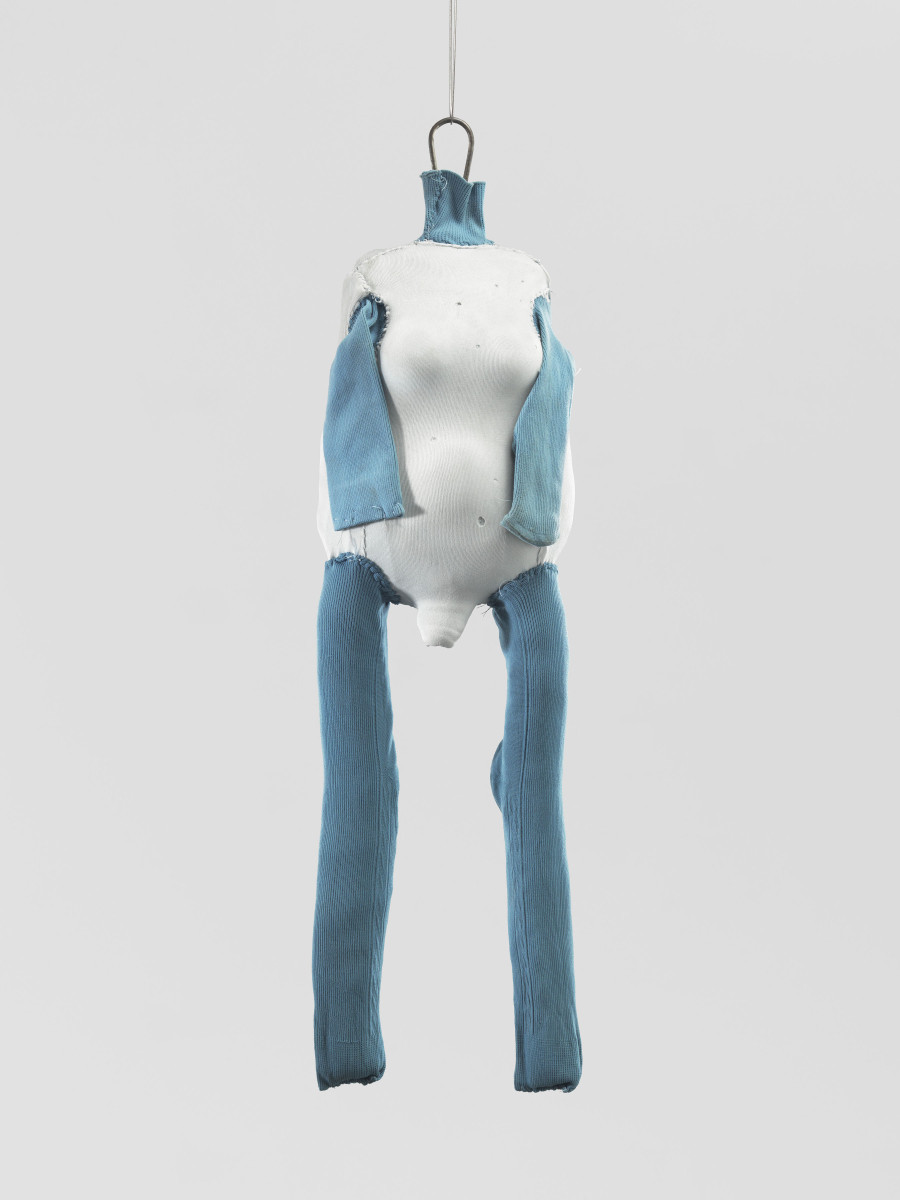 Louise Bourgeois (1911 - 2010) UNTITLED 1995, Fabric, 20 x 7 1/2 x 6 inches, 50.8 x 19.1 x 15.2 centimeters
As the titled suggests, every piece on view in "Suspension" is, well, suspended. There are no pedestals needed -- Bourgeois' hulking works dangle from the ceilings, twisting and twirling precariously in each room. Gazing upon the works, a viewer feels the massive weight hovering before them, appearing both powerful and vulnerable at the same time. The steel hooks and tethers are sinister -- conjuring visions of hanging bodies. Of course, they're life-giving too. Connecting the art to the architecture of the space, like -- as the gallery notes -- an abstract umbilical cord. The dualities continue.
"Horizontality is a desire to give up, to sleep," Bourgeois once explained. "Verticality is an attempt to escape. Hanging and floating are states of ambivalence."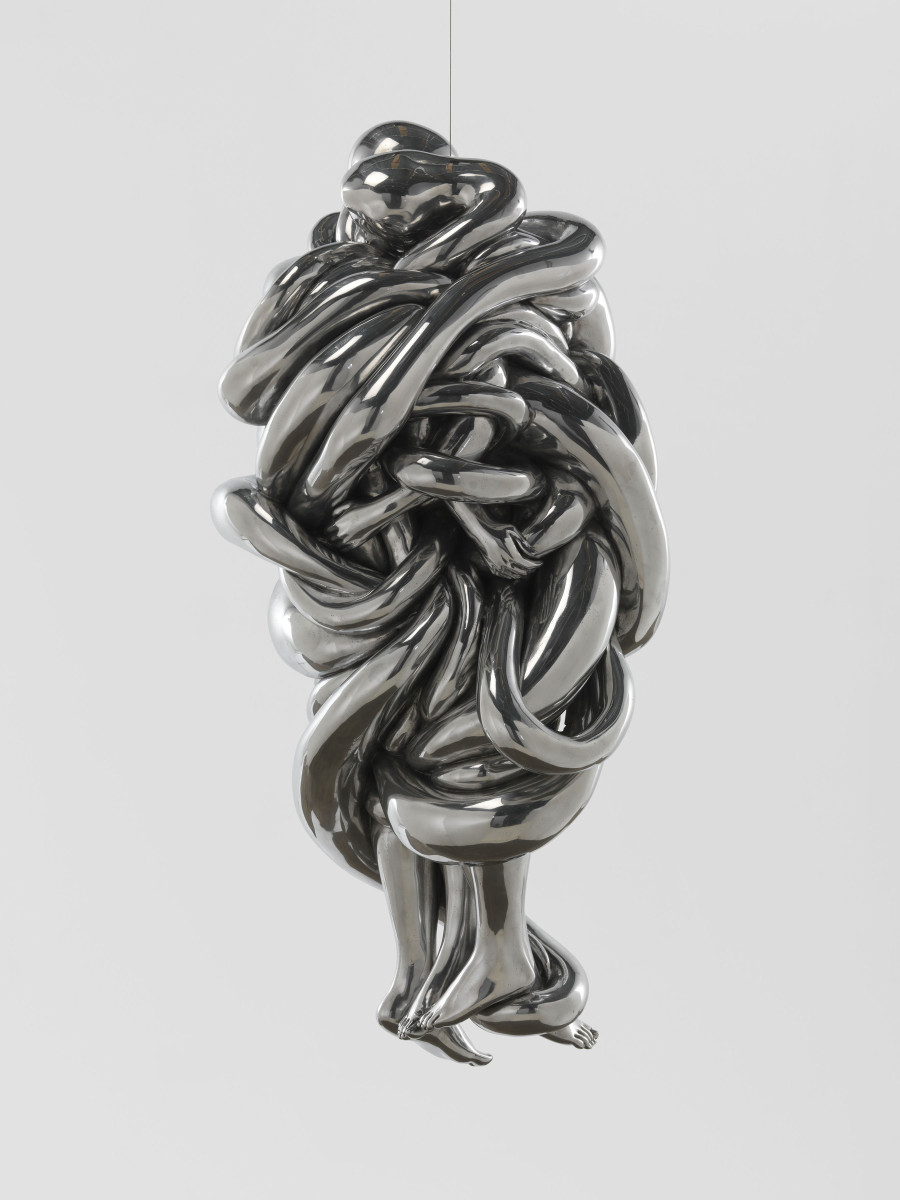 Louise Bourgeois (1911 - 2010) THE COUPLE 2007-09, Cast and polished aluminum, 61 x 30 x 26 inches, 154.9 x 76.2 x 66 centimeters
There's no escaping the contradictions when it comes to "Arches of Hysteria." According to Gorovoy, Bourgeois was captivated, if not enraged by the archetypal image of a hysterical woman, enveloped in a sometimes violent state of anxiety. The once-common and often sexualized diagnosis, female hysteria, is no longer accepted as a medical condition, but throughout the years Bourgeois underwent psychoanalysis, the concept Freud dubbed "anxiety neuroses" remained attached to the female body.
In response, Bourgeois renders hysteria male. Her 1993 figure attaches to the ceiling via the pelvis, its arched back bending to the floor. The polished bronze allows the viewer to see his or her reflection, mirrored back in every crevice of the body.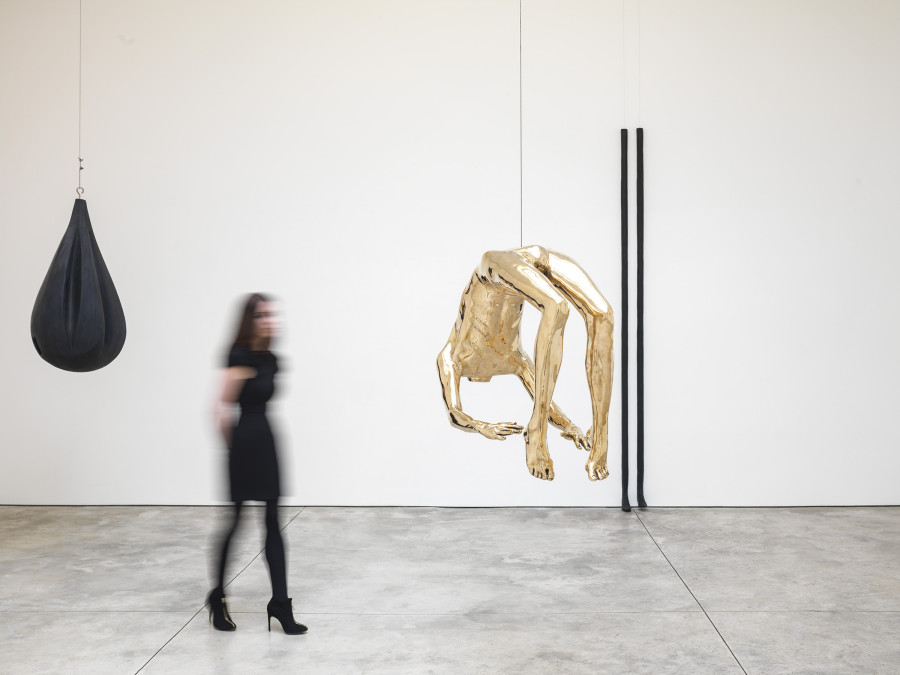 "A grand range of LB's work still provides a kick in the eye that contravenes settled opinion, perhaps none more so than her suspended sculptures," Robert Pincus-Witten writes in an essay catalogue for the exhibition. "LB's dangling works, her 'mobiles' so to speak, are all psychological content."
"Louise Bourgeois: Suspension" will be on view at Cheim & Read until January 10, 2015. See a preview of the works below.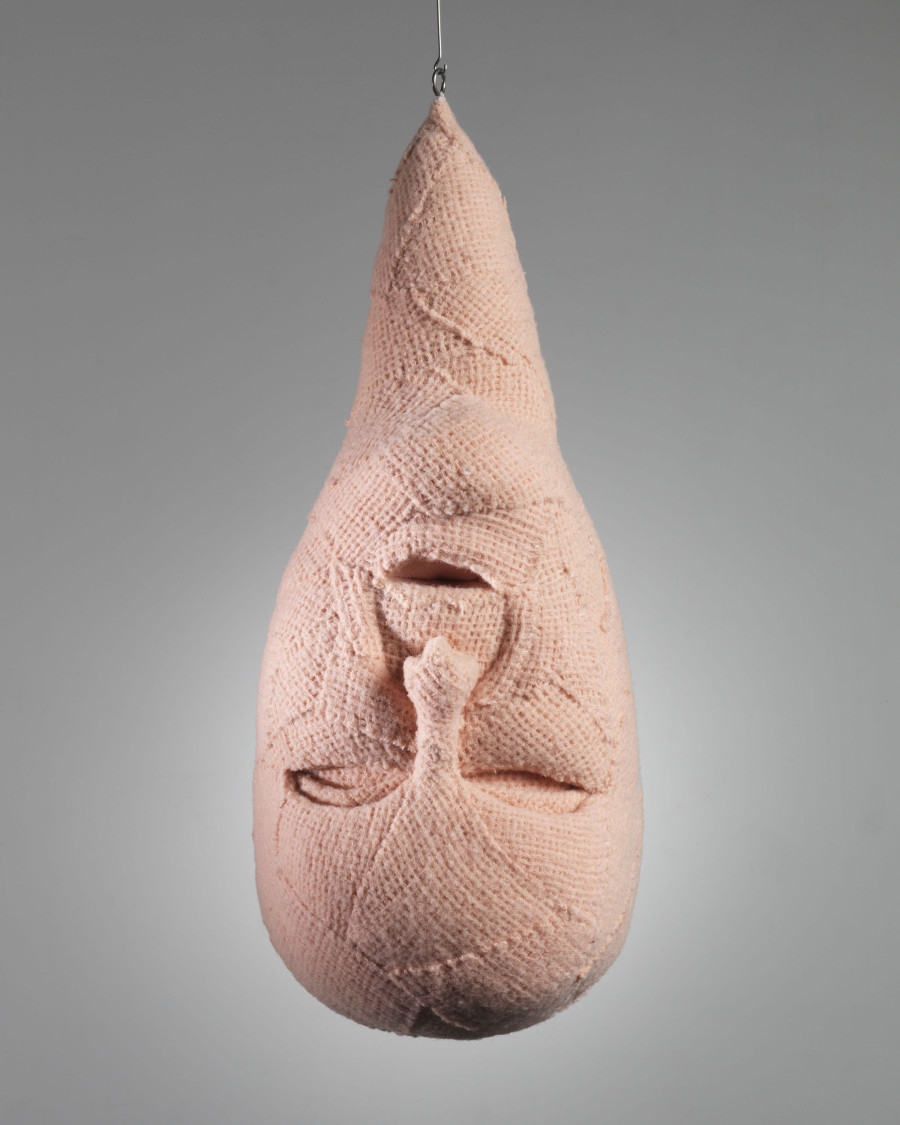 Louise Bourgeois (1911 - 2010) UNTITLED 2004, Fabric, 20 1/2 x 8 1/2 x 10 inches, 52.1 x 21.6 x 25.4 centimeters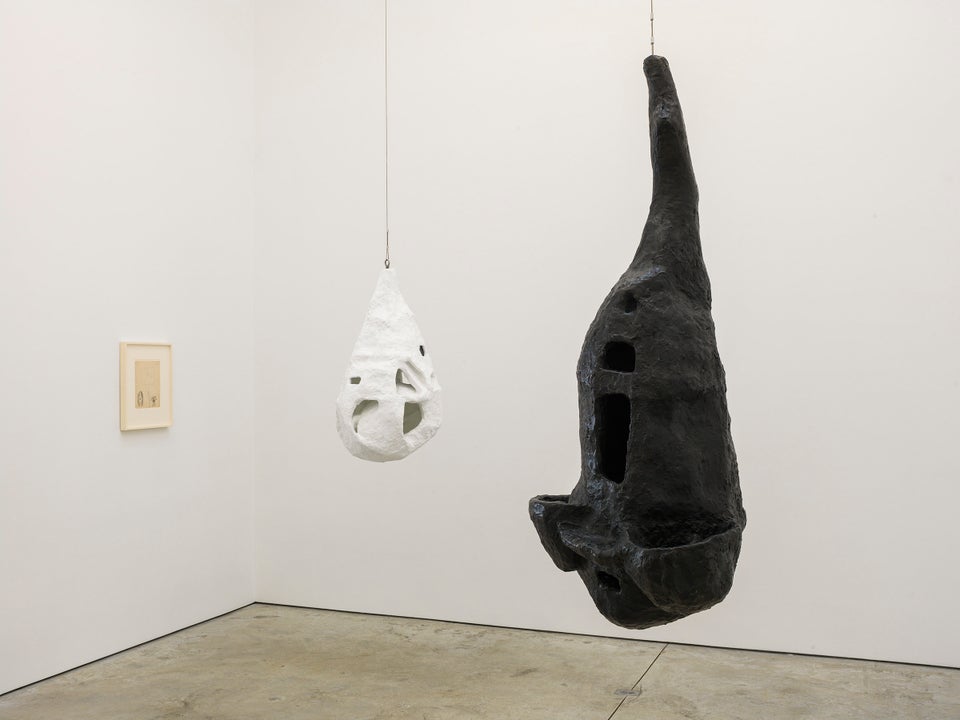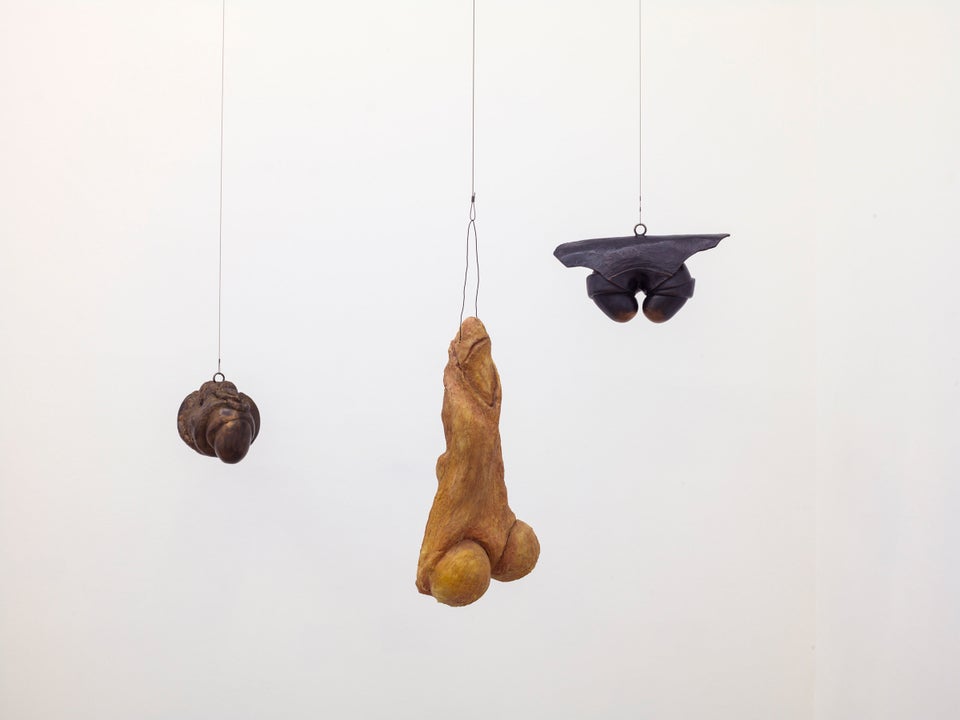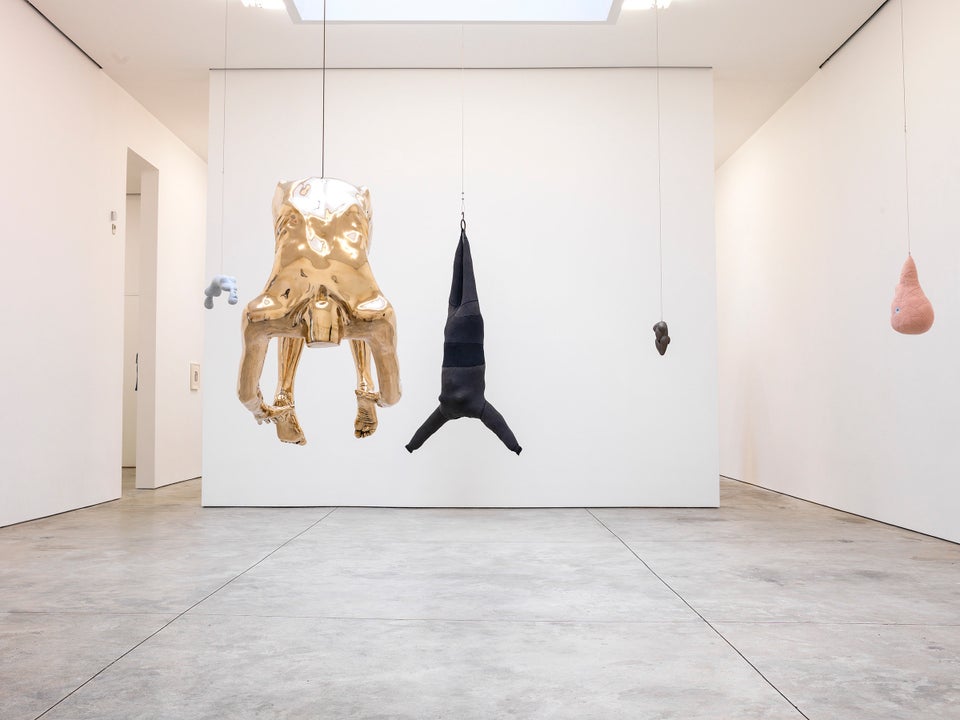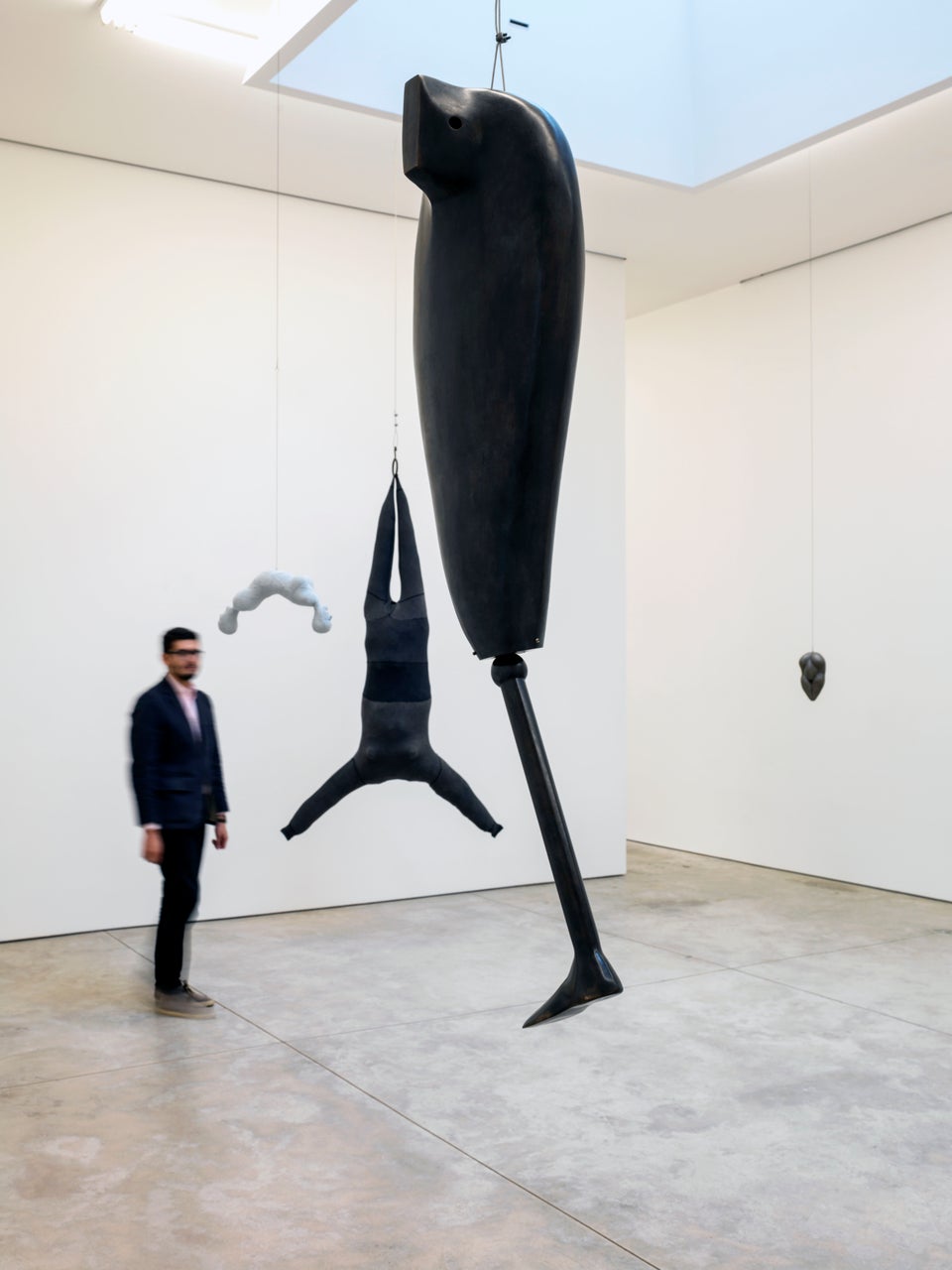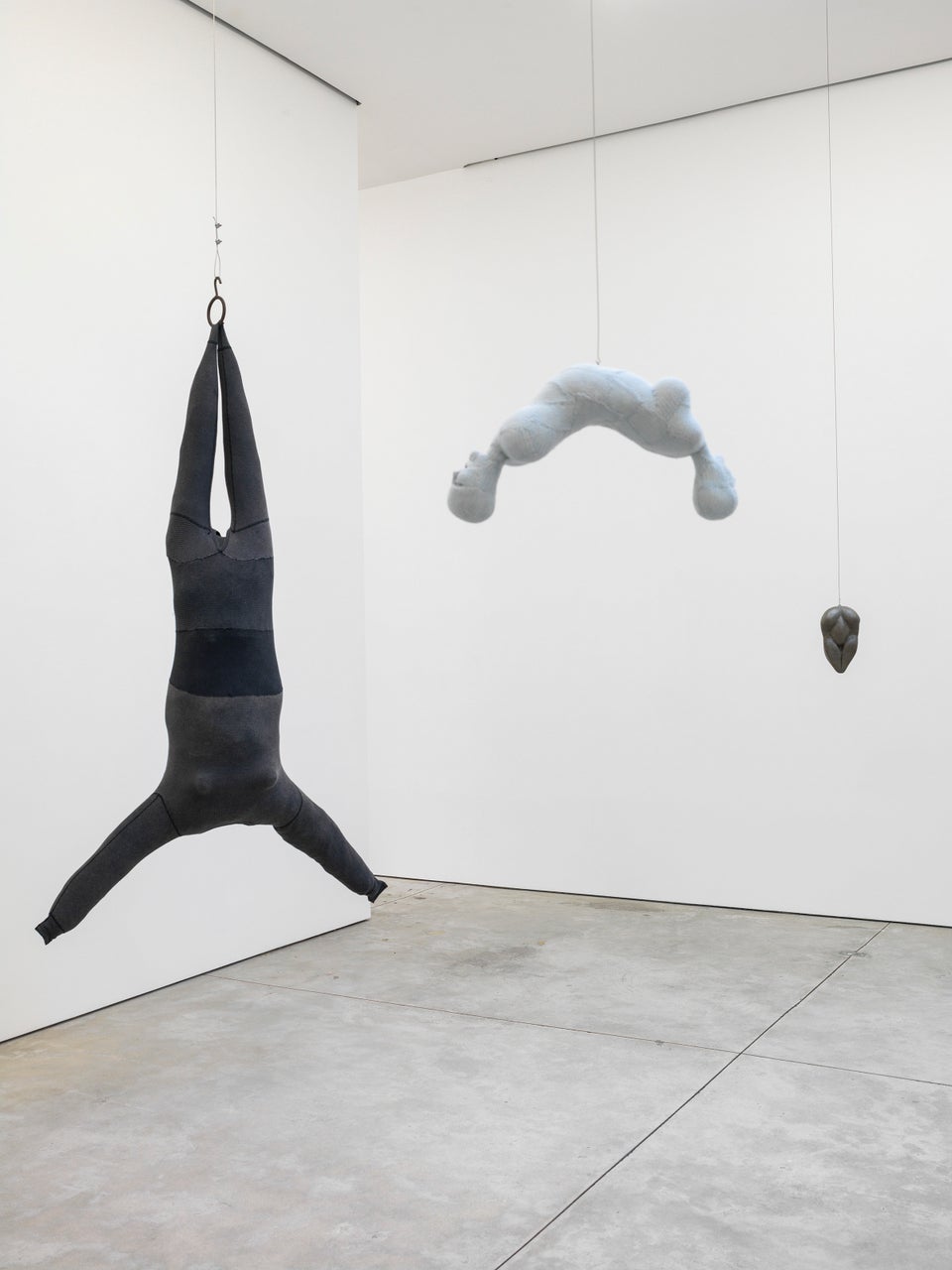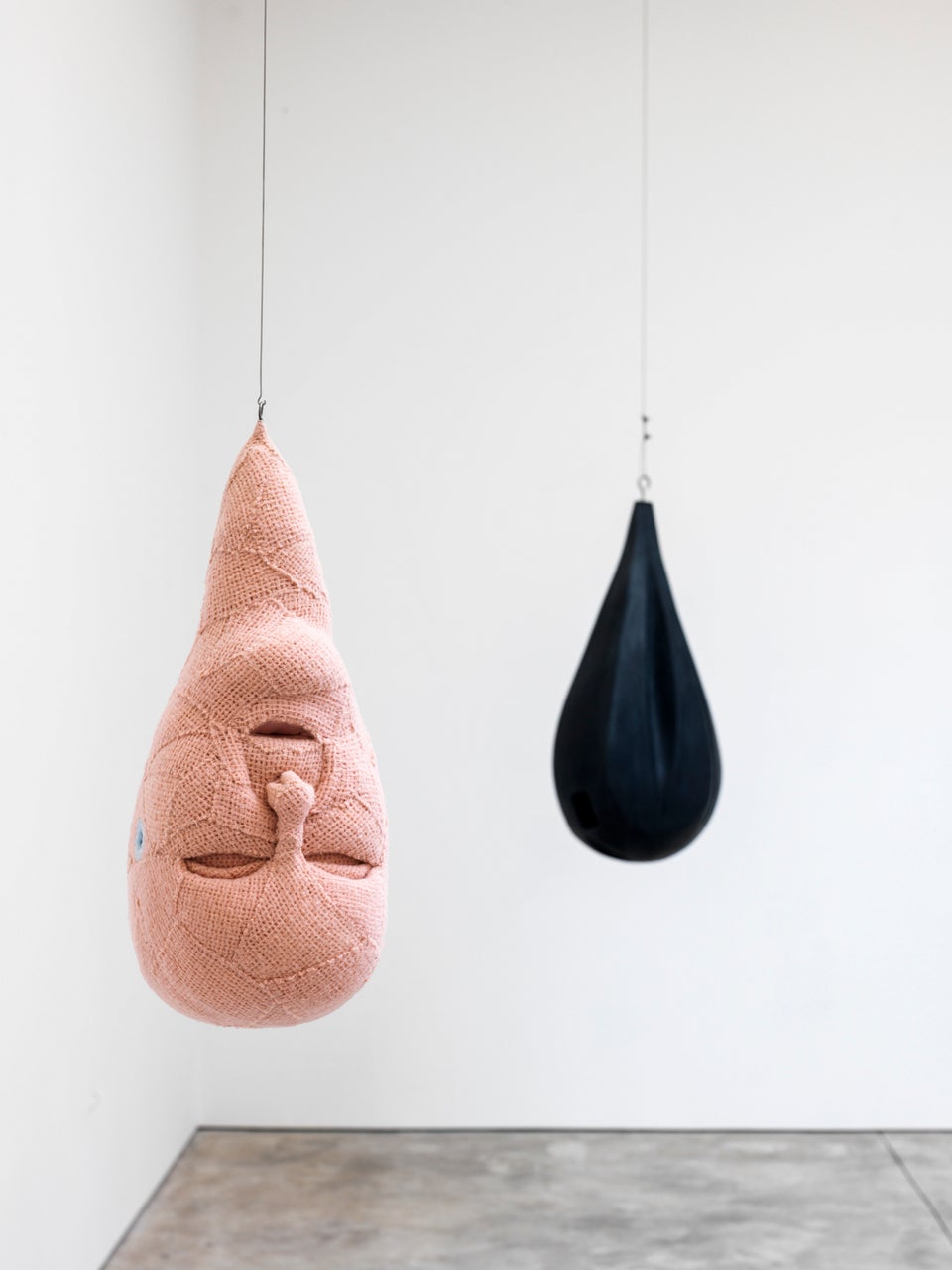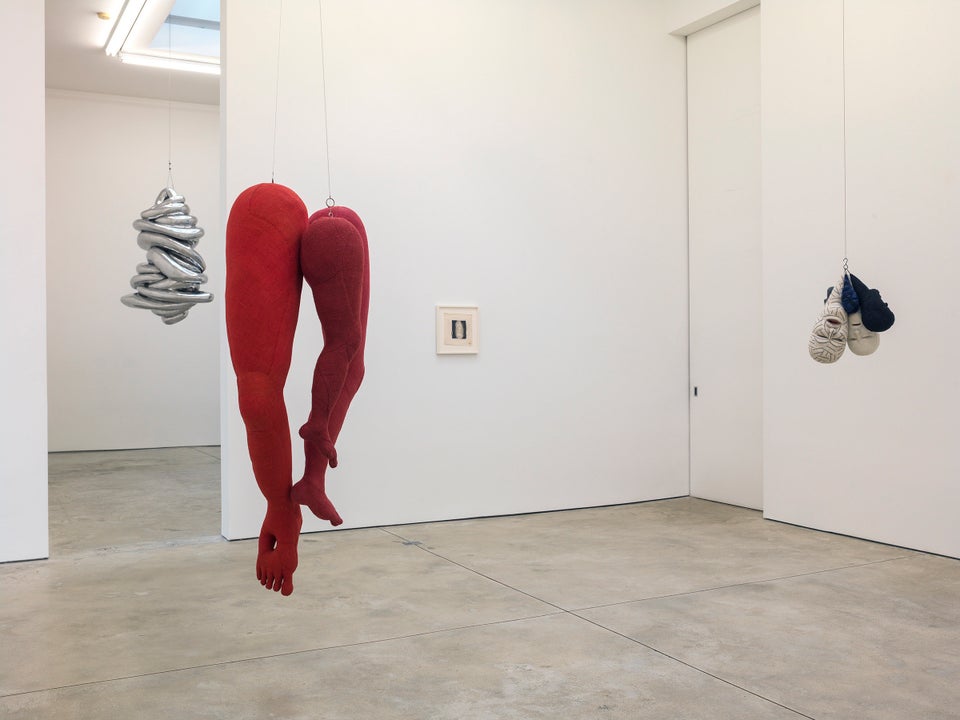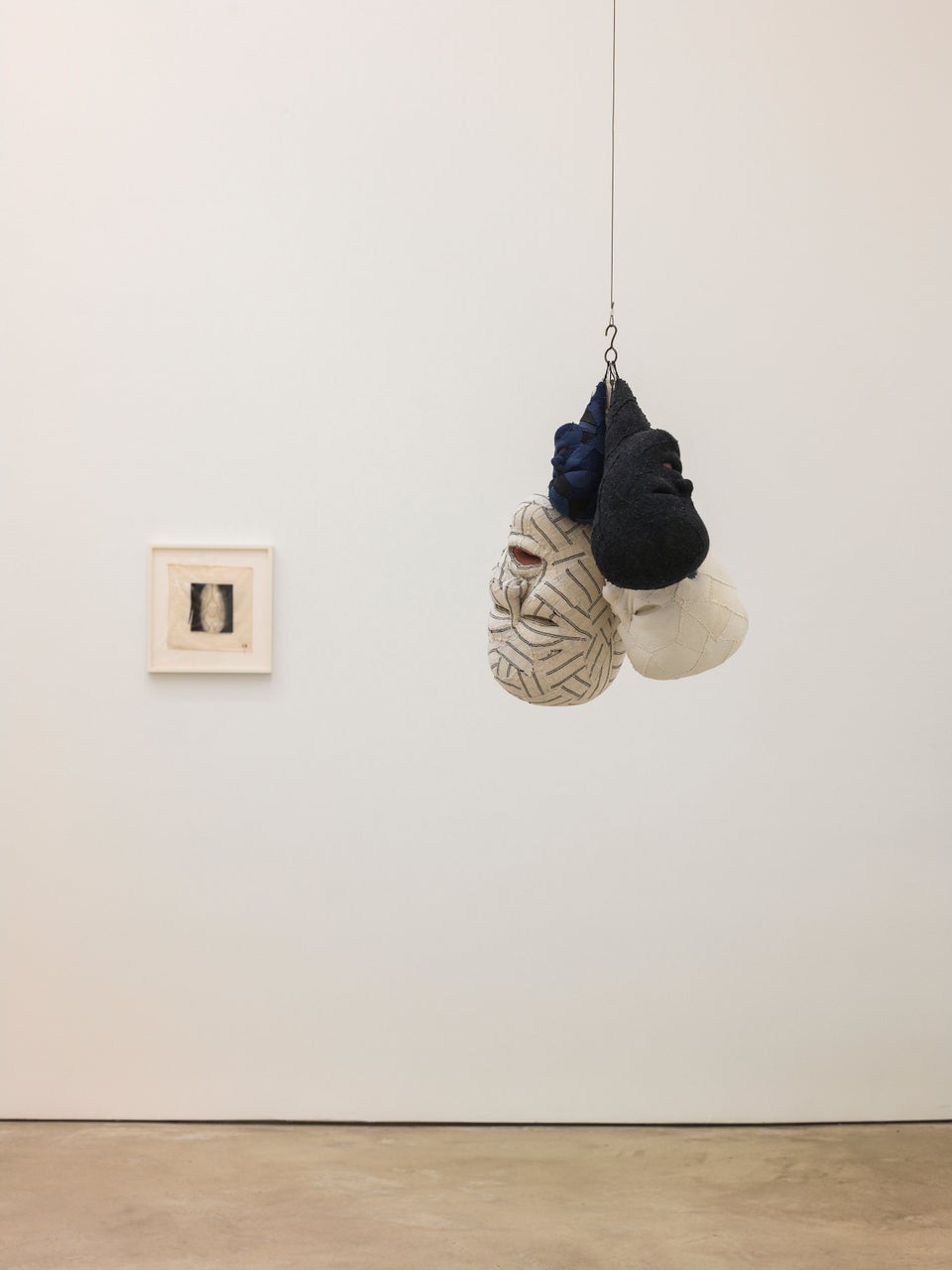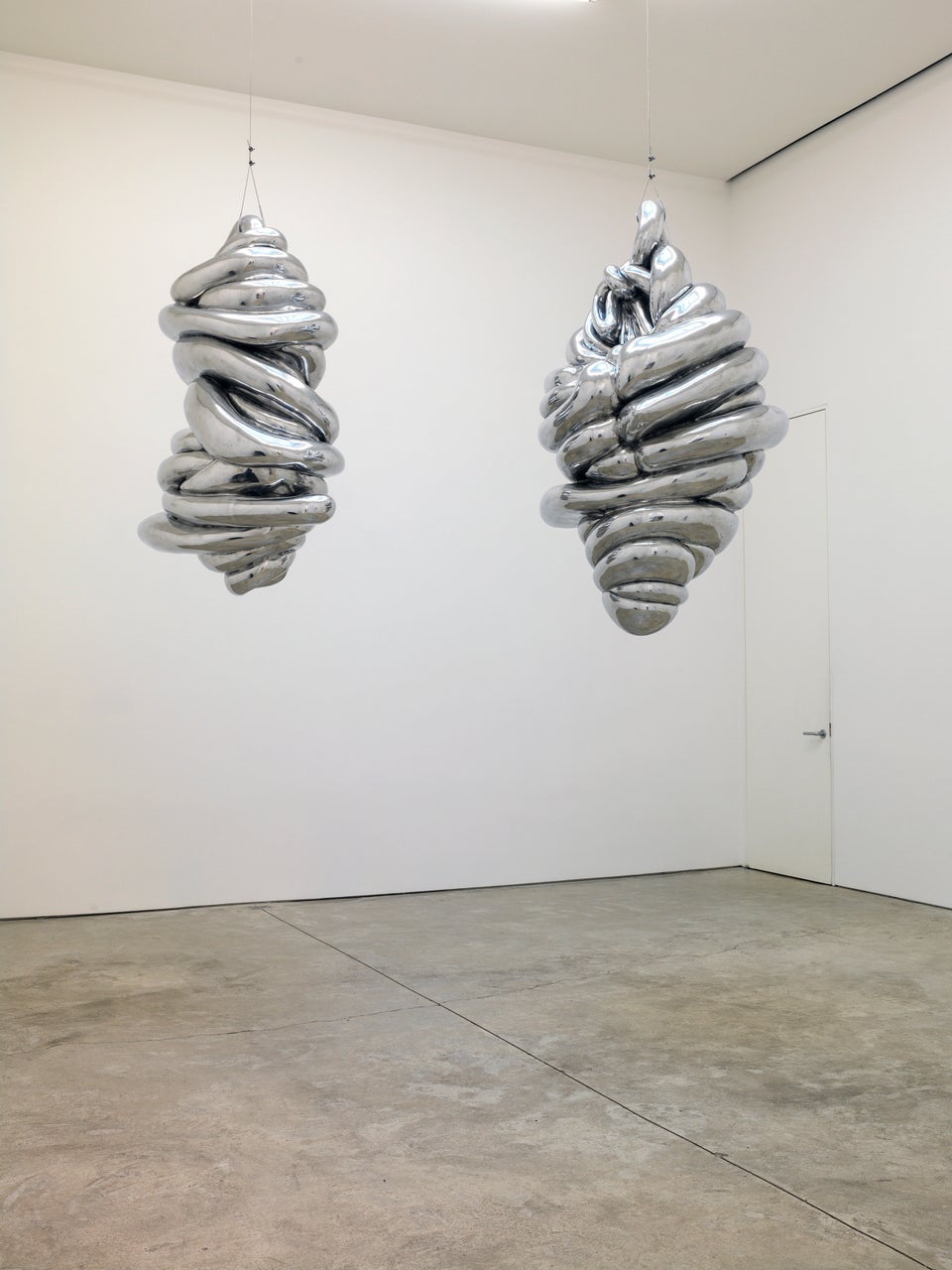 Photos: Christopher Burke, © The Easton Foundation / Licensed by VAGA, NY. Courtesy Cheim & Read, New York
Related
Before You Go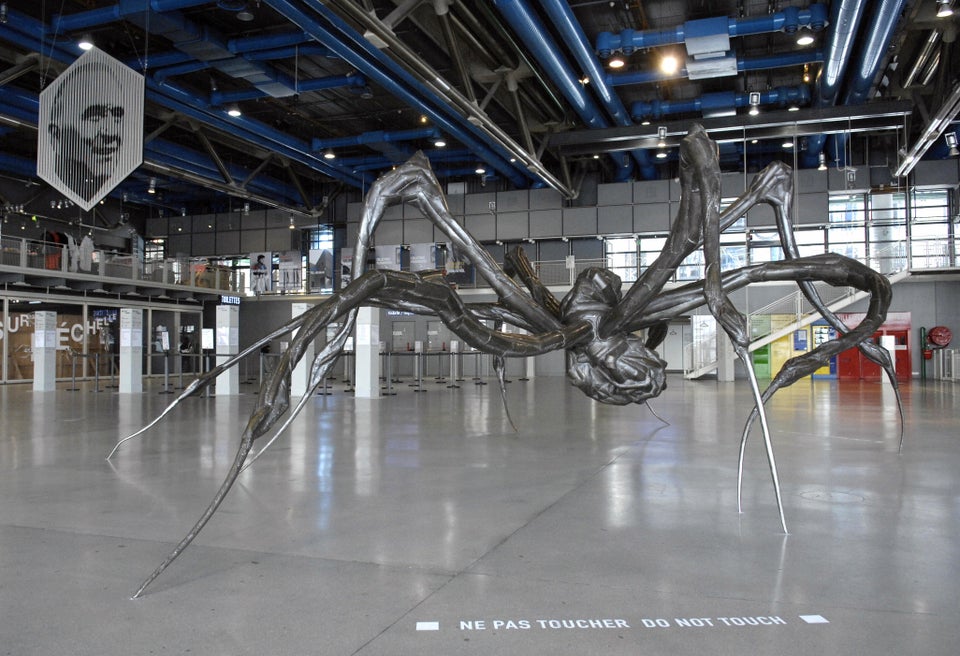 Louise Bourgeois
Popular in the Community