More than 20 years ago, I stepped into Video Wave, which was then on Castro Street in Noe Valley. It was a Friday night, and not having anything in particular to do, I thought I would rent a movie. Having seen many of the then new releases, I spent a few minutes browsing the classics section. One title caught my eye, Pandora's Box, a German film from 1929. I thought the actress on the cover was kind of hot.
I hadn't heard of the film -- nor its star, Louise Brooks. What initially peaked my interest was the text on the back of the VHS tape, "censored because of its explicit sexuality." With it being a Friday night, and with me having nothing in particular to do, an erotic film -- even though it was more than sixty years old and likely pretty tame -- seemed like just the right thing. I took a chance.
I watched the film that night. And was stunned. I was blown away. Who was this Louise Brooks? And how had I never heard of her before? Dietrich, Garbo, the great sex goddesses I knew of. But not Brooks. I got up the next morning and watched Pandora's Box all over again. I simply had to, because I had to watch it again. I had to come to grips with what I had seen and experienced the night before. Like her victims in Pandora's Box, I was in the thrall of Lulu.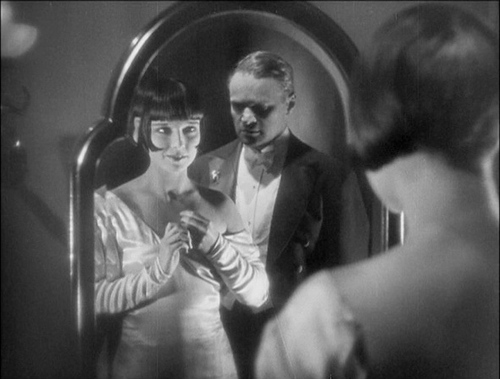 Louise Brooks as Lulu in Pandora's Box. PHOTO: Louise Brooks Society
Thrilled by the movie and this actress "I had discovered," I asked everyone I could about Brooks. "She is beautiful. She has short dark hair like a helmet. She was in this silent film called Pandora's Box. She played Lulu. . . ." Friends, family, people I knew who were into film -- no one really seemed to know much about her until a co-worker named Joan recalled there had been a biography. I tracked down the book at the San Francisco Public Library (back in the day when they still had wooden card catalogs) and set off on a quest to learn everything I could about the actress. I was hooked. On the few occasions when her films were shown at the Castro, I was among the first in line.
In 1995, the graphical world wide web was just getting started, as were companies like eBay and Amazon. The internet was starting to take off, and I had the idea to start a "virtual fan club in cyberspace" as a way to connect with others interested in what was quickly becoming my main passion in life.
I launched the Louise Brooks Society website in the summer / fall of 1995. I guess I was a pioneer of sorts. The LBS the first site devoted to the actress, and one of the earliest film websites. Then fandom had not moved from fan clubs and mimeographed newsletters to the digital wilds of the internet.
I remember the excitement I felt when my hit counter read triple digits. Soon, visitors were numbered in the thousands and then tens of thousands, and then hundreds of thousands. In 1996, USA Today named the Louise Brooks Society a "Hot Site," noting "Silent-film buffs can get a taste of how a fan club from yesteryear plays on the Web." A few years later, the New York Times described it as an "excellent homage to the art of the silent film as well as one of its most luminous stars."
The LBS was also singled out in the pages of San Francisco Chronicle and San Francisco Examiner, where it was named one of the best film sites on the web by Jeffrey Anderson. The local Noe Valley Voice also ran a feature on the LBS.
In 1998, the popularity of my virtual fan club in cyberspace got noticed by Turner Classic Movies. The cable station decided to commission a documentary on Brooks. "Fan Site Sparks Biopic", an article on Wired by San Francisco journalist Steve Silberman, quoted a TCM spokesman who said the level of interest in the Louise Brooks Society convinced the network to go ahead with the documentary. "The Web presence for Louise Brooks was overwhelming. It was definitely a driving force in convincing the network to produce this documentary."
Ten years ago, Leonard Maltin wrote "Not many sites of any kind can claim to be celebrating a tenth anniversary online, but that's true of the Louise Brooks Society, devoted to the life and times of the magnetic silent-film star and latter-day memoirist. Thomas Gladysz has assembled a formidable amount of material on the actress and her era; there's not only a lot to read and enjoy, but there's a gift shop and even a 'Radio Lulu' function that allows you to listen to music of the 1920s. Wow!"
It's been a wow, a blast, and a labor of love. The Louise Brooks Society has its own blog -- 2500 entries and counting, as well as its own online radio station, RadioLulu, which streams Louise Brooks and silent-film related music of the 1920's, 1930's and today. You'd be surprised by how many pop and rock songs there are about the actress, including a couple by local bands. Remember Rough Trade on Haight Street. That's where I bought the maxi-single of "Pandora's Box" by the English new wave group OMD.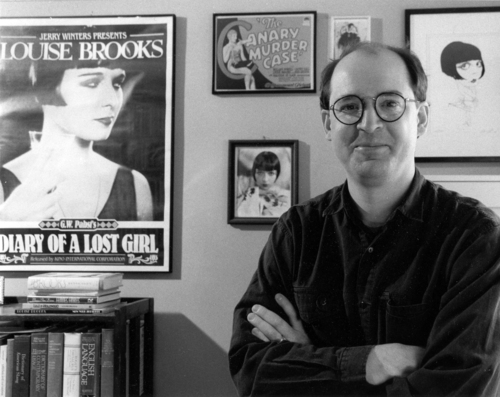 LBS Director Thomas Gladysz in the bat cave
PHOTO: courtesy Thomas Gladysz
The Louise Brooks Society website features a filmography which is the most comprehensive ever compiled on the actress. The site's annotated bibliographies, if printed, would run hundreds of pages. The LBS also tracks and promotes the many homage to the actress which have appeared in film, fiction, poetry, comics, music and the visual arts. I've seen Brooks graffiti in San Francisco. And I swear I didn't do it.
On Brooks' birthday Saturday, November 14th at 2 p.m., the Louise Brooks Society returns to Video Wave (now at 4027 24th Street and one of the last video rental shops in The City) to celebrate its 20th anniversary. This Louise Brooks Celebration is also a DVD / Blu-ray release party. I recently completed an audio commentary for the new Kino Lorber release of Diary of a Lost Girl, the film Brooks made with director G.W. Pabst just after she completed Pandora's Box.
Louise Brooks, Lulu forever.
Thomas Gladysz is a San Francisco arts and entertainment writer. He is also the founding director of the Louise Brooks Society, an online archive and international fan club which went online 20 years ago. Most recently, he contributed the audio commentary to the just released Kino Lorber DVD & Blu-ray of the G.W. Pabst / Louise Brooks film Diary of a Lost Girl.
Related
Popular in the Community