John Updike once told me that Louise Brooks was the finest writer to have ever come out of Hollywood. That was his long-held opinion when I met him in 2006. Updike had reviewed the silent film star's book of autobiographical essays, Lulu in Hollywood, for the New Yorker in 1982.
A similar opinion is held by another Pulitzer Prize winner. In his 1997 anthology, Roger Ebert's Book of Film: From Tolstoy to Tarantino, the Finest Writing From a Century of Film, the Chicago critic describes Lulu in Hollywood as "one of the wittiest and most truthful books ever written about the movies."
Last week, word broke that the George Eastman House has unsealed Brooks' private journals. Before her death, she had bequeathed them to the famed Rochester, New York museum with instructions they remain sealed for 25 years. Brooks -- Kansas-born and long a resident of New York City and Los Angeles -- had lived in Rochester during the last few decades of her life. She was drawn there by the Eastman House film collection. Brooks liked watching movies, and writing about them.
A quarter century has now passed since the actress' death. And, as David S. Cohen reported in Variety, Brooks' private notebooks have been unsealed and "Eastman staffers have been poring over the journals before making them available to the public." Everyone is wondering what they will reveal.
Brooks kept journals from 1956 until her death in 1985. According to an Eastman House archivist, there are 29 research journals -- which contain her notes and thoughts while she conducted research for her book and other writing projects -- ranging in size from 20 to 120 pages. All together, these working journals approach 2000 pages of hand-written text. Notably, Brooks went back and reworked material in various notebooks over the years. She also added a table of contents to the cover of each volume.
As fans of the actress are well aware, she was more than just a pretty face -- she was considered "smart" her Hollywood peers. In a1967 reminiscence, the German film critic Lotte Eisner recalled a 1928 visit she made to the set of Pandora's Box in which she observed Brooks, between takes, reading Schopenhauer. Eisner would later describe Brooks as an "An astonishing actress endowed with an intelligence beyond compare."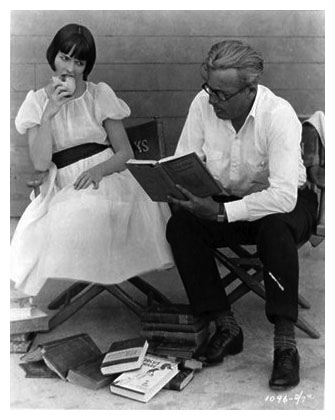 Long a reader, Brooks was also a gifted writer, and later in life authored a number of well received articles for various film magazines including Sight and Sound, Film Culture, Positif, and Cahiers du Cinema. Many of these essays were collected in Lulu in Hollywood. Brooks last published piece during her lifetime was a single sentence statement in the New York Times Book Review: "I have been reading Proust all my life, and I'm still reading him."
What's in the journals isn't yet publicly known. A spokesperson for the George Eastman House had an idea -- but wouldn't say. According to the article in Variety, which was leaked a few choice tidbits, the journals do include observations and comments by the actress about cinematic contemporaries like Garbo ("She strains terribly"), Marlene Dietrich ("a puzzled bloodhound"), Humphrey Bogart ("beyond any man I know, he loved women"), and others. Brooks also comments on herself and her efforts before the camera. She was always her own worst critic.
Near the end of Barry Paris' Pulitzer worthy biography, Paris quotes a letter from Brooks to her brother written a decade before her death:
I have been taking stock of my 50 years since I left Wichita in 1922 at the age of 15 to become a dancer with Ruth St. Denis and Ted Shawn. How I have existed fills me with horror. For I failed in everything -- spelling, arithmetic, riding, swimming, tennis, golf, dancing, singing, acting, wife, mistress, whore, friend. Even cooking. And I do not excuse myself with the usual escape of "not trying." I tried with all my heart.
The spokesperson for the George Eastman House said there were no plans at present to publish the journals - but suggested that could change. "It's under consideration" is the way one archivist put it. Brooks' smarts and natural talents as a writer suggest her journals could be something remarkable - or at least an interesting read to film buffs. Her rabid cult following suggests there would be considerable interest.
Fans and the curious wishing to sample Brooks' singular personality should check out the 1989 biography by Paris - or the recently released Dear Stinkpot: Letters from Louise Brooks (BearManor Media, 2010). The latter was edited by Jan Wahl, the acclaimed children's book author and the person to whom the letters in this new book are addressed.
According to the Paris biography, Brooks wrote hundreds if not thousands of letters to individuals all over the world -- to other writers, film historians, critics, and actors. Along with abortive attempts at fiction and her various articles, writing is what she did in the last decades of her life.
When Brooks died in 1985, James Card, the first and legendary curator of film at the Eastman House as well as her on-and-off again friend for many years said of her, "She was an enormously powerful individual, thinker, and searcher for the absolute essence of things. I think she'd like to be remembered for her writing rather than for her films."
Thomas Gladysz is an arts journalist and author. His interview with Allen Ginsberg on the subject of photography is included in Sarah Greenough's "Beat Memories: The Photographs of Allen Ginsberg" (National Gallery of Art, 2010). And recently, he wrote the introduction to the Louise Brooks edition of Margarete Bohme's classic novel, "The Diary of a Lost Girl" (PandorasBox Press, 2010). More at www.thomasgladysz.com.

Related
Popular in the Community