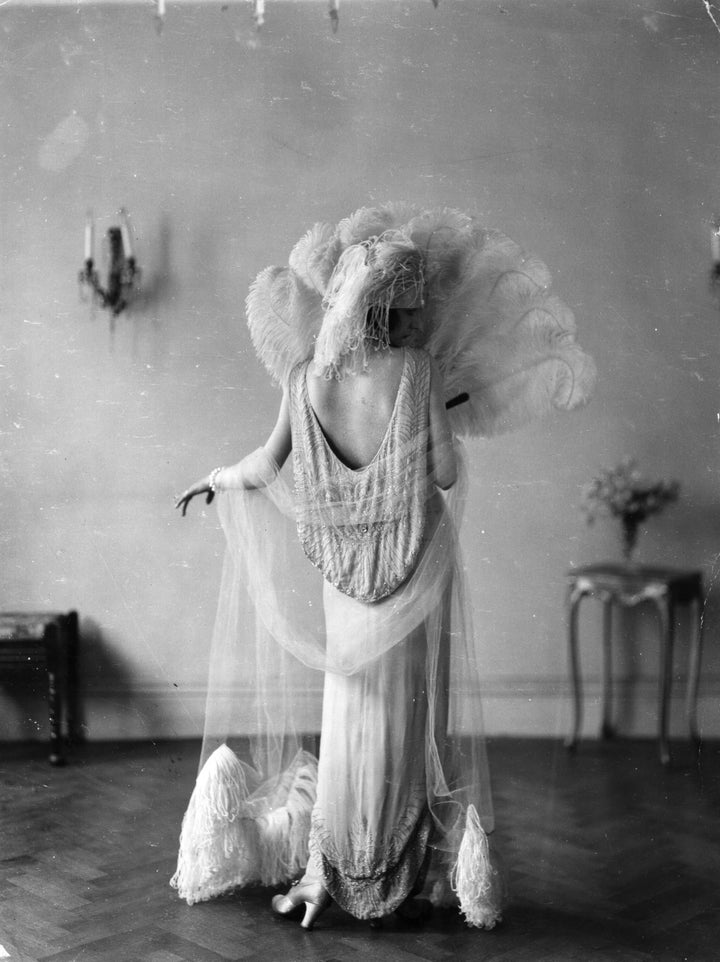 Is there any silent film star as popular as Louise Brooks? The actress, best known for her bangs and signature black bob, seems to be just about everywhere these days.
On July 14, Pandora's Box (1929), the film for which Brooks is best remembered today, played twice in the United States. One screening took place at the 800 seat Music Box Theater in Chicago. The other before a crowd of 1,400 at the San Francisco Silent Film Festival, where a gorgeous new restoration of the G.W. Pabst masterpiece was shown.
Before that, on June 23, another Brooks' film -- a restoration of the silent version of Prix de Beaute (1930), screened outdoors in front of a large crowd gathered in a plaza in Bologna, Italy. That screening was part of Il Cinema Ritrovato, a major European festival. Notably, the Prix de Beaute screening coincided with an exhibit at the Palazzo Incontro in Rome of the art of Guido Crepax, whose long-running Valentina comix were inspired by Brooks.
And before that, at the beginning of June, Riverhead released The Chaperone, a novel by Laura Moriarty that became a bestseller. It tells the story of the woman who chaperoned an irreverent, 15-year-old Brooks in New York City in 1922. Brooks, who appears on the cover of The Chaperone, drew a fair amount of attention to Moriarty's splendid story, which was featured in O Magazine and named the USA Today's #1 Hot Fiction Pick for the summer.
Moriarty's book spurred a handful of articles about Brooks, including a widely read piece by Susan King in the Los Angeles Times and an even more widely circulated piece by Janet Maslin in the New York Times. Maslin selected Brooks' Lulu in Hollywood to this summer's Hot List of must read books. That's not bad for a 30-year old memoir.
The latest attention coming Brooks' way takes place August 1st, when the Cinefamily theater in Los Angeles shows Beggars of Life (1928). Considered Brooks' best American film, it is also her most atypical American effort; until then, the actress had usually portrayed flappers, gold diggers and the pretty girl next door.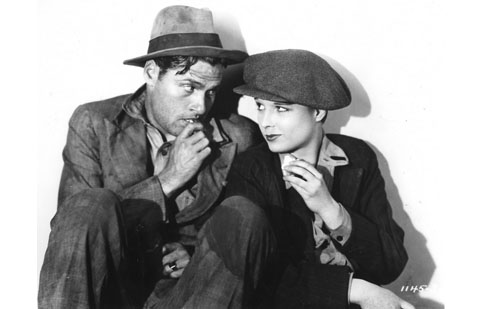 Richard Arlen and Louise Brooks in Beggars of Life. Image courtesy of the Cinefamily theater.
Directed by William Wellman the year after he made Wings (the first film to win an Academy Award), Beggars of Life is a gripping drama about a girl (Louise Brooks) dressed as a boy who flees the law after killing her abusive stepfather. On the run, she rides the rails through a threatening, male dominated hobo underworld in which danger is always close at hand. Much of Beggars of Life was shot in and around Jacumba, California, near the border with Mexico.
Besides Brooks, this Paramount made film also features future Oscar winner Wallace Beery. The husky-voiced character actor plays Oklahoma Red, a tough hobo with a soft heart. Richard Arlen, who the year before had starred in Wings, plays another drifter and Brooks' romantic interest. Edgar Blue Washington, an African-American actor, has a small but important and dignified part.
In 1928, Beggars of Life was named one of the six best films of October by the Chicago Tribune. It also made the honor roll of best films of the year in a poll conducted by Film Daily. On the basis of Beggars of Life and Wings, Film Daily named Wellman one of the world's best directors for the year's 1928-1929.
Despite acclaim, Beggars of Life drew its share of mixed reviews. Based on a novelistic memoir of the same name by the hobo author Jim Tully, one Baltimore newspaper predicted the film would have limited appeal, quipping "Tully tale not a flapper fetcher for the daytime trade." Picture Play, a leading fan magazine, described it as "Sordid, grim and unpleasant," though adding "it is nevertheless interesting and is certainly a departure from the usual movie."
Harrison Carroll expressed similar ambivalence when he wrote in the Los Angeles Evening Herald, "Considered from a moral standpoint, Beggars of Life is questionable, for it throws the glamour of adventure over tramp life and is occupied with building sympathy for an escaping murderess. As entertainment, however, it has tenseness and rugged earthy humor... It is a departure from the wishy-washy romance and the fervid triangle drama."
Writing in the Los Angeles Examiner, Louella Parsons couldn't come to terms with the film's departure from the norm, nor Brooks' rough-and-tumble character. "I was a little disappointed in Louise Brooks. She is so much more the modern flapper type, the Ziegfeld Follies girl, who wears clothes and is always gay and flippant. This girl is somber, worried to distraction and in no comedy mood. Miss Brooks is infinitely better when she has her lighter moments."
However, the critics for the UCLA Daily Bruin, the Los Angeles Record and Los Angeles Evening Express echoed the comments of Los Angeles Times critic Norbert Lusk, who appreciated Brooks and her very different role in Beggars of Life. Lusk wrote, "Richard Arlen and Louise Brooks also capture honors for their sincerity and a poignant, moving quality they infuse into their roles without seeming to act at all. Miss Brooks, who has hitherto qualified as a particularly provocative figure, now establishes herself as a real actress."
Beggars of Life showed a more dramatic side to Brooks. The film also gave the actress her best part prior to heading off to Germany and film immortality as Lulu in Pandora's Box.
Girls dressed as boys, pastoral life gone wrong, the mingling of the races, desperation among the glitz and glamour of the late Twenties - there is a lot of friction and a lot going on in Beggars of Life. The film, for good reason, was Wellman's favorite among his early, silent efforts.
Cinefamily will screen an archival 35mm print of Beggars of Life, courtesy of the George Eastman House in Rochester, New York. The Wednesday screening is part of a series of weekly screenings of silent films at the Cinefamily theater (611 N Fairfax Avenue). The series is curated by film archivists / The Silent Treatment newsletter publishers Brandee Cox and Steven Hill, with special support provided by the Academy of Motion Picture Arts and Sciences. Showtime is 7:30 pm.
Thomas Gladysz is an arts journalist and early film buff. He is also the founding director of the Louise Brooks Society, an online archive and international fan club devoted to the silent film star. Gladysz has organized exhibits, contributed to books, appeared on television, and introduced the actress' films around the world.
Calling all HuffPost superfans!
Sign up for membership to become a founding member and help shape HuffPost's next chapter