Louise Fishman may be the first artist we've ever heard of to grow up with dreams of playing basketball. Eventually, she swapped one boys' club for another, immersing herself in abstract expressionism, a movement known for its machismo and occasional misogyny. A feminist and lesbian with a repertoire of muscular strokes and a gripping palette, Fishman managed to fit right in while sticking out.
Fifty years of Fishman's work is showing at the Woodmere Museum in Philadelphia this October. She will show alongside two of her artistic inspirations, her mother and aunt, Gertrude Fisher-Fishman, and Razel Kapustin. In anticipation of the show, the Huffington Post spoke with Fishman about her iconoclastic career, launched by desert boots, talent, and confidence to spare. Scroll down for a slideshow.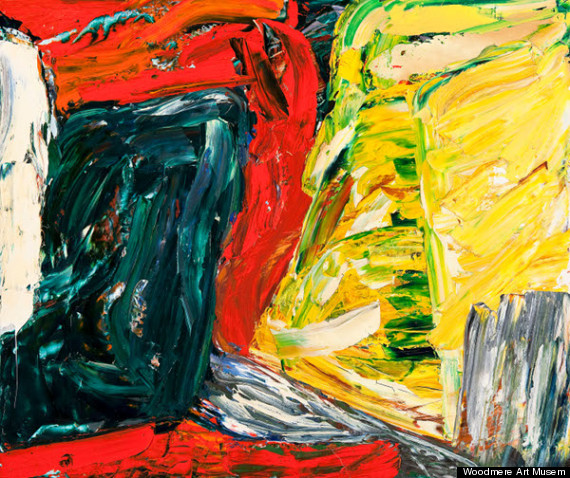 HP: How does it feel to have a retrospective in the works?

LF: It's not exactly a retrospective. It's a selection of work from 50 years that will lead to a retrospective. I think there are a lot of people who don't know my history, younger people who only know recent work of mine. This serves to familiarize them with the nature of my work and how it has changed, what the connections are between what I did in the sixties and what I do today. It is sort of amazing to see. It is a taste more than a full retrospective.
HP: How did growing up with a mother and an aunt who were artists influence you?

LF: It really never occurred to me to be an artist. I looked at what they did, I looked at [Fishman's aunt] Razel's life, I didn't spend every day with her like my mother. Razel had a very eccentric life— she loved siamese cats, persian rugs, her walls were these rich colors, she played folk music, didn't have any children. I paid attention.
My mother had a lot of art books in the fifties. She also belonged to MoMA and was getting all their publications. It didn't seem like a viable life for me; I didn't really think about my life much. I was interested in playing basketball and baseball on the boys' team. No softball, though, I didn't like that underhand pitch thing.
I guess I took a lot in. I don't think I really examined how much.
HP: So how did you end up in art school?

LF: I was not planning to study art. It's actually a funny story, I went with a group of friends to the beach the summer before I started school and I saw some guy dressed really interesting. It was 1956 and he was wearing bermuda shorts, desert boots and a big leather satchel. He had red hair and freckles and I just thought he was fascinating. I had never seen anyone dress like that before.
He asked me if he could sit down and we started talking. He was an art student at the Museum School. I asked, "Do girls wear satchels and boots like that there?" He said yeah. I said "How do i get in?"
I went home, made a portfolio, didn't tell my parents. The dean invited me into his office. He said, "Lets look at your work dear. Oh! You're talented. Great! You're in!" It wouldn't happen like that today.
HP: What was your portfolio like at the time?

LF: I think I had a watercolor of a landscape, drawings and stuff I did in art class… there wasn't much. After that I went shopping right away and got myself my desert boots and my satchel.
And the minute I took my first painting class I thought: that's what I want to do. I was going to be an artist and I never changed my mind.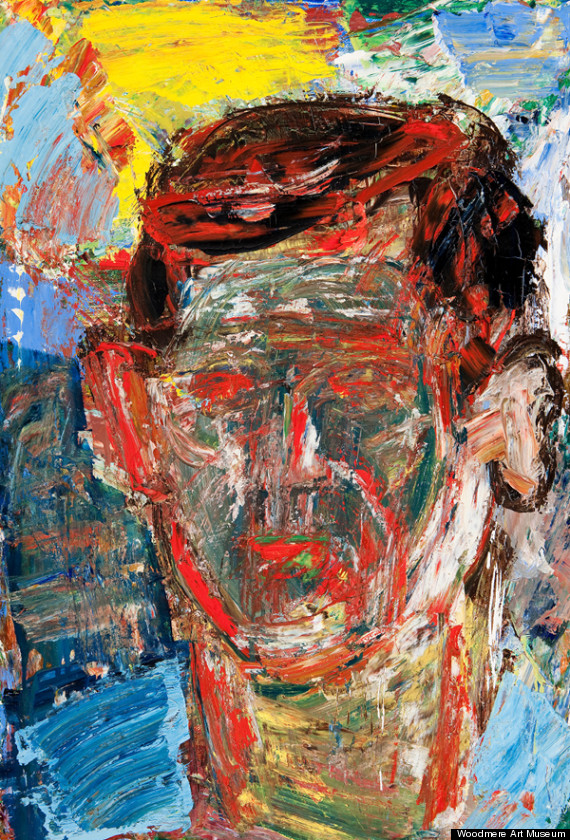 HP: How did you become involved with abstract expressionism?

LF: There was a series of articles in Art News called "The Artist Paints A Picture," with interviews and photographs of all these artists in their various studios. Among the people that were interviewed were Franz Kline, Willem De Kooning, Joan Mitchell. I took one look at Franz Kline's work and I thought: that's it.
The activity in the rectangle is very much like the activity on the athletic court. It was athleticism in paint, traversing a very large court. It was so liberating. It put everything together in a way. Later I went to an academy where you worked on a painting for 5 weeks of a single model. All i wanted to do was make abstract paintings. Pollock, De Kooning, Kline... my paintings didn't look like theirs but they were the impetus.
LF: Did you associate the movement with the machismo it is known for today?

When I started painting I was good pretty soon. I felt pretty confident. I realized then that there was something wrong with me. The history of art was all male. One didn't talk about any of the women in the background. Mary Cassatt didn't interest me because of the subject matter [social bonds between women], despite how wonderful of a painter she is. I felt like I was in the wrong body. I felt like I was profoundly an outsider. All my teachers, with the exception of one, were male. I was good. I was one of the boys. The other painters that were serious and strong, they were all men.
There was Joan Mitchell, but one doesn't make a difference out of thousands. I couldn't see women in the trajectory in art history.
HP: Did you feel discriminated against in school?

LF: I've experienced discrimination as a woman in the reviews, and with a lot of dealers and collectors who didn't like buying or showing women's work. I didn't [know about] Joan Mitchell until Robert Miller took her on. Her prices were very low. I don't think her paintings were selling very well, they weren't in museums. It took forever for Louise Bourgeois to be a celebrity in the art world.
What is difficult for me is what we carry around, our histories as women. A sense of not being good enough or right. When I first came to New York, a painter came to Philadelphia who was pretty good. We went to a bar, were drinking beers, and he said: "Women can't paint. Women have babies." I wasn't planning on having any babies. IIn 1957 I came out as a lesbian. It was tremendous. I was 18. I thought of it like I was really special. The woman who brought me out was much older, and she told me it made sense if I was gay because many artists are queer. Da Vinci, Michelangelo... I thought: Oh that makes sense!
HP: Congratulations on your recent wedding [to graphic designer Ingrid Nyeboe]! How has married life affected your work?

LF: Falling in love has always affected my work. In this case, the first thing that happened was I went to Colorado to make prints right after we realized I was falling in love. She was in Connecticut and I was in Colorado. I made 150 monotypes in two weeks time. It was an extraordinarily productive time, the work was exuberant. i remember when the second day I was there Sue turned to me and said, "Louise, you've already made 40 prints."
Ingrid and I went to Venice, I was there working for 2 months. I did a lot of work, it was also terrifically exuberant— being in love, being in Venice, going to to the opera. When we went back I went back to the studio and usually it takes far longer for me to make a show than it did for this one at Cheim & Read. The paintings were fueled by this passion that all came together in that trip. We came back and soon after that got married.
Begin married is... very interesting! The woman Ingrid lived with for 30 years was a famous writer in the art world, Jill Johnston. She wrote a regular radical column in the Village Voice. The woman died two and a half years ago. Ingrid will write some books about her. She is someone i knew pretty well, Jill. An amazing character and writer, part of a very exciting group of people.
HP: Who are some contemporary feminist artists you think are making thoughtful and radical work?

LF: I don't really think of them as feminist artists. Dona Nelson as far as strong women is at the top of the list. Agnes Martin was a profound influence. Joan Mitchell of course.
HP: Do you like to be called a feminist artist?

LF: No. People often call me the feminist artist or the gay artist or the Jewish artist or some other thing. I'm enmeshed in a tradition of painting that goes back to god knows where. I don't ignore the fact that I'm a woman, one can't ever forget that. Examining our histories and moving forward, just making the best paintings I can make, that's what I do. That and being in love.
Generations: Louise Fishman, Gertrude Fisher-Fishman, and Razel Kapustin will show at the Woodmere Art Museum in Philadelphia from October 13 to January 6. Fishman's work will also showing from September 13 to October 27 at Cheim & Read in New York.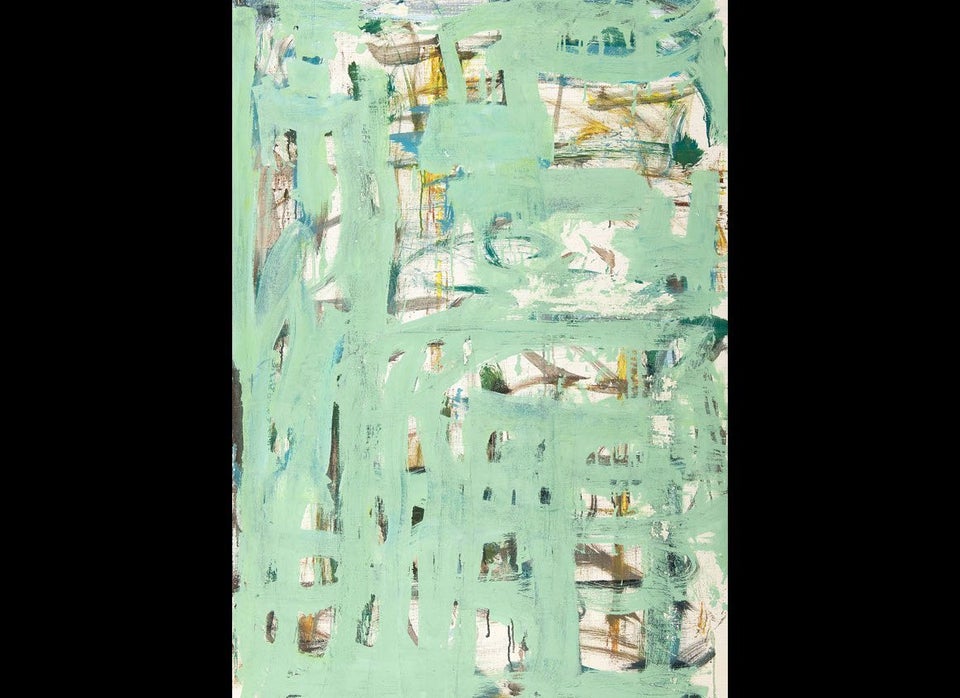 Louise Fishman
Related
Popular in the Community