"My post itself and the following response were indefensible. Period. I don't have any excuses, nor do I feel any self-pity for the backlash I experienced," Linton said in an interview with Washington Life magazine published Tuesday. "I sincerely take ownership of my mistake. It's clear that I was the one who was truly out of touch and my response was reactionary and condescending."
Last month, Linton, the wife of Treasury Secretary Steve Mnuchin, posted a picture on her Instagram account touting the designer brand names of her clothing, such as a Hermes scarf and Tom Ford sunglasses. After a number of commenters criticized her for the out-of-touch post, she admonished one of them ― Jennifer Miller, a health care product manager and mother of three from Oregon ― while doubling down on the original comments.
"Have you given more to the economy than me and my husband?" Linton asked Miller, boasting about the "sacrifice" that she and Mnuchin, a former Goldman Sachs executive, have made.
Linton later deleted the post and apologized in a statement, calling the post "inappropriate and highly insensitive."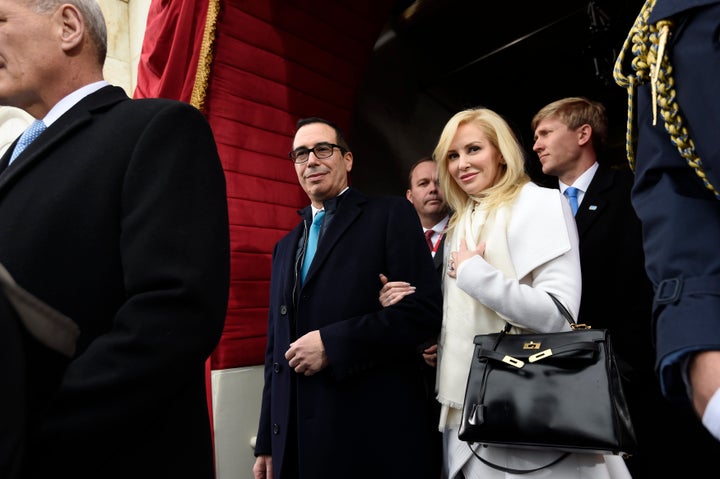 Speaking to Washington Life, Linton did not address the ethics issue directly but acknowledged that as the spouse of a government official, she now realizes she is subject to greater scrutiny.
"I was on a government trip and my husband is a government employee," she said. "As his wife, I am now a more public person and I am, and should be, held to a higher standard of ethics and care."
Of her comments toward Miller, in which she called the Oregon woman "adorably out of touch" and told her to "go chill out," Linton said she typically does not respond to social media criticism.
"I don't know why I did this time, but I really regret it," she said. "I wish I hadn't spoken in such a patronizing tone. It was an out of character, knee-jerk reaction, and I felt so awful about it that I removed it."
Linton said the criticism she faced for the incident "has been a life-changing event."
"It was scary and surreal but it forced me to take a deep look at what I had done. I don't feel like a victim," she said. "I feel like the world gave me a good, hard wake-up call and I'm OK with that."
Linton insists that the Instagram post was not representative of her true self.
"I was just trying to portray what I thought was a public image that isn't me," she said. "I'm a no makeup girl. I was trying to create this public image that was elegant and stylish, but that was just so clueless because I should have focused on who I really am instead."
Calling all HuffPost superfans!
Sign up for membership to become a founding member and help shape HuffPost's next chapter
BEFORE YOU GO
PHOTO GALLERY
Trump's 'Made In America' Week