Actress Louise Linton, who married Treasury Secretary Steven Mnuchin in June, posted and then deleted a photo of herself and her husband as they walked off an Air Force jet Monday that was akin to a fashion shoot tagging the designers she was wearing.
After facing criticism from an Instagram user, Linton, who is married to the man who is fifth in the presidential line of succession, responded to the user with a long comment filled with classist attacks. Linton has now taken her Instagram account private, not allowing Instagram users who don't already follow her to see her account.
In the now-deleted post, Linton and Mnuchin are photographed deplaning the military jet (according to Linton's Instagram post, they were landing in Kentucky), which Mnuchin is required to use for official government travel. The caption on her Instagram post read: "Great #daytrip to #Kentucky! #nicest #people #beautiful #countryside #rolandmouret pants #tomford sunnies, #hermesscarf #valentinorockstudheels #valentino #usa"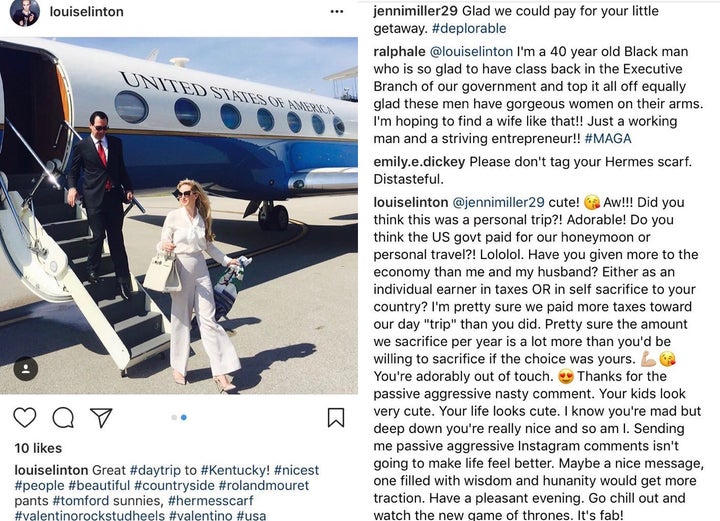 Linton has tagged designers she appears to be wearing in previous Instagram posts, but it's unusual, if not unprecedented, for the spouse of a Cabinet secretary to promote the designers she is wearing in any social media post, much less one that includes a photograph of herself with her husband while on government travel.
An Instagram user, called "Jenni M," responded to Linton's post and said, "Glad we could pay for your little getaway. #deplorable"
Linton's response to Jenni M came after she appeared to examine Jenni M's Instagram feed, making note of Jenni M's family and children.
"@Jennimiller29 cute!....Aw!! Did you think this was a personal trip?! Adorable! Do you think the US govt paid for our honeymoon or personal travel?! Lololol. Have you given more to the economy than me and my husband? Either as an individual earner in taxes OR in self sacrifice to your country? I'm pretty sure we paid more taxes toward our day "trip" than you did. Pretty sure the amount we sacrifice per year is a lot more than you'd be willing to sacrifice if the choice was yours. You're adorably out of touch. Thanks for the passive aggressive nasty comment. Your kids look very cute. Your life looks cute. I know you're mad but deep down you're really nice and so am I. Sending me passive aggressive Instagram comments isn't going to make life feel better. Maybe a nice message, one filled with wisdom and hunanity [SIC] would get more traction. Have a pleasant evening. Go chill out and watch the new game of thrones. It's fab!"
Linton on Tuesday released a statement apologizing for her "inappropriate and highly insensitive" Instagram post and her response to Jenni M, according to CNN reporter Jeremy Diamond.
Linton's Instagram post comes at a time when her husband is under attack by some of President Donald Trump's loyalists for his lack of populist credentials. Linton's out-of-touch post isn't likely to help Mnuchin, the former Goldman Sachs executive who served as the finance chair of Trump's presidential campaign.
"Pretty sure the amount we sacrifice per year is a lot more than you'd be willing to sacrifice if the choice was yours. You're adorably out of touch."
A spokesman for Mnuchin did not immediately respond to a request for comment. The Instagram user that Linton attacked also did not respond to a message asking for comment.
This is not Linton's first encounter with controversy. In 2016, Linton came under fire for her self-published memoir, In Congo's Shadow, which detailed her time as a student in Zambia. In July of 2016, Zambians, and their advocates, criticized Linton's portrayal of Zambia as a war-torn, poverty-stricken nation with wild animals running through the streets. Linton was also criticized for portraying herself as a white savior. Under pressure, Linton withdrew the book from sale and pledged to give any proceeds to charity. The actress actually dressed as Marie Antoinette in a 2007 episode of "CSI: NY."
Mnuchin and Linton were in Kentucky on Monday to tour Fort Knox, which holds the federal government's $200 billion gold reserves.
This article has been updated to include Linton's apology.
Follow Yashar — or send him a tip — on Twitter: @yashar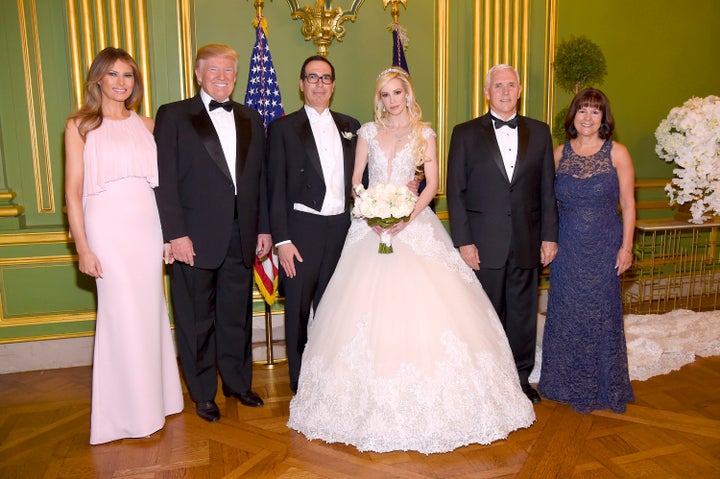 Support HuffPost
The Stakes Have Never Been Higher
Popular in the Community