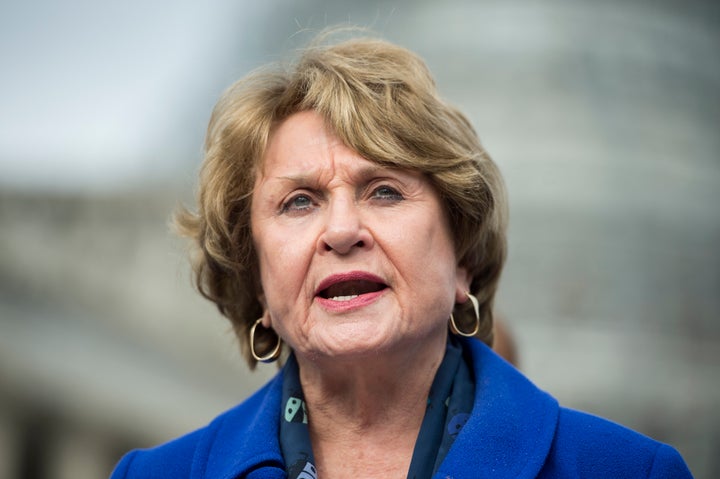 WASHINGTON ― Rep. Louise Slaughter (D-N.Y.), one of the longest-serving women in the U.S. House, died early Friday at the age of 88.
She died at George Washington University Hospital, her office confirmed in a statement. She had been hospitalized for a concussion after a fall at her Washington home last week, according to the Rochester Democrat and Chronicle.
"As the first chairwoman of the House Rules Committee, Louise blazed a path that many women continue to follow," said her chief of staff, Liam Fitzsimmons. "It is difficult to find a segment of society that Louise didn't help shape over the course of more than thirty years in Congress, from health care to genetic nondiscrimination to historic ethics reforms. The Slaughter family is incredibly grateful for all the support during this difficult time. Details on funeral arrangements will be provided when they are available."
Slaughter was elected to Congress in 1986. She was known for championing women's and reproductive rights during her time in the House. In 2007, she became the first woman to chair the powerful House Rules Committee.
Having grown up in Kentucky coal country, Slaughter went on to obtain a bachelor's degree in microbiology and a master's degree in public health. She then moved to New York City to work for Procter & Gamble, at which point she became interested in politics. In 1982, she was elected to New York's State Assembly, where she remained until she won her U.S. House seat and became the first woman to represent western New York.
Some of the first policies she helped pass reflected her work as a defender of women: the allocation of $500 million in federal funding for breast cancer research and the mandated inclusion of women and minorities in all federal health trials. She co-authored the 1994 Violence Against Women Act, which offered legal avenues to women who were victims of crime.
Slaughter was part of the group of seven Democratic congressional women who in 1991 marched up the steps of the U.S. Capitol, attempting to delay the confirmation process for then-Supreme Court nominee Clarence Thomas. They were unsuccessful in demanding the male leaders of the Senate to fully investigate Anita Hill's sexual harassment allegations against Thomas.
"There's no monolithic way that women respond to this. But we are the people who write the laws of the land. Good Lord, she should have some recourse here," Slaughter said at the time, according to The New York Times.
In 1996, she was one of only a handful of Democrats who voted against the Defense of Marriage Act, which the Supreme Court struck down in 2013, paving the way for LGBTQ couples to legally marry.
She marked her time as the first female chairwoman of the House Rules Committee from 2007 to 2011 by playing a role in passing other historic legislation, including the Affordable Care Act, the Lilly Ledbetter Fair Pay Act of 2009 and the Student Aid and Fiscal Responsibility Act. Slaughter was a co-chair and founding member of the Congressional Pro-Choice Caucus.
House Minority Leader Nancy Pelosi (D-Calif.) commemorated Slaughter as "a trailblazer."
"Her strong example inspired countless young women to know their power, and seek their rightful place at the head of the decision-making table," she said in a statement on Friday.
Rep. Pete Sessions (R-Texas), who currently chairs the Rules Committee, remembered Slaughter as "a fearless leader, deeply committed to her constituents, and a dear friend."
"As the first female Chairwoman of our Committee, she was a force to be reckoned with, who always brought her spunk, fire, and dynamic leadership to every meeting," Sessions said in a statement. "Although we sat on different sides of the aisle, I have always considered her a partner and have the utmost respect for her."
Slaughter was married to husband Bob Slaughter for 57 years, until his death in 2014, according to her office. She is survived by three daughters, seven grandchildren, and one great-grandchild. 
This story has been updated with statements from Pelosi and Sessions.
REAL LIFE. REAL NEWS. REAL VOICES.
Help us tell more of the stories that matter from voices that too often remain unheard.
BEFORE YOU GO
PHOTO GALLERY
Notable Deaths in 2018