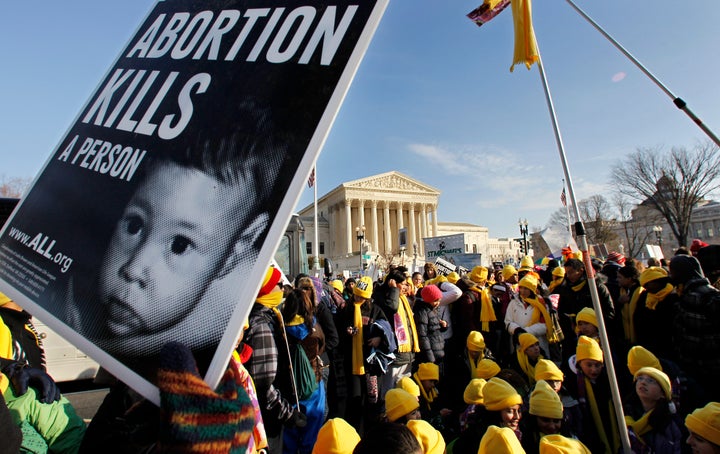 The Louisiana state legislature is considering a bill that would make performing an abortion a criminal offense, including in cases of rape and incest, and that would force a woman to pay out of pocket for an abortion that is necessary to save her life.
State Rep. John LaBruzzo (R), who introduced the bill, told lawmakers in a committee hearing last month that he fully intends for the bill to make its way up through the federal courts and challenge Roe v. Wade -- the 1973 Supreme Court decision that barred states from outlawing abortion in the first trimester of pregnancy.
"I think we're going at it piecemeal, trying to get two yards at a time, but we haven't gotten one first down," LaBruzzo said. "And I think this bill basically shoots for the end zone."
The Louisiana chapter of the American Civil Liberties Union, which would likely bring a lawsuit against the abortion ban if it passes, called the legislation "a frontal attack" on women's health and the medical profession.
"It turns doctors into felons," Marjorie Esman, the executive director of ACLU Louisiana, said in an interview. "It's an insult to anybody who wants to exercise their right to make their own medical decision, and we're not going to let the woman of Louisiana be insulted in this way."
Esman also sharply criticized LaBruzzo's stated desire to challenge the Supreme Court precedent.
"It's sort of astonishing that a legislator would take a position that is so hostile to the highest court in the land," she said. "It's a very arrogant, hostile statement."
In addition to banning abortions, the proposed bill would violate the federal Hyde Amendment, which states that while federal money cannot be used to pay for abortions except in the cases of rape, incest, and life endangerment, in those cases Medicaid and other government funds must be provided. LaBruzzo's abortion ban would not include such exemptions.
"This would mean a low-income woman whose life was in danger would have no options," said Ted Miller, a spokesman for NARAL Pro-Choice America. "She'd have to pay out of pocket."
The abortion ban has already passed in the Louisiana House. Miller said he expects it to pass in the state senate and to be signed by Gov. Bobby Jindal (R).
Louisiana already has a "trigger ban" in place that would make it one of the first states to outlaw abortion if Roe v. Wade were ever overturned. It is also one of 15 states with both legislative and executive branches sharply opposed to abortion rights, Miller said.
"This bill is consistent with other extreme elements we've seen come out of this state, and it's very disturbing," he said.
Mississippi and Alabama are also currently considering legislation that would directly or indirectly ban abortions in those states. Alabama lawmakers may take up a bill on Thursday that would amend the state's criminal code to redefine the word "person," and Mississippi will include a personhood amendment as a ballot initiative this November.
Alexa Kolbi-Molinas, a staff attorney for ACLU's Reproductive Freedom Project, said the organization has already challenged the Mississippi ballot initiative in court and plans to challenge any abortion ban that passes in the states.
"We'll regroup after the chips fall in Louisiana and Alabama, but all options are on the table," she said, "and that definitely means litigation."

Support HuffPost
The Stakes Have Never Been Higher
Popular in the Community