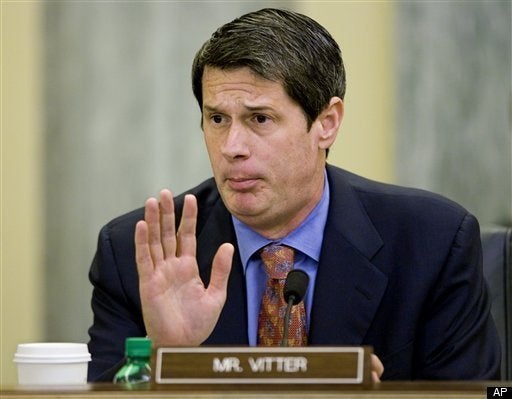 Citing Sen. John Ensign's resignation from his GOP leadership position after copping to an extramarital affair, Democrats are now calling on David Vitter -- another Republican with past marital misconduct -- to drop his own post within the party.
Presented with the right news hook, the Louisiana Democratic Party put out a press statement on Wednesday afternoon, urging its home state Senator to drop his title as Deputy Whip of the Senate GOP.
"Senator Ensign's admission that he was involved in an extramarital affair serves to remind Louisiana voters of the embarrassment that Senator David Vitter brought on the people of Louisiana when he acknowledged his involvement in a multimillion dollar prostitution ring," said Louisiana Democratic Party Chairman Chris Whittington. "But at least Senator Ensign understood the embarrassment he was causing to his own state. Sen. Ensign did the right thing today, and it is up to Sen. Vitter to do the same. Senator Vitter not only violated the public trust, but he broke the law. He should immediately resign as Deputy Whip of the Senate Republican Caucus."
The press release is the furthest that any Democratic politician or institution has gone in trying to reap political advantage from Ensign's marital difficulties. In the day since the news broke, fellow Nevadan, Majority Leader Harry Reid, has said that the matter is private
The LDP, certainly, is not part of the national party apparatus. And its focus with regards to the Ensign affair is to shine the light on Vitter's continued presence among the high-ranks of the GOP.
On a broader level, however, the state party's press release illustrates how the damage caused by Ensign's extramarital affair can, in many ways, be felt as much by the Republican Party as by Ensign himself. The Nevada Republican effectively extinguished any own hopes he had of running for president in 2012. But he also has disadvantaged his colleagues, who not only have temporarily lost a key figure on the media and fundraising circuit but also must deal with stories about the moral failings of its members.

Calling all HuffPost superfans!
Sign up for membership to become a founding member and help shape HuffPost's next chapter