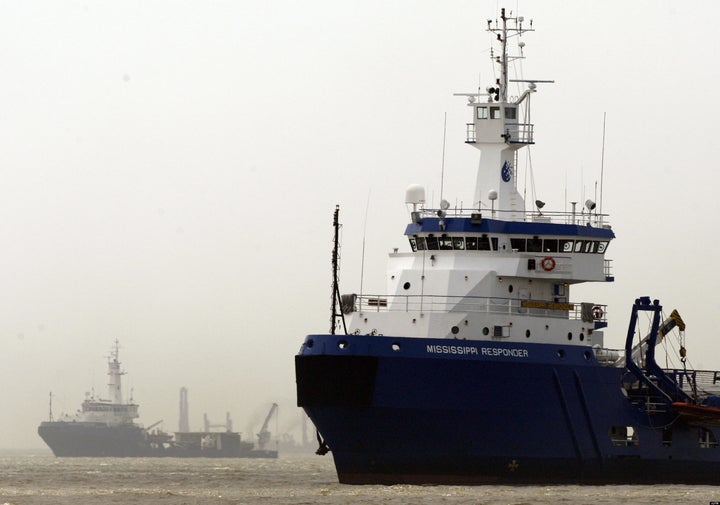 MORGAN CITY, La. (AP / Huffington Post)— Officials say an oil drilling rig on its way to a scrap yard has overturned in Louisiana.
No injuries have been reported. The overturned rig is unrelated to the oil spill in the Gulf of Mexico that threatens the coast's fragile ecosystem.
The Coast Guard said Friday that the rig, called a mobile inland drilling unit, overturned about 80 miles west-southwest of New Orleans.
It can carry about 20,000 gallons of diesel fuel, but Coast Guard officials did not know how much fuel was on board. Coast Guard investigators say no fuel leaks have been found.
About 500 feet of boom has been set up around the rig to contain any fuel that might leak as a precaution.
Tina Moore, the owner of T. Moore Services, which owned the rig, says it was being transported to a demolition and scrap yard. She says the rig was mounted on a barge.
The Coast Guard has put out the following press release on the incident.
MORGAN CITY, La. -- The Coast Guard is responding Friday to an overturned mobile inland drilling unit (MIDU) in the Charenton navigational canal south of Highway 90.

The MIDU has a 20,000-gallon diesel fuel capacity, and while there is no current estimate on how much fuel was on board at the time of the incident, on-scene Coast Guard pollution investigators have determined that the rig is not leaking fuel at this time. As a precaution, 500 feet of containment boom has been deployed around the rig, with an additional 500 feet arriving to provide a secondary string within the canal.

The Coast Guard has established a safety zone 1,000 yards on either side of the incident, prohibiting vessel traffic from entering the area without permission from the Captain of the Port. A salvage plan is currently being developed for Coast Guard approval.

There are no reported injuries and the Coast Guard is investigating the cause of the incident.

A drilling rig that is used exclusively to drill offshore exploration and development wells and that floats upon the surface of the water when being moved from one drill site to another. It may or may not float once drilling begins. Two basic types of mobile offshore drilling units are used to drill most offshore wildcat wells: bottom-supported drilling rigs and floating drilling rigs.
Calling all HuffPost superfans!
Sign up for membership to become a founding member and help shape HuffPost's next chapter