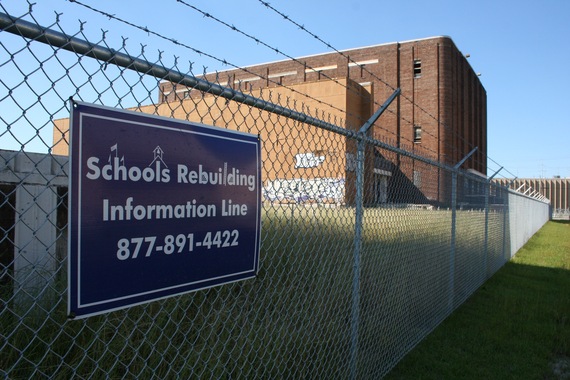 Outrageous, almost sounds like a joke, but the practice of building schools on hazardous waste dumps occurs regularly in Louisiana.
In 1942, New Orleans opened Booker T. Washington, a downtown high school for poor black residents, unfortunately it was placed atop the old Silver City Landfill, loaded with hazardous metals and pesticides. Across town in the 9th Ward, in 1985, Robert Moton Elementary School was built on a garbage pile stuffed with toxic Hurricane Betsy debris. "Students came down with rashes, nausea, and other health problems," reported Grist.
How is such horror even possible?
"Cash-strapped communities that don't have funds to buy a piece of property look at a list of municipally owned land and see the town dump," said New Orleans attorney Andrew Jacoby. "Then convince themselves they can just use that land to build a school."
Jacoby volunteers with the GreenARMY, a broad environmental coalition led by Lieutenant General Russel Honore, aka the General, the local hero who marched into a disintegrating New Orleans in the days after Hurricane Katrina and restored order. A bill to ban building schools on hazardous waste dumps is just one of several being pushed by the GreenARMY and other environmental advocates in Louisiana's current legislative session, which began March 14th and adjourns June 6th. That these bills even exist spotlights Louisiana's pathetic record in protecting the environment, and its citizen's health. The state is the third poorest in the nation, and recently ranked 47th in environmental quality, and 50th in eco-friendly behaviors.
"It is shameful," said the General. "Our democracy has been hijacked by influential lobbyists who represent the petrochemical industry."
These five bills aim to change that--if only they could pass.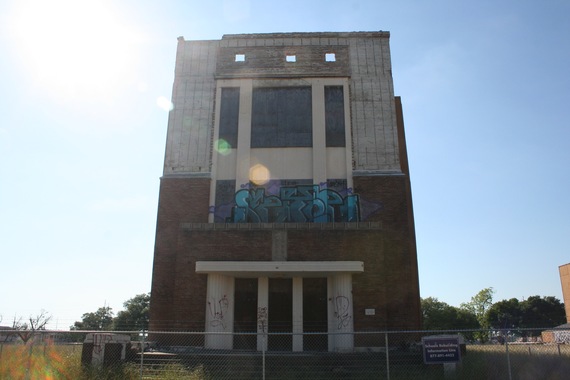 1 & 2. SB 426 and HB 11, Bills to prohibit open pit burning of hazardous military equipment 

In the tiny central Louisiana town of Colfax, old military explosives are being burnt in open pits by a Massachusetts-based company called Clean Harbors, releasing arsenic, lead, cadmium, strontium and other toxins into the environment. "They put the debris on a metal sheet and burn it," said the General. "Here we are in the 21st century and they're using Roman army methods."
These burns are illegal under the Clean Air Act, but dirty Clean Harbors, as the General likes to call the company, has been granted an exemption by Louisiana's Department of Environmental Quality. Clean Harbors Colfax torched more than 400,000 pounds of "reactive, energetic and explosive waste" in 2013, and almost as much in 2014, according to GreenARMY documents. SB 426, backed by Representative Ryan Gatti (R-Bossier), and HB 11, backed by Representative Gene Reynolds (D-Minden) and Representative Terry Brown (I-Colfax), aim to prohibit Clean Harbors from continuing to burn munitions and waste explosives, though would allow military and state police to continue open burns.
What's particularly troubling is that alternative technologies exist to dispose of munitions, and Clean Harbors uses these technologies at other burn sites. Still, HB 11 has met significant resistance. Clean Harbors showed up at the State Capitol with workers in company T-shirts and defended their jobs. "I've been doing this for 30 years and still keep hearing the same argument," said Marylee Orr, who directs the Louisiana Environmental Action Network. "They're a good company, and we are trying to put them out of business."
But just what type of company Clean Harbors is, recently became quite clean and clear. According to the General, at a recent committee meeting for HB 11, "the company offered the community [of Colfax] money, a new water system, playground equipment and scholarships, if they would drop House Bill 11."
"My jaw dropped," said the General. "We have that on record, I can send you a copy."
Unfortunately, neither SB 426 or HB 11 appears to be going anywhere anytime soon. The prior bill has not made it out of committee, and last week HB 11 was shelved as a resolution, meaning burns will continue, and the Louisiana Department of Environmental Quality will spend the next year studying them. "This is just a way for them not to vote on it," said the General, disgusted. "Most resolutions don't even get acted on."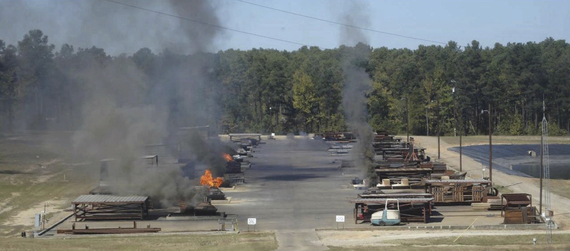 Open burning of explosive and reactive material at Clean Harbors Colfax. (Photo by Louisiana Department of Environmental Quality)
3. HB 469, Bill to require pollution monitoring at industrial plants that border communities

The stripe of Louisiana from New Orleans to Baton Rouge is known as "Cancer Alley." More than 150 plants and refineries, many related to the petrochemical industry, are located right next to communities where families live, eat, worship and play. Most of these communities are poor, some were founded by freed slaves. "Everything in their lives is contaminated," longtime Louisiana environmental advocate Wilma Subra recently told MSNBC. The bill would require certain plants to install "fence-line air monitoring systems." These monitors detect hazardous pollutants and would be located downwind of plants and where they border communities. When pollution levels spike, the monitors signal an alarm, notifying first responders and community members.
"We think this is a no-brainer," said Jacoby. Air monitor costs have dropped in recent decades, and the public health savings stand to be tremendous. Still, for the petrochemical industry, this appears to be too much regulation. The bill is being sponsored by Representative Patrick Connick (R-Marrero) and has been passed by the House Natural Resources Committee, and is scheduled for a vote on the House floor this Tuesday, May 10th. To become law, it must pass the house vote, pass a senate committee, pass a vote on the senate floor, and be signed by the governor. "Getting through all these hurtles," said Jacoby, "will be hard."
4. HB 553, Bill preventing big industry from sucking dry a pristine aquifer used as drinking water

Exxon and Georgia Pacific have giant plants in central Louisiana and "together use about the same amount of water as the entire city of Baton Rouge," said Jacoby. The problem is that both plants and the city draw water from the pristine Southern Hills Aquifer, which is being depleted. As water levels drop, saltwater intrudes, and with continued use and sea level rise, more and more saltwater will intrude. The bill aims to force industry to use Mississippi River water instead of the aquifer, a practice Jacoby says many industrial users have already done. Exxon presently uses some river water, but past bills aimed at forcing them and Georgia Pacific to rely exclusively on river water have failed. "Industry is too strong in the legislature," said Hays Town Jr., founder of Baton Rouge Citizens to Save Our Water, after one bill failed in 2014.
What happens when Southern Hills Aquifer becomes too salty, or depleted? Baton Rouge residents will be forced to drink and bathe in Mississippi River water, which Jacoby says, is basically, "a stream of waste." Despite an admirable effort from Representative Denise Marcelle (D-Baton Rouge), HB 553 recently lost in committee on a 10-7 vote.
"These legislators would do anything for money," said the General. "They'd approve a ham sandwich." But not, apparently, the long-lasting protection of a clean water source.
Get ready to bathe in waste Baton Rouge--The same "stream of waste" me and all other New Orleans residents already drink and bathe in.
5. HB 371, Bill to ban the building of schools on hazardous waste dumps

Two New Orleans schools have actually been built on hazardous waste dumps. In fact, building schools on waste dumps is common in Louisiana. A similar bill passed the Louisiana house last year but was shot down in the senate. One problem Representative Conrad Appel (R-Metairie) pointed out: Because of Katrina, much of New Orleans can be considered a waste dump. But Monique Harden, co-director of Advocates for Environmental Human Rights said it seemed to her like "the committee just wasn't interested in supporting this bill." A new bill is being supported by Representative Joseph Bouie (D-New Orleans), but has gone nowhere. Meanwhile, New Orleans plans to open a new school on the Booker T. Washington site. Harden and others vow to fight it.
"Families don't want to send their children to a school on a toxic waste dump," said Jacoby. And of course, they shouldn't have to.
If you live in Louisiana, CLICK HERE to find out who your representatives are, and follow the links to their state websites for contact information. Call, email, fax or send a letter concerning these bills. "There is a sense that these things don't matter," said Jacoby. "But they really do."
"If they get a note or a phone call about a vote, even ten phone calls, it is like something enormous is happening," added Orr. "It's a huge groundswell."
"We got to empower our people," said the General. "This government was designed to protect us, not to use and abuse us."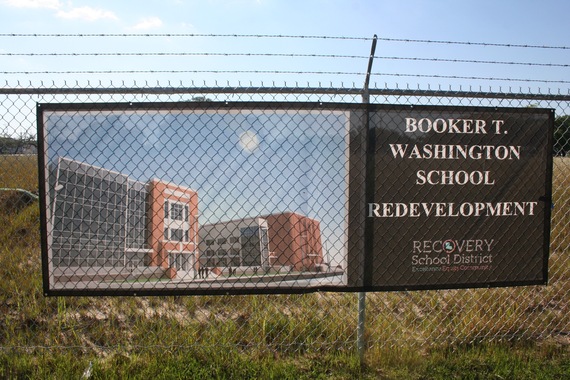 Booker T. Washington High School, just steps from downtown New Orleans, was built on a hazardous waste dump. The school was abandoned after Hurricane Katrina, but the city is planning to rebuild a new school on the same grounds. "To do this one time is bad enough," said General Honore. "To do this two times, you need to have STUPID stamped across your forehead." (Photos are of the site of Booker T. Washington High School, by Justin Nobel)
Calling all HuffPost superfans!
Sign up for membership to become a founding member and help shape HuffPost's next chapter