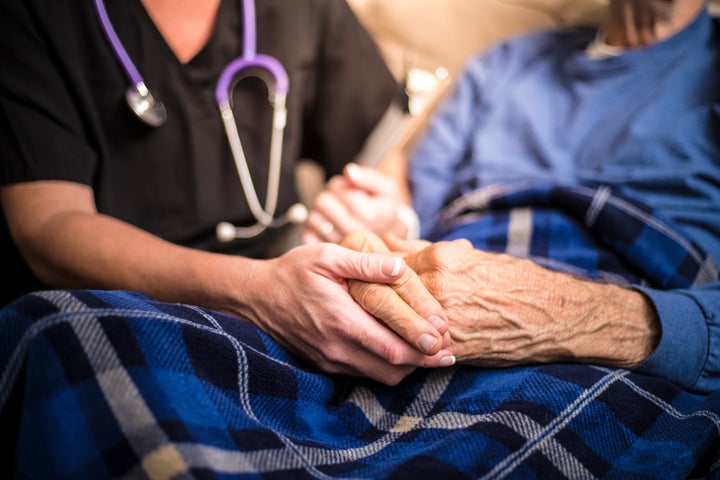 Officials in Louisiana are preparing this week to send out letters to tens of thousands of elderly and disabled residents to warn them that they could soon lose their Medicaid benefits because of deep health care budget cuts recently passed by the Republican-controlled state House of Representatives.
More than 37,000 Medicaid recipients would be affected by the proposed cuts, including 19,000 people who live in nursing homes and 2,700 people with developmental disabilities, reported The Times-Picayune. 
"The goal of the department is to give notice to all affected people as soon as possible in order that they begin developing their appropriate plans," department spokesman Bob Johannessen told The News Star. 
The Medicaid cuts still need to be greenlit by the state Senate and the federal government ― but if approved, affected recipients could lose their benefits in the next fiscal year, beginning July 1 — possibly leading to mass evictions from nursing and group home facilities across the state.
Thousands of people could lose access to home-based care and other services.
A budget approved in April by the state House included the elimination of four Medicaid programs for the elderly and the disabled. The Senate has yet to vote on the budget, and the federal government could block the cuts. 
Louisiana lawmakers are grappling with a budget deficit of at least $550 million and are trying to figure out how to make up the shortfall.
Republican lawmakers criticized Democratic Gov. John Bel Edwards and his administration this week for causing unnecessary panic by sending the warning notices to Medicaid recipients before the budget cuts are finalized. 
Edwards defended the decision to send out the letters, saying officials waited as long as they could and that people needed to be given enough warning of the possible cuts, which he has described as "catastrophic."
He said on Twitter on Wednesday that he was willing to work with lawmakers to find a solution to avoid the Medicaid cuts. 
Jim Tucker, the CEO of CommCare Corp., a nonprofit that runs 12 nursing homes across Louisiana, warned this week that the proposed cuts ― and the notices about them ― could have horrific consequences for the people affected.
"The stress of coming to realize that they are going to lose their funding that allows them to stay in a nursing home, and have no other known option, I believe could kill people," Tucker, a former Louisiana House speaker, told CNN.
He has said that hundreds of residents will have to leave CommCare's facilities if the cuts are enacted.
Some nursing homes have reportedly already started informing Medicaid recipients of the possible loss of their benefits. Concerned Louisianians have taken to social media to share stories of family members getting the troubling news.
"Mom called me crying over this unconscionable threat to losing nursing home care desperately needed," wrote one Twitter user on Tuesday.
Calling all HuffPost superfans!
Sign up for membership to become a founding member and help shape HuffPost's next chapter