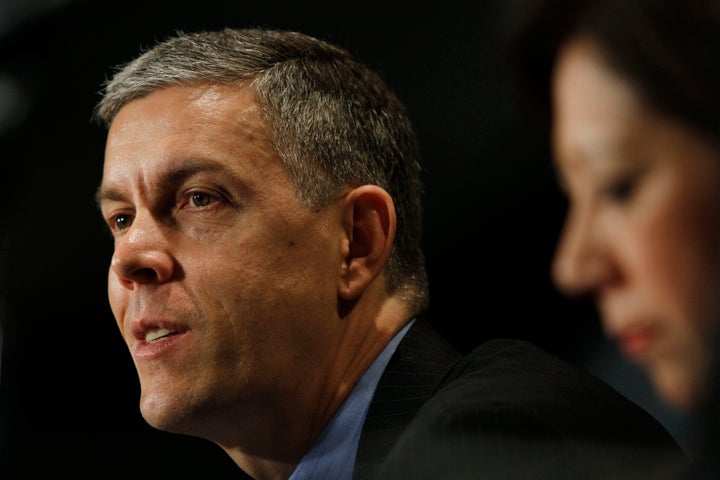 Linda Johnson, a Louisiana school board member, was driving in her black Chevrolet Trailblazer on Saturday when her phone rang with an unknown number, she told The Huffington Post.
When the caller gave his name, Johnson couldn't believe it. "Is this the real Arne Duncan?" she asked.
On the other line was U.S. Secretary of Education Arne Duncan, giving a glowing review of a candidate for the state's interim schools superintendent. Johnson recalls Duncan said he and John White had a great working relationship, when they worked in Chicago. He told Johnson that White was bright, and "could bring a lot to Louisiana," Johnson said.
White, 35, is a former deputy chancellor in New York City's Department of Education. He recently took the position of superintendent of Louisiana's Recovery School District, a special state-run district that focuses on remedying the damage Hurricane Katrina wrought on the schools in its path.
Duncan is just the latest vocal White supporter.
Shortly after Superintendent Paul Pastorek stepped down from his role earlier this month to work for Boeing, Louisiana Gov. Bobby Jindal (R) declared his support for White to serve as interim superintendent -- while also running the RSD.
The proposal has divided school board members, with some saying that holding down two sprawling jobs could be too much for White.
The Associated Press reported Wednesday that Duncan had called Johnson and at least one other of her school board colleagues, Louella Givens.
To select an interim superintendent, eight of the board's 11 members must agree on a candidate. By different members' counts, White only has five or six votes -- and that's even after Duncan's calls.
"John White does not have my vote for the interim superintendent," Johnson said. "Mr. White was hired to be superintendent for the RSD. He had been on the job one day when people said we should promote him. I cannot support that."
She said she appreciated hearing from Duncan, but said she had told him that Louisiana's education reforms have already been set in law. Whoever becomes superintendent will have to implement those policies. "I'm glad to hear that," she recalls Duncan responding.
Johnson disagreed. "It didn't feel like bullying to me," she said. "The secretary did not bully me or ask me to support Mr. White."
The management of Louisiana's schools has become more visible in the wake of Hurricane Katrina, as the state focuses its efforts on pumping resources into failing schools. The district's approach matches the major reform strategy promoted by Duncan and the Obama administration. Following the creation of the RSD -- the country's first special district for underperforming schools -- Tennessee established its own version, the Achievement School District.
Louisiana school board member Walter Lee said the public attention brought to the superintendent position has affected the lineup of job candidates -- and that concerns him. "The governor wants a national figure [to] continue the image of Louisiana being a reform state," Lee told The Huffington Post. The concern, he said, is that "if it were somebody from within the state, that would be somewhat of a national message that Louisiana was turning backward on reform."
He added that he's looking for a compromise. "I'm looking for someone that would be a little more acceptable to the people that believe it needs to be an educator from within the state and the governor's office's belief that it needs to be an outsider," he said.
Lee also criticized Pastorek for not relating to Louisiana's local school districts.
And Johnson said, "It's not like if Mr. White is not the interim superintendent, we're back to the stone ages."
Some candidates from within the state include Ouachita Parish superintendent Robert Webber and Rapides Parish superintendent Gary Jones. Other names reportedly up for consideration are former Baton Rouge superintendent Gary Mathews and Gary Stark of the National Institute for Excellence in Teaching.
White has said he would consider taking the job if the board asked him to fill it.