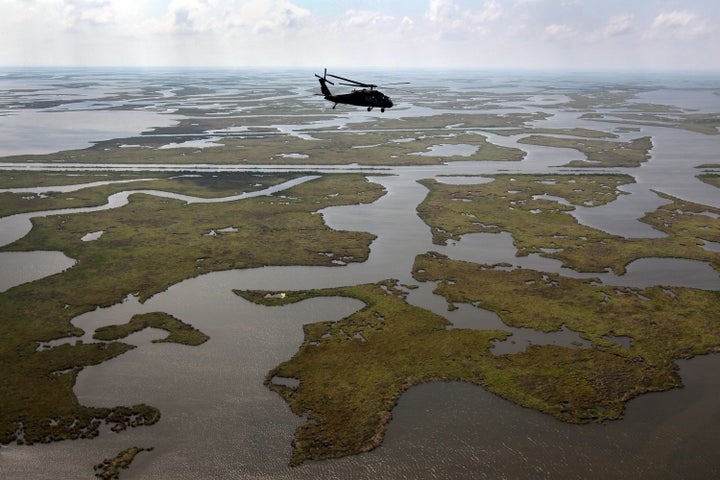 Lately, Louisiana residents have worried that their lunchtime oyster and shrimp poboys, or sandwiches, are torpedoing the weekly budget. After a series of calamities in recent years, Louisiana shellfish is expensive and won't become cheaper anytime soon, industry members say.
If you want oysters on hand for Thanksgiving, shop for them early, advises Mike Voisin, chief executive of Motivat Seafoods in Houma, La. and member of the Louisiana Oyster Task Force.
The state's dockside oysters are fetching $30 per 100-pound sack, which is near their all-time highs in past adversities, said Byron Encalade, president of Louisiana Oystermen Association in Pointe a la Hache. "We usually see a slight price drop when the season opens in the fall but that's unlikely to happen this year," he said. "We'll have an influx of oysters at the start of the season, and it will be tough after that." He believes supplies will be adequate for local customers but there won't be much to ship and prices will rise.
Louisiana's oyster season runs from September to next August. The opening of public seed grounds was postponed from Oct. 17 to Oct. 31 at the latest, so that sampling for Natural Resource Damage Assessment studies following the BP spill can continue, said Olivia Watkins, spokeswoman for the Louisiana Dept. of Wildlife and Fisheries. "The delay doesn't impact private leases, which are still providing oysters for the commercial industry," she said.
Mike Voisin cited a chain of events that have walloped oysters -- Hurricanes Katrina and Rita in 2005, Gustav and Ike in 2008, last year's BP spill and this year's Mississippi River flood. Fresh water diversions from the river to keep oil out of marshes last year were a factor.
"Oyster resources east of the Mississippi River -- the prime, public oyster areas -- haven't had a significant reproductive cycle in a couple of years," Voisin said. "My prediction is that Louisiana will be down to only about 35 percent of our normal, annual production of 250 million in-shell pounds of oysters" in the year that began this fall. But after that, Voisin expects improvement in each successive harvest until the industry fully recuperates. "Oysters are a three- to four-year crop, and damage to an area can take at least that long to recover," he said.
Voisin said that oysters will be available in Louisiana for the holidays and lingering concerns about the spill have trimmed demand outside of the Gulf. Supplies will be tight, however.
Benny Miller, owner of Louisiana Seafood Exchange in Jefferson, La., said "shucked meat, Louisiana Gulf oysters are running at $7.00 to $7.75 per pound. That's high for this time of year, but not the most they've ever been." Prices were higher after past hurricanes and at other times when heavy rains shut down beds.
"We source our oysters mainly from east of the Mississippi River," Miller said. "We have a long-term supplier we've dealt with for 15 or 20 years, and haven't had trouble getting oysters this year." But other buyers may be hard pressed to find oysters in certain harvest areas, he said.
Demand for Gulf oysters strengthens ahead of Thanksgiving, Miller noted. The Texas oyster season opens on Nov. 1, helping to fill holiday needs. Texas oysters have been hit by drought this season, however, industry members said.
Shrimp prices have been climbing, Miller said. "When Louisiana's shrimp season opened this August, product just wasn't there. They weren't catching the shrimp. There weren't enough medium shrimp with heads on, so that affected peeled shrimp supplies." Peeled and headless, frozen shrimp prices have been rising steadily for two months and are up 20 percent to 35 percent in that period, depending on their size, he said.
But at the same time, the weak economy has hurt demand for shrimp and other shellfish, Miller said.
Kim Chauvin, who owns Mariah Jade Shrimp Co. and other fishery operations in Terrebonne Parish, said "our precious resource of Louisiana shrimp is certainly in tight supply." She suspects that "BP killed off our shrimp crops with all that dispersant spraying they did in the Gulf" last year.
She also said shrimpers aren't receiving high prices now because brokers are pocketing any profits for themselves. "There isn't much profit to made from the fisher to the processor now," she said.
Chauvin said fishermen see little money coming in because of tight supplies, and the Gulf Coast Claims Facility is using the excuse of inadequate paperwork to underpay or renege on payments to fishermen for losses from the BP spill. She has sent all her business documents to the GCCF more than a dozen times, and is still waiting for payments.
As for the size of the state's shrimp supplies, Watkins at LDWF said "Louisiana is currently engaged in the NRDA process to determine what, if any BP spill-and-response impacts there may be on species, including white shrimp."
In the case of oysters, Johnny Smith, owner of Captain Johnny Smith Oyster Packing Plant in New Orleans, said he believes Louisiana supplies are larger than fishermen are saying. He said "some of them with big boats earned good money working cleanup for BP during the spill. They can afford to wait until prices rise further before going out on the water for days and fishing hard." He said in early November, trucks from the eastern U.S. typically appear at Louisiana's oyster docks, where bidding wars ensue. Consumers on the East Coast are accustomed to paying much higher prices for oysters than Louisiana residents, he noted.
Voisin took issue with the thought of fishermen staying ashore until prices rise, and said "oyster prices to the harvester have been high for some time now, and I'm not familiar with anyone holding back quantities. If so, I'd like to know where they are so that our company could get a hold of some of that product."
Smith said Gulf supplies will be tight because of a string of problems in Louisiana and Texas since Katrina, along with this year's red tide damage to Texas oysters, and an only partial opening of Mississippi's season as oysters there recover from the BP spill. Louisiana produces about 50 percent of the Gulf's oysters, followed by Texas, Mississippi, western Florida and Alabama.
Lance Robinson, coastal region director at the Texas Parks & Wildlife Dept., last week said "currently, all oyster-producing bay systems in Texas are closed due to red tide." Drought and high temperatures have created red tide blooms that are paralyzing and killing seafood. "While the public season in Texas normally opens on Nov. 1, it's too soon to say whether Texas bays will be reopened to shellfish harvest for the 2011 season," he said.
Mississippi plans to open a limited oyster season on Oct. 24 for tonging only, said Scott Gordon, marine manager with the Mississippi Dept. of Marine Resources. Tongs are long poles, used like scissors, with a rake-like attachment for scraping oysters off beds.
Meanwhile, Louisiana's shellfish has been carefully sampled and tested by state and federal agencies since the spill, Miller said."Our facilities are inspected all the time by the Food and Drug Administration and the state Dept. of Health, who come in at any time unannounced. In addition, I have independent, third-party audits done for sanitation to fulfill contract obligations."
Miller said government test results for Gulf seafood are coming back clean, and he noted they're posted online now for consumers. A new website, Gulfsource.org -- sponsored by four Louisiana agencies -- provides data by area or sample type for oysters, shrimp, crabs and finfish after testing for oil toxins and dispersants. Following the spill, BP gave Louisiana $18 million for three years of seafood, water and sediment testing.
"For a while after the spill, we got questions from customers about seafood safety, but not so much anymore," Miller said. "Clients dealing with a reputable seafood company seem fairly confident about safety now."
But after oil spewed into the Gulf daily in mid-2010, digging into a platter of oysters or shrimp can still be a leap of faith. As for prices, "the days of $6 or $7 oyster poboys in almost every grocery or convenience store in south Louisiana are gone," Johnny Smith said. "They're as high as $12 to $15 now, and places stopped selling them because customers said they cost too much."
This article was originally published in "The Louisiana Weekly" in the Oct. 17, 2011 edition.

REAL LIFE. REAL NEWS. REAL VOICES.
Help us tell more of the stories that matter from voices that too often remain unheard.