Tony Moore is sitting in a radio studio at After Buzz TV. He is going over the outline of the show with his co-host, Mark Freeman on a Days of Our Lives recap show. As a longtime fan of the soap opera, Moore is thrilled to be combining his passion for broadcasting and his love of the show.
Tony Moore always knew that working in the entertainment industry was for him. Growing up as a military kid, he lived all over the United States and parts of Europe, he eventually settled down in Columbia, South Carolina. He graduated with a degree with a B.A. in Mass Communications (Broadcasting) and a minor in Theatre from Winthrop University in Rock Hill, South Carolina.
After graduation, he moved to Los Angeles to pursue his dream of working in the entertainment field. He has appeared in various television shows and film, but his true passion project is his own web talk show, Loungin' With Tony.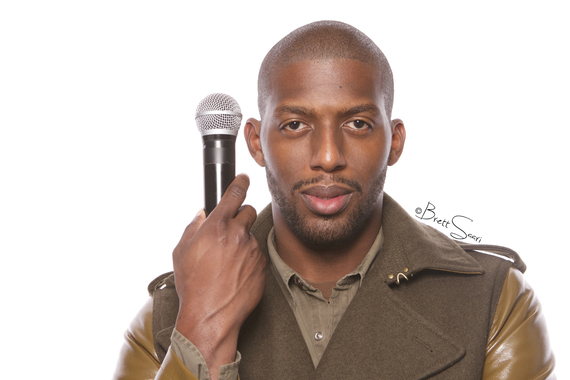 Launched in 2010, the online talk show has gained momentum in the last few years. Since its debut, Moore has interviewed many people in both daytime, reality and beyond. Stars live Raven Symone, Wayne Brady, Chef Dakota Weiss (of Top Chef fame) and Ari Zucker (Days of Our Lives) have sat down with Tony. The show itself is not filmed on a set, but rather in the setting of the guest's choice. This adds a sense of relaxation and no pressure. "I just want people to feel like you get to know these 'celebs' a little better and realize that they are just regular people with cool jobs." Moore says. The casualness of the show does not mean it is not professionally done. While viewing some interviews, it is very clear that Moore did his research on the guest, and it is to the point that the interview comes off less as an interview and more as a conversation. The show is professionally shot and edited by Evan Rossenberg.
In the last few years he has gained a growing following, especially with the Days of Our Lives fandom. He regularly is the MC for events for the soap crowd all over the United States. However, Moore has not limited himself to just this genre. He has currently taken his skills to Australia to MC "Abby's Ultimate Austrian Tour" with Dance Moms Abby Lee Miller. Moore scored the gig after interviewing Miller earlier this year. He has also expanded his hosting duties by recently launching Kickin' It With Tony, an on-the-street style show where the guests are everyday people.
I first came across Mr. Moore over a year ago when I was looking through interviews of Casey Deidrick, actor and lead singer of the metal band "And Still I Rise" (Who is currently on MTV's Eye Candy). After going through a few interviews, it was clear that Moore is not only talented and likable (a trait typically needed in his field), but his drive and passion is apparent through his interviews. Months later, we connected through a mutual friend. Moore's drive and passion remained the same (or I would say even increased) as he spoke about past and potential future interviews with genuine enthusiasm. While it takes more than enthusiasm in the cutthroat world of entertainment, it is my observation that Tony Moore has the attributes needed in order to find a form of success in this field. Will I eventually see him on my TV? It is possible. If anything, he is clearly on his way, and it will interesting to see where the road will take him in the future.
Loungin' with Tony and other videos/shows by Tony Moore can be viewed on his YouTube channel. More information (including videos) can also be found on the show's Official Website.
REAL LIFE. REAL NEWS. REAL VOICES.
Help us tell more of the stories that matter from voices that too often remain unheard.