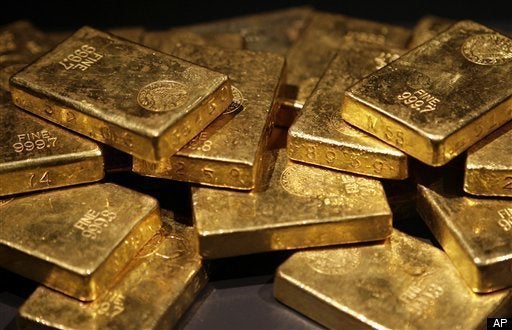 Love affairs die fast on Wall Street. So it's hardly a shock to find that one of the Street's most torrid romances could be in hot water.
That's the lengthy affair between Wall Street and gold, which saw the yellow metal triple in price since 2001 and shoot up nearly 40% from $833 an ounce at the end of 2007 to an all-time high early last month of $1,227.50. Last year, gold rose nearly 25%.
Although the metal pays no interest or dividend, it has wowed Wall Street, ballooning about 82% since the beginning of 2007, versus around a 20% decline in the S&P 500 Index.
Nothing, however, goes up forever, and that includes gold, which has been a store of value dating back to biblical times. From its recent high, the metal, currently trading at around $1,097, has shed roughly $130 an ounce, about $45 of which it lost in several recent consecutive trading sessions, largely because of a continuing strengthening greenback, which rose more than 2% against a basket of six major currencies.
In the past eight months, I zeroed in on Wall Street's non-stop craving for the precious metal by writing four gold pieces at HuffPost. Each was generally positive on gold's prospects and all were followed by higher prices.
This piece, though, is a change of pace. It takes a negative tack as it reflects the thinking of a number of market pros, including a long-term gold bull, who are all having some second thoughts about the metal's near term prospects and some of whom argue that the price of gold could be vulnerable to a stiff decline.
Clearly the most bearish outlook I've come across--one that the gold bugs would surely be quick to characterize as off the wall--is what I heard from an investment newsletter writer, Harry Dent, Jr., editor of the HS Dent Forecast in Tampa, Fla.
Taking note of $42 trillion in private debt, Dent expects half of that to disappear in a de-leveraging process within the next few years. That means, he says, the onset of deflation (falling prices), which will cause the dollar to go up and gold to go down.
Under such a projected scenario, Dent looks for gold to drop to $250 an ounce, a giant-sized slide that he expects will begin to kick off this year. "The fact of investment life," he says, "is that the dollar is now going up and gold is now going down, meaning it's time to sell gold."
One of the country's leading investment newsletters, Dow Theory Forecasts of Hammond, Ind., is also concerned about the metal--so much so that the front page of its latest issue features a piece titled "Be Wary of Fool's Gold."
Investors are getting carried away, editor Rich Moroney tells me. There's been too much speculation in the metal and too much bullishness, he says. Gold has had a big move up, but now, he believes, "it could have a big move down."
One of the big pitches of the gold bulls is the likelihood of inflation, given stepped-up money printing and skyrocketing government spending and budget deficits. Moroney acknowledges that inflation may rear its ugly head, but he's quick to note that one of inflation's chief drivers--upward wage pressures--is still missing. As for betting on a weak dollar--which has been the basis of gold's strong showing in recent years--Moroney says that seems like a crowded trade. In brief, too many investors acting on that view.
Citing some gold concerns, he points to falling jewelry and industrial demand; likewise, gold mines, anxious to get out all the gold out they can, are going full steam.
Meanwhile, buoyant gold forecasts are all over the place, with projections of $1,500 and $2,000 gold before year end quite common. U.S. Gold Corp. chief Rob McEwin is one of those who's forecasting that $2,000 number. In fact, he takes it one step further, noting that gold may rise to $5,000 an ounce between 2012 and 2014 as the U.S. government debt weakens the dollar.
Russia, aside from such nations as china and India, is also gung-ho on the metal, with its central bank having recently bought a big chunk of gold.
One long-term gold bull, online investment adviser Mark Leibovit, editor of the VR Gold Letter in Sedona, Ariz., is hoisting cautionary flags even though he told me a few months ago that he doubted we would ever see $1,000 gold again in our lifetime. Leibovit is now wavering on that provocative prognosis, observing that the metal appears ready to retest its recent low of $1,073, a price which he feels must hold less we see $1,000 again.
Leibovit is by no means kissing gold goodbye for the long run, which he thinks could eventually produce a $3,000-an ounce price tag. Still, he once said $2,000 gold could be in the bag this spring. Now, though, taking note of the metal's sharp rise, coupled with its recent weakness, he believes a healthy retracement is not out of the question. It's unclear, he says, whether we're going to see new highs this spring or simply a retest of highs, but a caution flag has clearly been raised.
Credit Suisse, on the other hand, doesn't mince any words, recently declaring "there's a huge gold oversupply and it's time to sell." Significantly, it sees a downdraft in investment demand as the economic environment has taken a turn for the positive and that leads it to take a bearish gold stance in 2010.
A cautionary note. You may have seen those growing number of TV gold ads, such as send us your gold jewelry and we'll send you money. Don't do it, several gold trackers tell me; you'll be cheated. Likewise, a growing number of TV ads are also pushing gold investments. Watch out! More often than not, that's the sign of a top.
What do think? E-mail me at Dandordan@aol.com
Calling all HuffPost superfans!
Sign up for membership to become a founding member and help shape HuffPost's next chapter