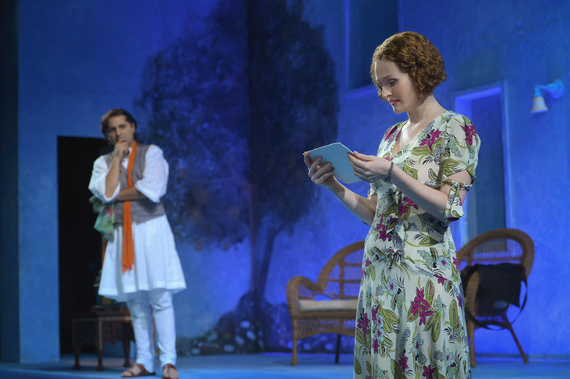 Nirad Das (Firdous Bamji) paints a portrait of free-spirited English poet Flora Crewe in 1930s India in Indian Ink, Tom Stoppard's epic romance that weaves decades, continents, and cultures. Photo by Kevin Berne.
"Rasa" is the Indian term that describes the essence of an artwork. It only occurs through a participant's uplifted experience of the art and it is flowing in full force in American Conservatory Theater's new production of Tom Stoppard's Indian Ink, directed by Artistic Director Carey Perloff. Her multiple-decade relationship with the author facilitated this production's mounting in New York at Roundabout Theater Company in September, and since the play originally premiered at A.C.T. in 1999 it has been one of their most highly requested productions.
The play straddles two parallel stories separated by 50 years and explores multiple themes that include living life in the face of death and imperial rule.
The story is about the famous fictional poet Flora Crewe, powerfully portrayed by Brenda Meany. Flora possesses a lust for life and love in the face of imminent death. Although directed by her doctor to rest somewhere with fresh air, she stubbornly chooses to go to India when the country is in beginning stages of revolt against British colonial rule.
In India she meets painter Nirad Das with whom she has a brief lust-imbued relationship. Nirad, charmingly played by Fridous Bamji, falls in love with Flora while painting her. It is through his "Indian Ink" (paintings) that he expresses Shringara, the love Rasa. The play moves back and forth in time, between 1930 and the 1980s, her sister Eleanor (Roberta Maxwell) and a driven academic (Anthony Fusco) resolve the mystery of Flora through the letters she wrote to her sister. It is where the past and present come together in the '80's that we discover that although dismissed in her lifetime, Flora Crewe has become a well-respected poet.
The play soars most in the stormy relationship between Flora and Nirad. Meaney and Bamji make an excellent pairing as their relationship unfolds with fervor. Meany is a passionate, breezily candid and fearless Flora while Bamji is intensely focused, unfailingly polite and increasingly fascinated by her. The two together generate alluring intensity that keeps the audience engaged and interested. However, their story is stifled by the play's incessant switch back to the 1980s. It seems to slow the pacing and loses our interest as we are eager to see Das and Crewe's relationship get resolved.
Neil Patel's sets, Robert Wierzel's lighting and Candice Donnelly's costumes work together exquisitely to reveal a sumptuous backdrop to this sensuous story of love and art.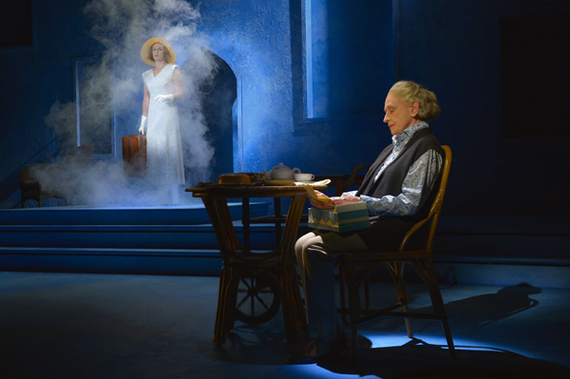 Free-spirited English poet Flora Crewe (Brenda Meaney), left, arrives in Jummapur, India in the 1930s as her younger sister, Eleanor Swan (Roberta Maxwell), reflects on letters from her 50 years later in England in Indian Ink, Tom Stoppard's epic romance that weaves decades, continents, and cultures. Photo by Kevin Berne.
Indian Ink: Drama. By Tom Stoppard. Directed by Carey Perloff. Through Feb. 8. $20-$120. American Conservatory Theater, 415 Geary St., San Francisco. Two hours, 50 minutes. (415) 749-2228. www.act-sf.org.
Related
Popular in the Community