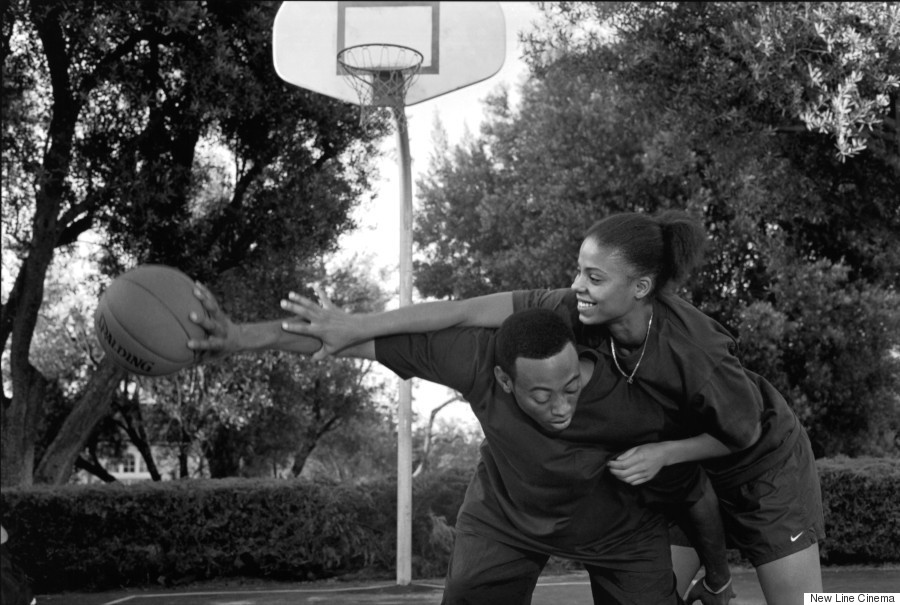 Fifteen years ago, the 2000 release of "Love & Basketball," redefined what was considered a sports movie by bypassing the genre altogether.
For many athletes, the story of Monica and Quincy, childhood neighbors (portrayed by actors Sanaa Lathan and Omar Epps) who grew up playing basketball and falling in love, resonated so much. On screen was the heartbreak and passion of sports and love -- with some strip basketball and a beautiful game of one-on-one thrown in for good measure.
Furthermore, for many women, we finally saw in Monica a character unlike any other. A woman that wasn't delicate, but rather, could hold her own on the court and trash talk with the best. And yes, still fall in love with the boy next door. It also transcended race and unlike many of its contemporaries, was embraced by a broader audience.
A smaller-budget film and a directorial debut for its writer, Gina Prince-Bythewood, "Love & Basketball" has endured as a classic and favorite among audiences, crossing beyond gender, race and sports.
To mark the movie's 15th anniversary, The Huffington Post spoke to some of those behind the film about its legacy and what it took to make such a realistic basketball movie, that became much more than a sports film.
"Love & Basketball" was the first film by writer and director Gina Prince-Bythewood, who after first trying to make the move from television with a comedy about four friends in college, scrapped that idea and in 1997 began writing what she knew: growing up as a female basketball player.

Gina Prince-Bythewood, writer/director: It was just an idea that was in my head, it was a very personal story, a lot of it is autobiographical. Growing up, ball was everything to me. I'm an athlete first and always have been, and it's been so much a part of my life. And I just didn't feel that I ever saw that woman or girl reflected on screen.
Finally after a year and a half, [my husband Reggie, who is also a writer, and I] felt it was good enough and went out with it. Every single studio turned it down. It was devastating. I remember I had a list on my fridge of all the studios and every day crossing another one off. And I kept getting the feedback that it was "too soft," which I just didn't know what that meant, how is it soft? But I think part of it was also it was a film with two people of color in the lead in a love story. It wasn't a comedy. At that time, obviously there was the success of "Boyz in the Hood" and "Menace II Society" and this was something definitely different. But again, it was what I wanted to see and what I felt we hadn't had an opportunity to see.
By 1998, Prince-Bythewood said taking the script to Sundance Institute Lab Program "really turned the tide for this film", which was followed by a table reading in Los Angeles (that featured Sanaa Lathan reading for the role of Monica), and interest from both Spike Lee's 40 Acres and a Mule Filmworks and New Line Cinema.

Sanaa Lathan, actress (Monica Wright): The script was great. And it was a page-turner and I cried … How people identify with the movie, I identified with the script and their story. I am a romantic and I'm a driven woman and I was like, "Oh wow, I've never really seen anything like this on the screen." It was worth fighting for.
"Every single studio turned it down. It was devastating."
Jay Stern, executive producer, New Line Cinema: I believe the script went to our head of production, Mike De Luca, and he handed it to me to read. I loved it and I told Mike he needed to read it and he liked it a lot and then we basically said we want to make this movie. I believe quite a bit of her challenges came before it was submitted to New Line … So for us, it was an easy choice. It was really a question of making it at a price so that it wasn't too risky.
Lathan: There was another actress that was supposed to do it. She got sick and so they asked me to do it last minute … I don't think I would've gotten the part if I didn't take part in that and I think that was a year before she got the deal.
Once Prince-Bythewood was able to get a film studio on board, came the biggest challenge of the movie: casting. What took place was a months-long casting process, perhaps unlike any other, that even included herself for a brief moment. ("Honestly, if there were no love scenes, I probably would've contemplated it more.")

Prince-Bythewood: I felt that every time you'd see -- especially women's ball, which was very rare anyway -- but on TV or film, it just set us back ten years. Like it just did not look good.
Lathan: Her standards were really high … The acting part was easy for me, but I had never played basketball, I had never dribbled, I had never done a layup. So she was like, "Well, I'm going to have to start auditioning you as a basketball player, like on the basketball court." That was pretty tough.
Prince-Bythewood: It was very important to me to have an athlete, so when we started auditions, they had to read, but they also had to meet me on the court … My casting director, Aisha Coley cast a huge net. I [wanted to] read Serena Williams [she spoke to our casting director, but she was unavailable], I read Marion Jones [for an audition on tape], you know, before the controversy. I just wanted to be creative about it and find who embodied this character.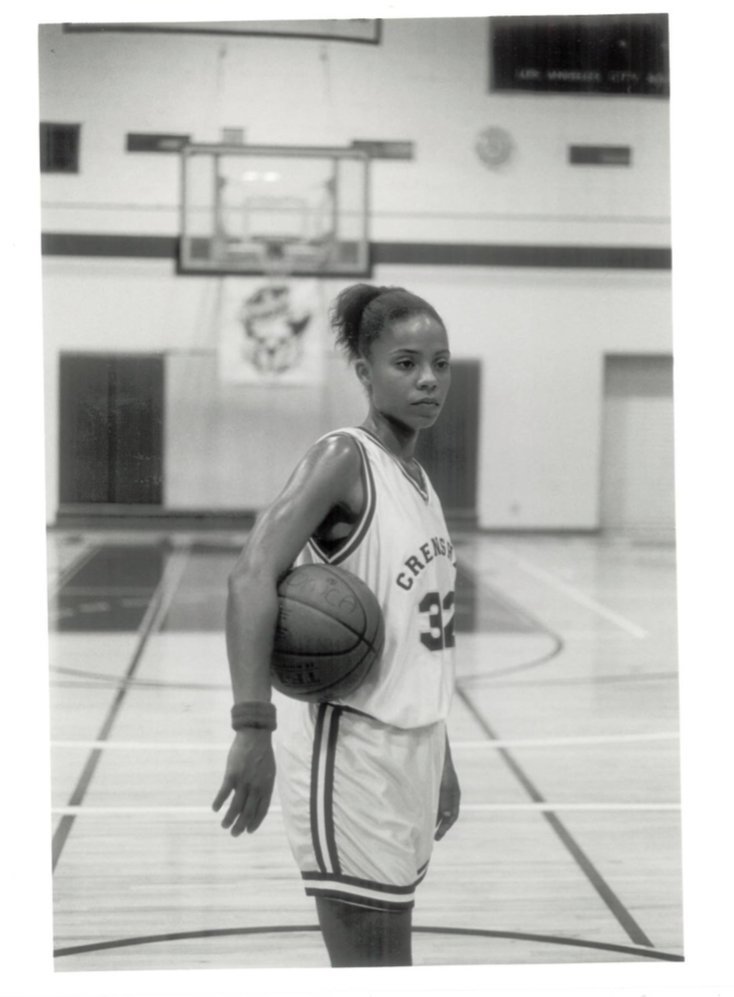 Lathan starring as Monica Wright. (Photo courtesy: Gina Prince-Bythewood)

Lathan: Meeting her at a court and, "OK, dribble. OK, do a layup. Alright, go on defense with this person" … She kind of kept me around and in the mix and kept auditioning basketball players … But I finally said to her, "Look, if you want me to keep doing this and keep coming back, you have to get me a coach." I didn't have the part, but that was just what made sense. I heard that she had gotten one of the basketball players an acting coach. So I was like, "Then you need to do the same thing for me."
Prince-Bythewood: There was a ball player named Niesha Butler, who played at Georgia Tech, and also wanted to be an actress and she auditioned. She had really good chemistry with Omar [Epps], but hadn't acted before. So I put her with an acting coach. So these two were on these parallel tracks, really in my mind it was between these two. And this literally went on for three months.
"I [wanted to] read Serena Williams ... I read Marion Jones [for an audition on tape], you know, before the controversy. "
Lathan: I had people in my life who were like, "Stop. This is emotionally abusive" … There were many times it was very emotional … Because it seemed like every time I would get to a certain level, I would think I would get the call and then two days later it'd be, "Oh, well they're bringing in another basketball player."
Stern: There was a pretty strenuous, I would say, debate about who should play Monica. There was a faction that really, really wanted somebody who was a great basketball player and then I believe myself and Mike De Luca argued pretty strenuously for somebody who was a great actor, who could get across the emotionality of the love story because we thought that's where the heart of the movie resided.
Prince-Bythewood: Sanaa had improved, but not completely. She was better, but you couldn't throw her out in a game and have her really hang. It just came down to finally my husband said, "Is this a basketball movie, or is it a love story?" And at the end of the day, I realized it was a love story and you can fake a jump shot, but you can't fake a close-up.
Lathan: I was very fortunate because, at the time, I had a spiritual mentor person, and I was talking to her about some personal relationship stuff that I was going through in my life. Naturally, I just kind of started talking about this process because it was so tough, and when I had two very influential people who I trusted say, "You need to really let this go," she was the one who said, "No. You're just going to do this for yourself. Even if you don't get it, you're going to do this for yourself …" So, she was the one who kind of coached me through sticking with it, and thank God I did.
Prince-Bythewood: [Omar] was my first choice [for Quincy]. I knew he was athletic, he'd actually been in two sports movies: "The Program" and "Higher Learning". When I talked to him and met with him, he looked at the script and loved the character. He said he could play ball and then I also put him with a trainer, the assistant coach at UCLA at the time. He trained with him for a couple months prior, as well.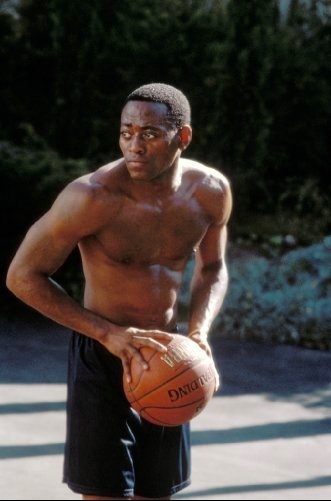 Omar Epps as Quincy McCall. (Credit: New Line Cinema)

Omar Epps, actor (Quincy McCall): Because I had done a couple of sports movies at the time, I kind of had to swallow that one. I didn't want to play another athlete. But no, I didn't play basketball. I was just athletic. I was more of football guy, but played basketball in the park just like anybody else.
Stern: I can't say enough about the cast. I thought Omar was fantastic and Sanaa was truly spectacular. So I do think if New Line, myself and De Luca and [executive producer] Cynthia Guidry did one thing right, it was making the argument for Sanaa being in that role. And she obviously trained like a demon to get herself good enough at basketball so that it was played believably.
In addition to Monica and Quincy were Quincy's father Zeke McCall, a professional basketball player himself who cheats on Quincy's mother, and Shawnee Easton, another girl at high school fighting for Quincy's attention. Both characters became just as memorable.

Dennis Haysbert, actor (Zeke McCall): I think it was not only an interesting role to play, but also a role that needed to be played with regards to fathers and sons and husband and wives ... I really loved the script. I didn't necessarily love the picture it painted of my character, but he did what he did.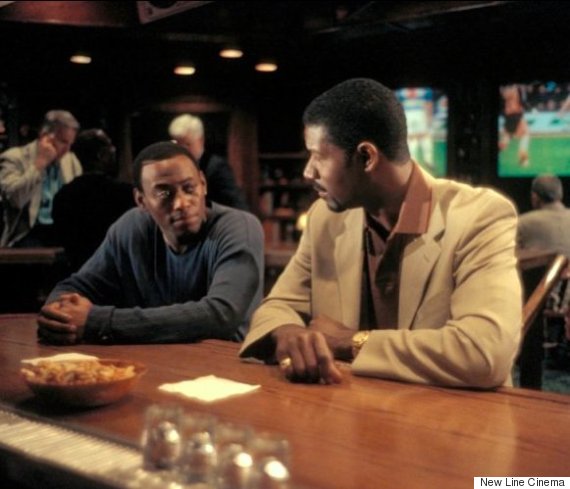 Gabrielle Union, actress (Shawnee Easton): As an athlete my whole life, a point guard my whole life, I thought this was a dream role, but I had very little acting experience. I actually auditioned for Sanaa's role, except of course did not get it because I was not a great actor ... Gina was like, "OK, you're not right for Monica, but I think there's another role …" "Uhhh ... the groupie? Hmmm."
Prince-Bythewood: It's funny because Gabrielle's part was technically small, but she was so memorable in that. It really was the cheerleader versus the athlete. I know when I was in high school, it was just a dynamic. Female athletes who weren't getting checked for, but the cheerleaders were. They still do represent an ideal woman. I loved to put out in the world that Quincy chose the athletic girl over the cheerleader, even though the cheerleader was throwing everything she had at him. Most guys wouldn't turn her down. So I wanted to flip the script in that way and that's honestly one of the things I love most about the reception of the film, is how many guys say that Monica became their ideal woman. That was just dope to me.
One other possible snag to Lathan's audition process: She was dating, Epps, her would-be co-star and romantic interest. A fact both decided to keep from Prince-Bythewood until the roles were cast.

"We were dating. Gina didn't know ... She had asked and we said no."
Union: I shared [a trailer] with Boris Kodjoe, and Boris played Sanaa's date [during the school dance scene] ... So we were just like, "Oh, I'm nervous," because there was that added tension because Sanaa and Omar were a real couple ... So there was that awkward, you don't want to do too much, you don't want to seem like the weirdos ...
Lathan: We were dating. Gina didn't know that because a lot of people have different theories about chemistry, and they're not necessarily true ... She had asked and we said no ... Once I got the part, there was still a lot of basketball training to do, so we would do our training together. She didn't know that we had been together since "The Wood." We had been together for a whole year ...
Epps: I just wanted her to be judged on the merit of her talent and I thought that if that was out in the process when they were auditioning her, that could possibly work against her. But I knew she had the chops and the main thing was could she pull off the basketball.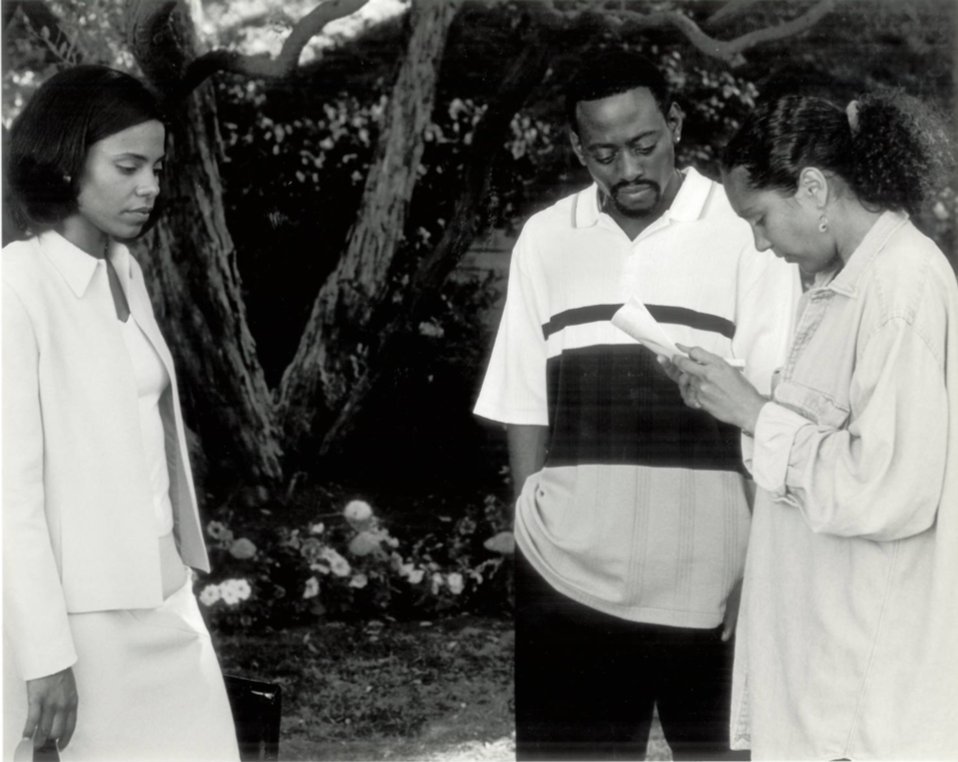 Lathan, Epps and Prince-Bythewood filming on set.(Photo courtesy: Gina Prince-Bythewood)
Lathan: Once we started shooting [Gina found out] ... It was like, "Oh, OK." I wasn't going to keep it from her because then you have to act completely different ... but we were very much in love at the time. I think that once she saw the dailies, it was so clear that chemistry was not an issue ... I'm glad I didn't tell her because I think it would've been a problem for her, she probably would've thought that.
One major component to the film's authenticity (and Prince-Bythewood's own experience) was the culture of Los Angeles basketball, from high school games to California college powerhouses such as UCLA (her alma mater, which said no), Stanford (which said the movie's characters "did not exemplify a Stanford student") and USC, which became home to Quincy and Monica as they left to play college ball.

Prince-Bythewood: We tried USC and they said yes pretty quickly and were so open and gave us the run of that campus and let us use their name. Very, very blessed and grateful to them.
Epps: That Crenshaw [High School] scene sticks out to me because we weren't filming but rehearsing and I kept hitting the shot, but when we started filming, I couldn't hit the shot. So I was really, really aggravated because it's a high school gym full of kids and I'm missing this shot. So that sticks out. I still remember that so many years later.
Prince-Bythewood: All the players, [Sanaa's] teammates, were actually the Crenshaw High School basketball team. And the crowd was a real crowd. I just knew that if she sucked, that crowd was going to give it to her. And I know she was nervous, but she stepped up. She got on the court and all that training, all the work that she put in was all there.
Union: The basketball scene ... I just remember [my line], "I want to just lick the sweat off his ass," or whatever I said. It became one of those lines that is repeated often, and I remember feeling very intimidated and nervous and green and lucky that I was even allowed to the party.
Prince-Bythewood: All the people in college, some of them I played ball with, were all real ball players, who played in college or overseas. So there was a great camaraderie. They really became a team and they really pulled Sanaa into that. So to see that was a beautiful thing, being so supportive and wanting her to do well because they knew she would reflect them.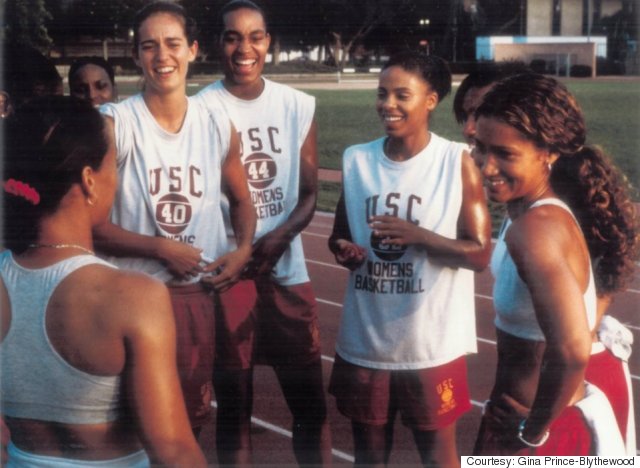 Lathan and some of her "USC teammates." (Photo courtesy: Gina Prince-Bythewood)

Epps: Shooting days were tough, because you're shooting basketball scenes and Gina wanted us to do everything, so if you missed the shot, we had to do it all over again. That becomes taxing after a few hours and then going to lunch and then getting right back at it.
(Even Prince-Bythewood stepped onto the court for a cameo)

Prince-Bythewood: My thing was to dive on the floor for the ball against Sanaa. It took 13 takes because I kept beating Sanaa to the ball. And I could not not get the ball, so my knees were jacked by the end of that day.
Of course, while filming a basketball movie, with tons of professional basketball consultants and players, what are you going to do, but play even more basketball?

Haysbert: Oh yeah [we played pick up games]. We just had a great deal of fun and nothing was serious. We were cognizant about the health and well-being of everybody on the film, nothing got crazy, but we had our little pick up games and everything else. Omar and I used to play as a team against the guys.
Epps: Yeah, I remember doing that a few times. Me, I'm a naturally competitive person, so the only thing I remember is wanting to win all the time. Even though they were pick up games. It wasn't with crew members, but with the mixture of other basketball players who were on the set.
Lathan: They threw me into them all the time, that was part of my training. But I never picked up another basketball after that. Because it was such a traumatic, emotional experience the whole auditioning process, like it really was. And then having to sustain that during filming, I was like, "OK, I've done my part with basketball. I'll just watch from now on."
Union: Not at all. My outfits were really hoochie, you know, girl with questionable moral fiber outfits, so, no, it did not lend itself to anything other than me keeping those fake boobs in place against my flat chest.
But the basketball games (on or off screen) weren't the only difficult parts of filming. Prince-Bythewood acknowledged that as a first-time director, she was given unusual freedom, but had a losing battle on her hands when it came to the movie's sex scene.

Prince-Bythewood: In terms of the love scene, Monica's first time ... the only note that I ever got from the studio during the filmmaking process was that when I shot that scene, they looked at the dailies and they said, they didn't think she was enjoying it enough. And my argument was, it's the first time and despite what the male fantasy might be, it's not that great.
Stern: It may well have been a comment by one of my colleagues ... I'll be honest, I don't remember. I remember loving that scene and I have a vague recollection that she shot some additional footage to help that scene, I think to make it clear that she was enjoying it. But I thought the scene was great.
Prince-Bythewood: I always listen to "This Woman's Work" by Kate Bush. And then I happened to be -- while I was writing -- flipping across the channels and came across Maxwell's "Unplugged." At the moment he was singing, "This Woman's Work," and it wrecked me. Emotionally wrecked me. And I said, "I've got to put this in the movie." I was petrified and paranoid that someone was going to put it in before me. But I finally got a chance to make the movie and we put it over the love scene and it was -- like, it could not have been more perfect. The problem was it cost a grip of money and Maxwell's people wouldn't allow it to be on the soundtrack. So there was really no reason for the studio to say yes, because it didn't help them at all. We kept it in for Sundance, and the reaction was pretty amazing and the studio was there. I tried, kept trying different songs, nothing felt as good. I finally went to Mike De Luca and I just said, "This is why it has to be this song." And he ponied up and paid for it and I'm so grateful for that because that song and that scene have become inseparable.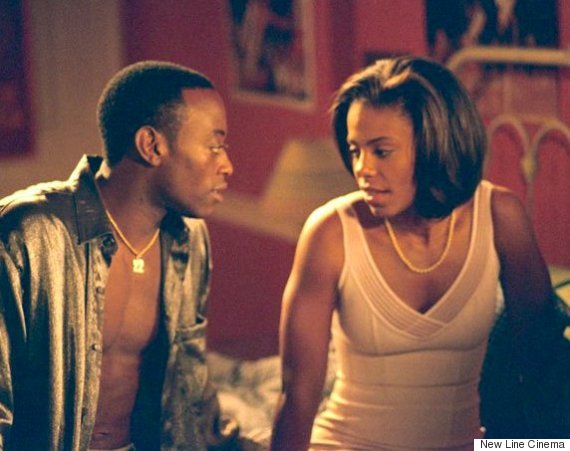 Lathan: It's almost worse because [Omar] was my boyfriend. I think love scenes are always uncomfortable and awkward because it really is a room of mainly men -- most sets that I've been on. It's always uncomfortable, but with this particular case, everyone knew we were together, so there was that. But obviously the discomfort works for the characters because it was their first time -- or her first time.
Prince-Bythewood: We shot more footage and I actually got some really good stuff between the two. I didn't take the note, I just got more good stuff. And once it was cut together, there was no more of that question. But when we got to showing it to the MPAA, they came back and gave us an R because of that scene. It was so devastating because I wanted younger girls to be able to see this film. But to trim that scene down, I felt, was compromising my vision. Their issue, they actually said, "You did too good a job and it feels too real. And you can tell it's the girl's first time." And I said, "Well, there's a movie out right now, 'Meet Joe Black,' and there's a scene in there where he loses his virginity. And it's a sex scene and I think it went further than mine did." We brought this up and we felt that it was a double standard, but they would not back down. So I kept having to trim things and trim things from the scene. It got to the point where I said, "I don't care anymore, just make it an R because this is physically killing me." But the studio wanted PG-13 too and so we went back one more time and that last time, I think we took out one thrust or something, some wide shot.
Two other scenes that came to define the film were Quincy and Monica's game of strip basketball ...

Prince-Bythewood: So the strip basketball. In every college dorm room, I have that hoop. And then honestly, my first house, my apartment, I had that hoop. So it just popped into my head one day while writing: Strip basketball. That's what they would do. Shooting that was very fun because I didn't script all the trash talking. I gave them a couple lines, but I just really wanted them to be in the moment and play. It was just great to see them feed off each other and talk shit to each other because that's what really built the dynamic between the two of them.
... And their final game of one-on-one.

Prince-Bythewood: It was that same thing. Just be real with it. Monica would trash talk him, like she's got to win this game. He's not playing, he's acting as if it's bullshit. So goad him and push him the only way you know how. And piss him off enough to start fighting back and fighting for her.
The Meshell [Ndegeocello] song was interesting because we had a different song in there. As we were editing, that album came out. My editor loves music the same way I do and she brought in the album, she had just bought it. We just listened to the album ["Bitter"], and it's an amazing album and we just said, "Let's try it." We put it up against the final game and normally we have [to] cut a couple lines to make it fit. We just put it in and we didn't have to do one thing to it. It was written for it. We were jumping up and down in the editing room, going crazy.
After filming wrapped, and Prince-Bythewood took some mementos from the set ("I've got her jerseys, her necklace -- the #32 ... I had the trophy from the championship game in Spain and one of the nets, as well"), came the next challenge. How do you market a movie that isn't quite a sports movie, isn't your typical drama and has a predominantly black cast?

Stern: The two biggest debates were, number one, who played the Monica role. And number two, we did have some debates over marketing the movie.
Prince-Bythewood: I do know that the first argument I had in the marketing was the poster. I hated the poster. There's another poster which they shot, and I love -- it's also the one that's actually hanging in my house. It just felt more real to me. Them kissing and holding the basketball felt so corny to me, but they tested it and that was the one people loved. Even now when people hear that I disliked the poster, most of the time they're surprised by that because they love it.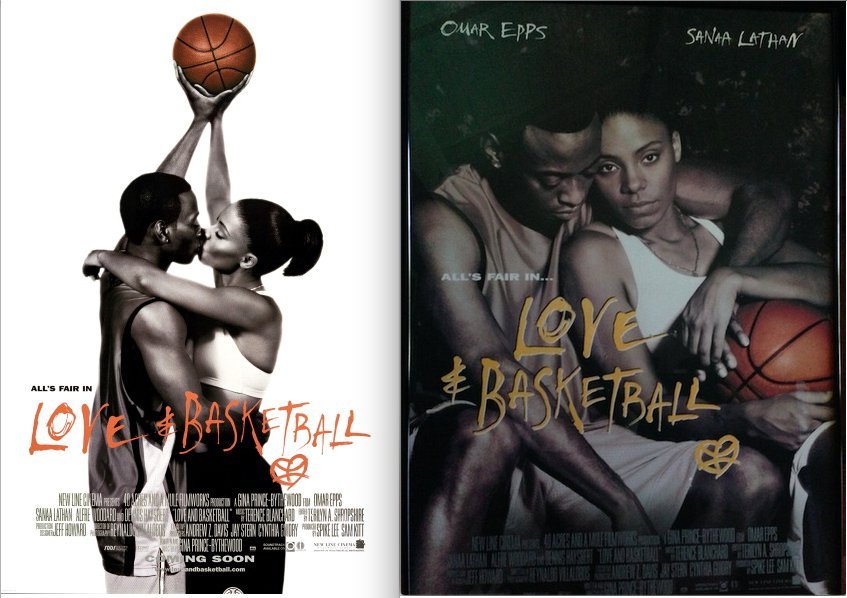 The released (L) and unreleased (R) version of the film's poster, that Prince-Bythewood preferred. (New Line Cinema/Courtesy: Gina Prince-Bythewood)

Lathan: I loved the poster. I remember I didn't like the title. Now it's so familiar to everyone. "'Love & Basketball?' That sounds so ridiculous." But then, of course, now it sounds like something we know.
Stern: I do remember the whole marketing challenge of do we play up the basketball, do we play up the love story? For instance, I believe the trailer had the moment of, "What are we playing for?" "We're playing for your heart." Right? And I remember actually arguing against having that in the trailer because I thought it would keep, especially young males, away from the movie.
Prince-Bythewood: I didn't come up with the font -- that was the company that did the credits, but I always had an idea of a heart as a basketball. But what they did that was dope in the credits [was] they made it red and did a little heartbeat and so they came up with it. But yeah, the heart with the basketball, I had that idea and then they designed it and I loved that ... I really loved the trailer that they cut. I loved that they used that Maxwell joint in there.
Stern: I think it was a mélange. it was a combination ... We cut some spots that were a little more basketball-oriented and we played them towards a male sports audience. Then we had other spots that were tilted a little more to the love story ... I do believe it worked wonderfully and works wonderfully well as a love story about young athletes.
While Prince-Bythewood, felt good about her movie, it wasn't until the premieres and screenings that she realized how much audiences would come to love Monica and Quincy's story. But before that, came the wrap party ...
Union: I definitely didn't go to a wrap party. I want to say I was doing something else? -- "Bring It On."
Haysbert: That was 15 years ago. Yeah, there was a wrap party, I'm sure I had a great time! Do I remember it? No.
Lathan: I don't remember the wrap party, but we went to Sundance and premiered. It wasn't in competition, but it premiered at Sundance. We had like a five-minute standing ovation. That's when I first realized, "Oh, we did our job."
"I was so focused on 'Dont eff up my movie.' And in her mind she was, 'God, she's trippin'.'"
Prince-Bythewood: We premiered at Sundance Film Festival. So I had only previewed it before an all-black audience ... and the goal of this film was to make a love story, a universal love story with black characters in the lead, to be a film that everybody would like -- it didn't matter the race of the characters. I was hoping people could embrace it as a love story ... We walked up to the theater for that first screening, and the first thing we heard was that it was sold out, which was amazing. Then we sat in the theater and it was an 85 percent white audience. I remember getting that first laugh when they were little kids, and feeling, "OK, this is going well." But then the film ended, the credits are coming up, and it's dead silent in the theater. In my mind I literally said, "Oh well, I guess they didn't get it." And then suddenly, the place erupted and there was a standing ovation that just lasted. It was amazing. One of the most amazing nights of my life.
Union: I didn't take part in the publicity blitz. Again, my role was small. I wasn't invited to the premiere, it was something I found out later, like, "Damn, I wasn't even invited to that."
Prince-Bythewood: It's funny because Sanaa and I during pre-production with all the training and filming, we butted heads -- it was just a director-actor relationship. I was so focused on "Dont eff up my movie." And in her mind she was, "God, she's trippin', and mean and doesn't care, she just cares about the film." We got along, but we weren't friends.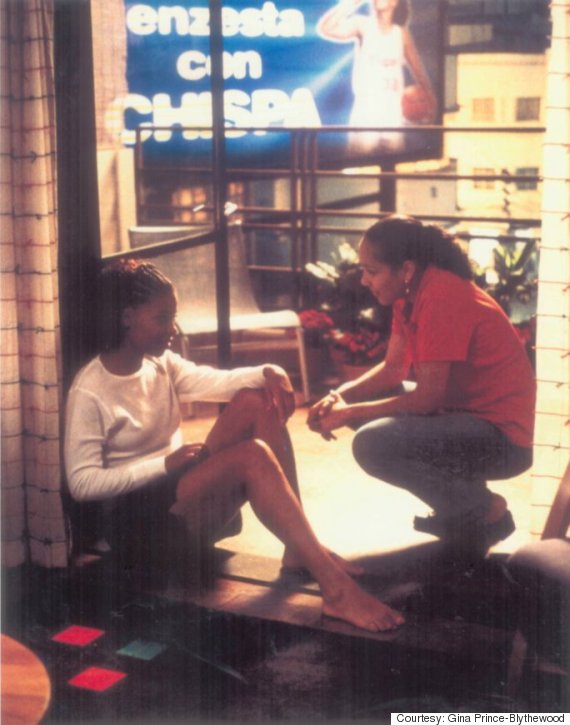 Lathan and Prince-Bythewood filming on set.

Lathan: It just seemed to me that she really didn't want me. I guess she just couldn't deny the fact that when I was doing the actual acting of it, she kind of saw Monica. I don't blame her. We're really, really close friends now. Just like that was my first starring role, that was her directorial debut, she had been working on it for years and a lot of sweat and tears went into it on her side, as well.
Prince-Bythewood: Once we got past that and I'm in the post-process, and I knew Sanaa was good on set, but in the editing room, you saw how good she really is. She is dope. And I just became so grateful to her for all the work that she put in and we became friends. We're great friends today. She understands now that it wasn't personal, it was just my passion and focus.
Union: Actually, Sanaa never spoke to me on "Love & Basketball," like, at all. Which kind of added to my anxiety about the whole thing and definitely looking up to her as the lead and trying to learn from her ... We did not become friends until years later when I was doing "Bad Boys 2" and she was doing "Out of Time," and we were staying at the same hotel in Miami ... She was just so in character, she just couldn't talk to me because I was not the nicest gal in the film and she tried to really stay focused. She apologized and we became really close and in that time, she's stayed one of my really, really, really close friends. But, yeah, we did not speak on "Love & Basketball" at all. Like, at all.
While basketball served as the main backdrop for the film, and told the story of a black couple, everyone agreed that the movie broke through barriers, appealing to just about anyone, yet embraced especially by athletes and women.
Union: It was just this great coming-of-age story that just happened to star people that looked like us. It was just really important to have that kind of representation for so many of us and to have a female lead that wasn't precious and a wilting flower that needed to be saved. She was her own hero, and strong, and dope and fly -- it was refreshing and needed, but it was different.
Stern: I think it crosses basketball. I know soccer players, football players, athletes of every sort who identify with the movie and say it's their favorite movie and they view it over and over again. Honestly, it's a testament to Gina and Omar and Sanaa for bringing those characters to life.
"That people of all races were able to see this love story and embrace it, not as a black film, but as a love story first. That is what is so important."
Union: Oh, it's [Dwyane Wade's] favorite movie. And there were plenty of articles, even before we met, where he talked about how much he loved "Love & Basketball" and it's his favorite movie of all time. I think for athletes and especially black athletes, it's the movie that speaks to you the loudest.
Lathan: They love it. Females, males, they all love it -- that's why we're talking today, because I guess it really struck a chord, not only with everybody, but especially basketball players. Because they recognize the world and it was familiar to them. It was truthful.
Epps: Some players have said -- mostly everyone loved that movie, but most of the athletes that have come up have been female college athletes. Whatever sport they played, that was their film that they watched to get revved up for a game, things of that nature.
Prince-Bythewood: I finally showed my son, he's 14 years old now, but when he turned 13, we let him watch "Love & Basketball." And I sat with him and watched and that was pretty great. He also plays ball, he's a point guard, like his mom.
Epps: I haven't seen it recently. I don't watch my stuff. I saw it at the premiere and that was it because I don't watch stuff that I'm in like that. But I think one of my kids saw it recently. I think they like it. They haven't said anything particular, my kids are just now discovering my films from back then.
Prince-Bythewood: I get just as many white folks as black folks coming up to me and talking to me about the film. That people of all races were able to see this love story and embrace it, not as a black film, but as a love story first. That is what is so important and what is so neat. There's such a segregation in the film industry that seems to have gotten worse, in terms of when a film comes out with black leads. It's immediately called a black film and marketed the same way every time, as opposed to realizing that if you just make a good movie, in any genre, if it's a good movie and you put it in front of them, people will come.
Union: The idea in Hollywood is, if it makes money, it breeds repetition. But that doesn't seem to be true for minority films. We could kill it, but it doesn't necessarily mean we have a permanent invitation to the table ... This movie has shown you every single time that diversity pays off. "Empire" shows you that diversity pays off, the Shonda Rhimes block shows you that diversity pays off, and not just in race, [but ethnically], culturally, religiously, sexuality-wise -- it pays off. So if you're late to hopping on board, you're leaving money on the table and that just seems dumb.
Haysbert: It was a good movie. It was just a really, good movie ... I speak to a lot of white people that love this movie, and a lot say, "You were in my favorite movie," and I say, "Oh, what movie was that?" "'Love & Basketball.'" "Right on. Right on." But my "right on," it means, to them, "Oh, thank you. I'm really glad you like the movie." But my "right on" had kind of a double meaning, like, "You didn't call it a black film." And I think that's the best compliment you can give a black filmmaker, to a filmmaker of Gina's level. It was just a wonderful movie.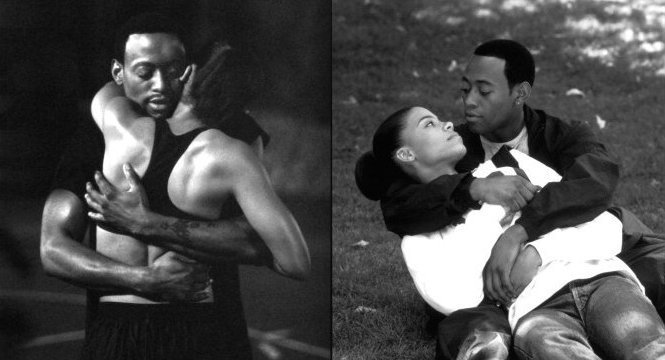 What also resonated with viewers was the film's epilogue: Monica's career in the WNBA, a marriage and child with Quincy. All of which may never have happened, but won't certainly be replicated.

Prince-Bythewood: When I first wrote it, the WNBA was not in existence and when it came to be, it changed the ending. And became the ending. I was so grateful for that and it was such an amazing coincidence. I honestly don't remember [what the original ending was]. I would have to go back and dig through some scripts. I don't know. I know she still played overseas and then she came back. Maybe they ended up -- I think they ended up with that one-on-one game and coming back together, but there was no epilogue after that.
It is beyond flattering that people want a sequel. I mean, I do love when people ask that because it means they love the characters and want to see more. My issue though is that I feel like it would hurt the film ... I feel like I told the story I wanted to tell, it ended the way I wanted it to end. She has it all.
It's interesting that [having it all] is considered a feminist mantra, but for me, it was just natural and it definitely had to do with growing up in sports and what teaches you: to fight for what you want, to leave it all on the floor, that aggression is good. That's just what I've embodied and it's natural for me to want the marriage, and the career and the kids. It's natural for me, it's normal for me, and that's what I wanted to do: to make it normal. It's frightening that even today we're having the same conversations and it makes no sense ... If the work that I put out in the world can counter that mentality, let me be out there contradicting that, because it's bullshit.
The above interviews have been condensed and arranged based on longer, individual conversations.

Before You Go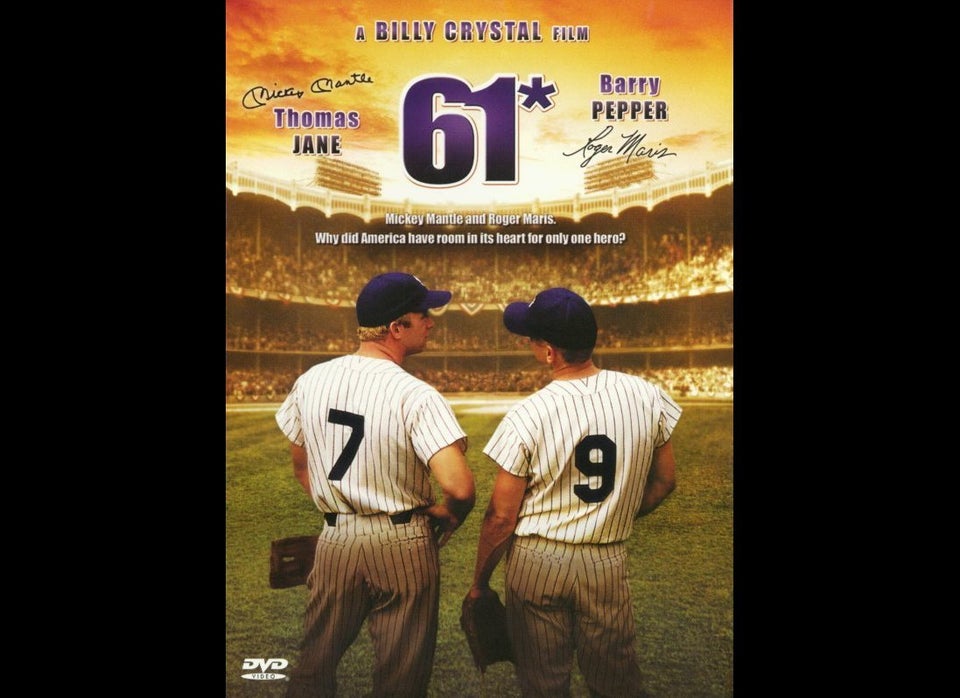 Sports Movies
Popular in the Community