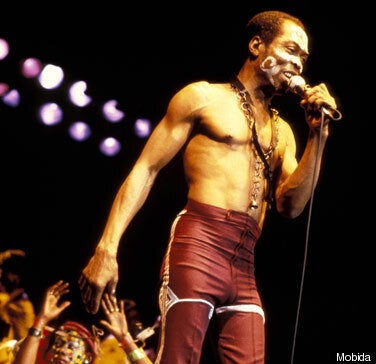 Ebo Taylor is one of the funkiest people to ever walk the earth. Love and Death, his first internationally released studio album out October 24th on Strut Records, is a continuation of Taylor's already legendary legacy as a composer and performer of African music.
Starting in the late 1950's, Taylor was an extremely influential figure in the Ghanaian music scene. He composed, arranged and performed in several leading highlife bands such as the Stargazers and Broadway Dance Band. He traveled to London with his own ensemble in 1962, The Black Star Highlife Band sponsored by the Ghanaian High Commission. It was in London that he collaborated and experimented with other African musicians such as Fela Anikulapo Kuti, "I knew Fela very well. He was my friend.
He would say, 'Taylor why don't you play your own thing? You always play jazz, jazz is for the Americans'. So we all started doing our own thing. He started the afrobeat movement in Nigeria and was very successful."
Upon returning to Ghana, Taylor further cemented himself in the Accra music scene working as an in-house producer for the major record labels of the time such as Essiebons and Gapophone. He wrote for and recorded with other burgeoning stars like C.K. Mann and Pat Thomas. As his career continued to unfold, Taylor recorded several solo projects creating his own new sound. He melded elements of traditional Ghanaian music with afrobeat, jazz and funk, and recorded some of the most highly regarded Ghanaian funk music of the era.
As African funk music from the 1970's has become increasingly in demand over the last 5-10 years, Ebo Taylor's music has seen a resurgence in popularity appearing on compilations from Soundway Records and Analog Africa. His music has been sampled by contemporary hip-hop producers both in Africa and The United States. Taylor has always had an innate sense of how to emphasize certain Western elements in his music such as the wah-wah guitar pedal and JB's influenced horn lines to compliment the more pronounced African elements such as traditional African percussion and Ghanaian lyrics. Similar to Fela's afrobeat, his music was extremely funky while at the same time carrying a strong African persona.
Recorded with Berlin-based collective Afrobeat Academy, Love and Death is a conscious effort on the part of Taylor to advance the afrobeat movement: "For the new album, I wanted to advance the cause of Afrobeat music. Fela started it and we shouldn't just abandon it. We should push it so it is a standard form of music." Taylor accomplishes his goal and then some. Love and Death is an incredibly fluid album composed of eight tracks that attack from the first note and don't let up throughout. Tracks like "african woman," "victory," and "mizin" are all aggressive uptempo songs that use interlocking guitars parts, punchy horn lines, hard-driving drums and percussion to push the song forward.
Taylor's voice reveals the character and history of a 74-year old man. You can hear the experience and age as it cuts through the aggressive afrobeat soundscape. It's amazing to think that in a career filled with as much amazing music and as many prominent collaborations as Taylor's, Love and Death will be his first internationally distributed album.
Related
Popular in the Community