It's a Happy Anniversary for eHarmony, who is celebrating a decade of matching serious and marriage-minded singles. Today, I joined Grand Marshall Leeza Gibbons, host of Hollywood Confidential, and 25 online dating success couples who found love on eHarmony, to celebrate 10 years of creating love. Riding in 40 pedicabs, our motorcade started at CBS Network's The Early Show Plaza, where television viewers got a glimpse of the happy couples wearing tee shirts with their newly launched campaign, "Love Begins Here."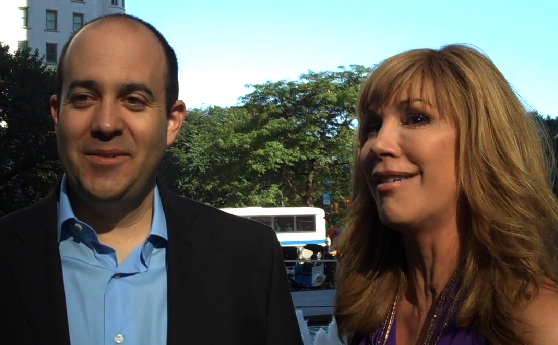 eHarmony CEO Greg Waldorf and Leeza Gibbons
eHarmony CEO Greg Waldorf said, "We are pleased to be here in New York celebrating the success eHarmony has seen over 10 years." Waldorf added, "Now, with 542 people a day getting married as a result of being matched by eHarmony, there is no better way to celebrate than with our success couples in front of our billboard composed of their pictures in Times Square."
The pedicab parade continued to Rockefeller Center, where the couples embraced in a dip-style kiss emceed by Gibbons. Back in the pedicabs, we stopped by FOX News Plaza for another orchestrated kiss. The motorcade ended in Times Square at the site of the newly unveiled four-story mosaic of 6000 photos for the final kissing ceremony. If you can't make it to New York to see the mosaic, the online version can be found at http://eharmony.com/love and is quite impressive. Containing 14,000 photos on an interactive page, you can zoom in to view a particular couple or simply search by name to view their real life photos.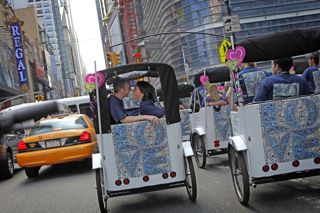 eHarmony Pedicab Motorcade at 10th Anniversary Celebration Photo Credit: David Goldman, AP
There seems to be no shortage of love these days. eHarmony recently released a Harris Interactive Study showing their average marriage rate increased from 236 people a day in 2007 to 542 people a day in the U.S. during the period of January 1, 2009 - June 30, 2009.
Gian Gonzaga, eHarmony's Sr. Director of Research and Development, told me that this now represents 4.77% of all new marriages in the U.S. That's a nice jump for their site and does reflect the everyday acceptance of singles successfully finding love online.
Of the 25 couples participating in the parade, one couple was from Australia, another from the U.K. and newlyweds Sheri and Rob, who were married at eHarmony's headquarters in Pasadena on August 6, 2010, were among the crowd.
One couple, Kathleen and Gerry shared their excitement of their upcoming wedding in six weeks. Lisa and Joel, who shared their story of their 9-hour first date, have now been happily married for two years. It was a first marriage for both of them. Lisa was 52 and Joel was 59 when they wed. Joel says, "We held out for the best." William and Glenda, who met on the site in 2006, were married in 2008 and are expecting a baby this December.
It's times like this that I'm happy that I'm in the business of love. Congratulations to eHarmony for giving hope to singles looking for love online and a special thank you to Raymond who pedaled his way around the city, where I captured every moment with a smile and a tweet.
Julie Spira is an online dating expert, dating coach, and bestselling author of The Perils of Cyber-Dating: Confessions of a Hopeful Romantic Looking for Love Online. Visit Julie at CyberDatingExpert.com. Follow Julie on Twitter @JulieSpira