I sat down to watch the season three finale of Nashville with trepidation, and heard myself mutter through clenched teeth, "If Deacon dies I am gonna lose my shit."
I have a few shows that I've felt attached to over the years, but never so much that I let it affect my emotional wellbeing. This show has been different, because it was "our show" -- my grandma and I, that is.
Last fall we had Nashville dates every Wednesday night. We both loved the show, so I figured why not spend some special time with my grandma and watch it together?
It would turn out to be one of the best decisions I ever made. Grandma would call or text on Wednesday afternoons, "Are we on?" and I would show up that evening to my favorite snacks, a hug, and an adorably excited grandmother.
Death was certainly in my immediate awareness, as my 22-year-old stepson died in August, but I never could have known how few dates we would get.
Grandma was so mad when Rayna chose Luke and not Deacon. I'll never forget her reaching a hand out towards the television, first saying angrily, "She is so dumb!" and then sighing dramatically, "I'm here, Deacon! I'm right here."
We managed to have some of the most in-depth conversations we ever had during commercial breaks and after the show, for which I will forever be grateful. We talked about the abuse she suffered in her first marriage to my grandfather; how she was terrified both to leave and to stay.
We talked about our shared experience of divorce; only one for me and three for her. She often joked that she could give me lots of advice, but couldn't advise me on picking a man because she never managed to get that one down.
I got to tell her my plans for my future; how the experience of losing Josh had opened my eyes to the shortcomings in our culture when it comes to grief, and how I want to help others travel through it, for I have learned acutely that there is no way through but through.
She listened intently and then exclaimed emphatically that she "felt something inside" as I was talking and that it gave her shivers because it all seemed so perfect for me.
And then she went and died.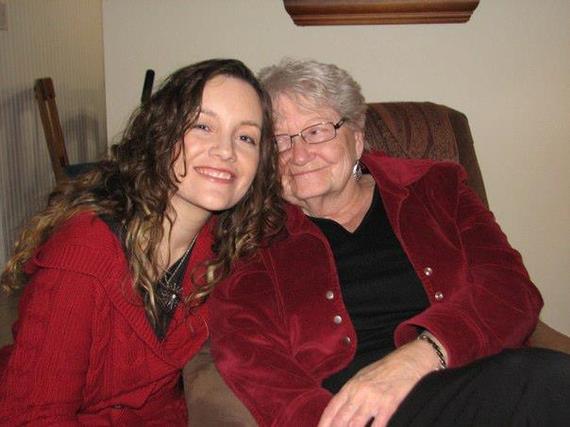 The last date we had was actually watching the Country Music Awards together since it was on instead of Nashville that night, and it happened to be her 76th birthday.
I went to the store beforehand and followed my heart, which was saying, "Make it special." I was going to buy silly birthday hats and ice cream, but ended up buying plastic princess tiaras and Talenti gelato -- the good stuff.
Grandma was tickled pink when I placed her tiara on her head. "Oh honey! I've always wanted one of these!" We wore them the whole evening, and after a serving of gelato in her "special" ice cream dishes she gave me a sheepish grin and said, "These dishes are pretty, but they're small. Do you think we could have some more?"
"Grandma," I replied, "It's your birthday, and it's just us. We can eat it all if we want to."
We didn't quite manage to finish off two pints, and I insisted she keep it when I left even as she tried to insist I take it. I will never forget the sight of her as I left that evening, her beautiful face awash in soft lamplight as she made it a point to look piercingly at me and say, "Thank you for this time, my baby. It's so special."
A few weeks later when I went over to help clean out her apartment, there was only a little bit left of one flavor in the freezer. I grabbed a spoon and finished it off with tears and smiles.
I, along with all other Nashville fans, are uncertain of Deacon's fate on the show after the season cliffhanger, but regardless of what happens, I plan to be the weirdo in my living room every week with a tiara on my head and gelato in hand, narrating out loud the show's events to my beloved grandmother.
And I know that I may temporarily lose my shit if he is gone, but I will get through, just as I am doing with real life losses.
Oh, and Deacon and Rayna are together again, Grandma. She's not as dumb as you feared.
Calling all HuffPost superfans!
Sign up for membership to become a founding member and help shape HuffPost's next chapter