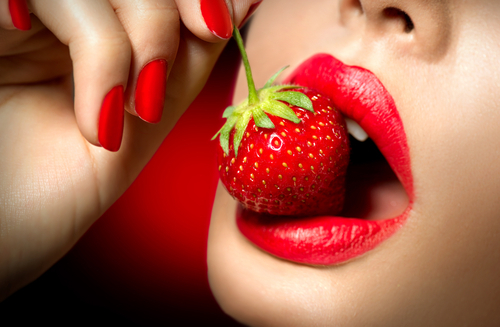 The link between culinary delights and amorous pleasures seems timeless; as food and dining together has been a prelude to love (also known as the romantic candlelit dinner) no matter what century we exist in. Yet the idea of aphrodisiacs as the secret ingredient for love has intrigued us for centuries. Love philters, potions and elixirs from ancient times to modern throughout civilization have tempted lovers that long to love a long time, for a long long time.
When we think of the word aphrodisiac, we often wonder about how it works, or is it simply foolish to think that what we eat will inspire desire? It depends. If the ambiance is pleasing to the senses, for one. Also, what kind of food or drink -- for some, chocolate is the ultimate romantic mood enhancer, others feed each other cherries and sip on a glass of bubbly, or maybe slurping soup dumplings are your idea of a good time. Then there's how much to eat (overeating is never sexy) and with whom to share it with. It's all part of the partaking in food and love.
Other aspects of sensual eating can be enjoyed, and it doesn't necessarily need to be sexual or romantic either. Perhaps it can spark your creativity rather than your loins. Take for instance Marcel Proust and his beloved Madeleine (the cake, not a woman). Proust describes Madeleines as "a little shell of cake, so generously sensual beneath the piety of its stern pleating..." The narrative about eating the little cake dipped in tea made Proust's remembrance of things past in his epic writing In Search of Lost Time, much more memorable:
"No sooner had the warm liquid mixed with the crumbs touched my palate than a shudder ran through me and I stopped, intent upon the extraordinary thing that was happening to me."
Foodgasm? Most definitely.
If you recall your own eating escapades, the pleasures of food are not unlike sex, in certain regards. There's flirting with the eyes first, then infatuation, seduction, eating with total abandon, and, hopefully, eyes rolled back in absolute pleasure.
That flirtation with those freshly baked doughnuts, for instance. You were walking down the street and the shop door was open, so you glanced to see what was there, and then the scent of cake lured you in with its warm vanilla perfume. Inside, the display of doughnuts all lined up in colorful array, tempt and tease. You couldn't resist going inside, just to look at them. All of those plump and pretty circles of cake laced with frosting, dazzled with rainbow sprinkles, were but a feast for your hungry eyes. You didn't give in, but you'll fantasize about what one of them tastes like for the rest of the day. Maybe tomorrow you'll go back, or maybe you're more of a cream puff type, or cupcakes are your thing.
A couple at a dining table looks over the evening's menu, where the husband notices oysters on the list. Aside from the cliché notion that oysters are an aphrodisiac (high zinc levels and slippery on the tongue) he thinks this is the kind of food for seduction (somewhere in the aphrodisiac history of food and love, oysters became the aphrodisiac known for male sexual stamina). Well, ditching that little blue pill might be easier than you think. Research has discovered that oysters contain certain amino acids that trigger the production of hormones that are prelude to those amorous feelings that arise (ahem). There are plenty of these sorts of aphrodisiac foods, and many have beneficial results for lovemaking, as well as just feeling good, and getting healthier. Basil, cinnamon, nutmeg, ginger, figs, and yes, coffee. A little latte for a lot of loving has been proven, according to research. Supposedly coffee can help erectile dysfunction. As if you needed another reason to drink that latte.
French literary descriptions tell of love scenes, within the pages of novels, such as Bel-Ami by Guy de Maupassant. The dining scene describes the oysters as "pretty and fat, like small ears, wrapped in shells, and melt between the tongue and palate like salted sweets" and then "a trout as pink as a young girl's skin" is served. The lovers drink champagne and "thoughts of love, slowly, invasively, came to them, gradually intoxicating their souls like clear wine falling drop by drop in their throats, warming their blood and clouding their minds." These lovers continue their affair at the table (and later, in bed, one assumes) as the woman orders cherries in eau-de-vie, looking around with playful seduction in her eyes while she tasted each one. "Every cherry she swallowed made her feel she had committed a sin, every drop of the peppery burning liquid running down her throat afforded her pungent pleasure, the joy of wicked and forbidden enjoyment."
However we imagine aphrodisiacs, one thing is for certain; those that love to eat and love to make love are pleasure seekers. If food gives us just as much pleasure as a kiss, a touch, an orgasm, then why not revel in it? Rumpling up the tablecloth is prelude to the bedsheets, and edible delights are best tasted with love.
Related