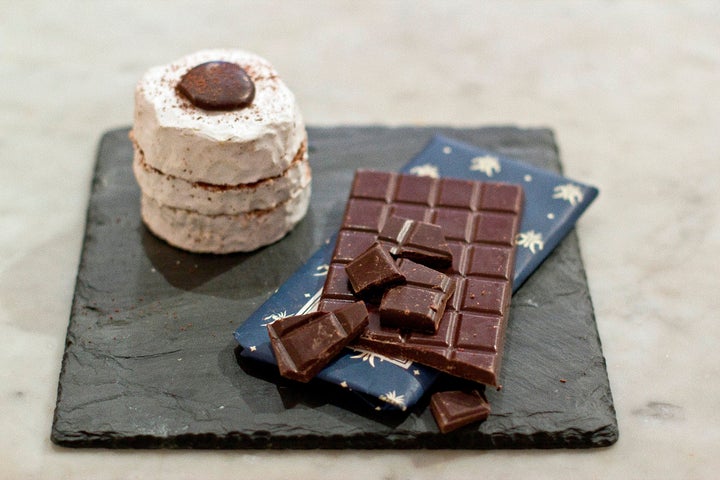 The words "chocolate" and "cheese" are two of the best uses ever for the letters "ch." And as girls' best friends go, they're much more affordable than diamonds. They've had brief encounters with one another in the past, in chocolate cheese fudge from Wisconsin and chocolate cheesecakes from bakers around the world. But this Valentine's Day, for the first time, the two are getting married in tiny wheels of chocolate-infused cheese.
The man officiating the wedding is 26-year-old Brian Ralph, the head affineur at Murray's Cheese in Manhattan. Since fall, he's been heading a program called "Cavemaster Reserve," customizing cheeses sold at Murray's with innovative treatments. The latest -- called Love at Mast -- was inspired by a desire to come up with a great Valentine's Day gift for his girlfriend.
Over the subsequent weeks, he and the rest of the team at Murray's tried out various combinations of dairy and chocolate.
They finally settled on a blend of triple cream cow's cheese from Champlain Valley Creamery in Vermont and La Red dark chocolate from Brooklyn chocolatiers Mast Brothers. (La Red has its own mythic backstory -- it's the product of a sailing voyage to a tiny chocolate collective in Dominican Republic on the part of the Mast brothers themselves.) Ralph used a Microplane to grate the chocolate bars into a powder, which he and a team then layered in between thirds of wheels of cheese. They then rolled the outside of the wheels in more chocolate, then put it in their caves to age. At that point, the cheese was just three or four days old, but the caves allowed a rind to grow over the chocolate powder. After a few days of aging, they added a small button of Mast Brothers chocolate to the top of each wheel, for decoration and more chocolate flavor.
HuffPost Food got an early sample of Love at Mast from the final pre-production test run. Once you cut into a wheel of the cheese, you see that alternating striations of cheese and chocolate form what looks like a miniature layer cake. Love at Mast didn't taste cheesecake-sweet, as we'd expected. Instead, the other flavors in La Red predominated, lending Love at Mast what Ralph described as a "berry-like" flavor.
Love at Mast is already available to order online, along with a bar of Mast Brothers chocolate, for $25. The cheese, though, isn't actually ready quite yet; it will ship on February 9th, when it is. At that point, it will also be sold in the Murray's storefront, by itself, for $9.99. Murray's only made 200 wheels of the cheese, so if you want to get it for your loved one, you'll have to act fast.
UPDATE: We predicted that Love at Mast would go quick -- and we were right. According to the Murray's website, all 200 wheels of Love at Mast have already been sold. Sorry if you missed them! It looks like the cheese will return again next winter, at least -- hopefully in greater quantity.
Below are a few pictures from the making of Love at Mast: