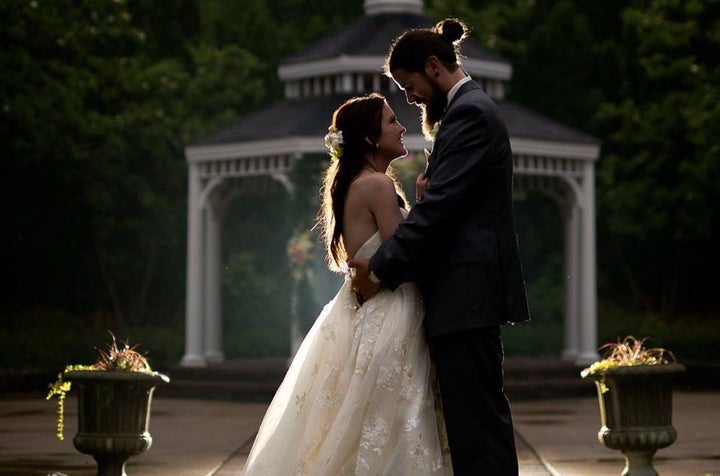 There was a time in my life when planning a wedding didn't seem possible.
I have a genetic disease called cystic fibrosis, and when I was 19 years old I was told I would need a double lung transplant to prolong my life. I had caught a rare bacteria that was slowly deteriorating my already damaged lungs. I had to make a tough decision: Go on the transplant list or wait for death ― which sounds dramatic, but these were my only two options.
I was added to the transplant waiting list at the Cleveland Clinic in January of 2011. They told us to pack a bag because the call could come at anytime. A lot happened that year. I turned 21, I became engaged, I moved out, and the sicker I got, the worse my relationship was. We both knew we weren't good together, but after four years, it was hard to just walk away. Especially considering how sick I was, I needed someone. But he wasn't the someone I needed, and two weeks before Christmas he was the brave one to end the relationship; and though I knew it wouldn't have worked, I fell into depression. It wasn't a matter of not knowing my self worth, it was fear of being alone. My whole life revolved around one person for so long.
"Can't wait for the weekend? Try waiting for a life saving transplant.""
Who would want me? Who would want to take on the responsibility of someone who is actively dying. Not knowing when my transplant would be, I was sent into this dark place of not wanting to wake up in the mornings. Finding happiness seemed impossible. I dropped down to 87 pounds, my lungs were functioning at around 24 percent. I didn't know what to do. I didn't know my purpose. So I reached out for help. This help arrived in the form of a therapist who never once tried to cure me with medicine. Instead, I got through sessions by yelling at chairs with no one in them, and writing down things that I thought would make me happy. I was finding myself, and this was the hardest thing I've ever done.
I didn't search for a relationship, and there was none to be found. I had no interest in finding compatibility. I had interest in living my life ― what I had left. Time. Time became the center of my world. Everything revolved around it. Can't wait for the weekend? Try waiting for a life saving transplant. In August of 2012, I found a lot of things. One of them led me to my purpose: Lifecenter of Cincinnati, Ohio, an organ donor network that provided me with a platform to make a difference. I started at schools and public events, telling my story, hoping to bust myths, and inspire people to know that they can be someone's hero. Another thing happened in August: I ran into someone I had known since I was 16: Tyler. He was barefoot, shirtless, with hair past his shoulders, drinking a beer. His band was playing at the cancer benefit a friend and I attended, and I had never seen Ty in the way I saw him that day. In the months to follow, we formed a sort of relationship; that didn't consist of dinner or movies, Facebook pictures or Instagram tags, but rather stargazing and watching him do what he does best: Play drums.
Tyler is a light. Every time he would walk into a room, people noticed. He is charming, funny, and genuinely a great person. Everyone loved to be around him, including me. In 2013, I had been on the transplant waiting list for two years. My lung function stayed stable at around 24 percent. I should have been on oxygen the majority of the time, but I was stupid and stubborn. I hid a lot of my illness from Ty. He knew I needed a transplant, and apart from being small framed, I looked normal. I couldn't walk far distances. I couldn't hike, or dance. I struggled to breathe, but when you aren't around someone 24/7 it's easy to hide that part of you.
July of that year, Ty told me he was moving in August to St. John, in the U.S. Virgin Islands, to play music with his bandmates. My heart shattered. The night before he left, I gave him an envelope with separate writings that were about him from a journal I kept. I was basically telling him I loved him, without actually saying it. It was a cowardly move on my part, but Ty was a free spirit and always touring, and I didn't want to say, 'Hey, I love you' and know he wouldn't say it back.
A few months went by without us speaking and my life returned to simply waiting. On anything. Hope, mainly.
In September, Ty called me. We caught up on our lives. We talked almost every day after that. And then... he said it. "It feels like something's missing here. Like, my heart is in Ohio. I love you." And my heart dropped to my stomach. Two thousand miles away, and he said it. He promised if I would wait, he would come home. But he never gave me a time limit and I grew frustrated and tired from all the waiting. January of 2014, I caught the flu. It did so much damage to my lungs that was irreversible. I was scared. I always told Ty I was doing "fine" or "okay," because I didn't want him to give up his dream of playing music in paradise, solely for a girl who might not make it. But I had to tell him. I told him what happened. How much time I had been spending in the hospital. I cried and cried. I wanted him there, to hold me and say it was going to be "okay."
On March 20th, 2014, I received a text from him that said "Why is there a strange man standing outside your house?" I opened the door to the biggest surprise of my life... him. Holding flowers. He proceeded to tell me he could play music anytime but he needed to be with me. I started requiring oxygen 24/7 and sleeping with a bi pap at night. I stayed in the hospital two-to-three weeks out of every month for IV antibiotics and monitoring of my condition. I went from being completely independent, to needing everyone to do everything for me.
Together in the hospital, we would play music, and he would always bring dinner after work. He would wake up at three in the morning when I was throwing up because the medicine made me sick, or carry me to the bathroom because my body was in so much pain. My body wasn't circulating oxygen properly, so I was in constant pain.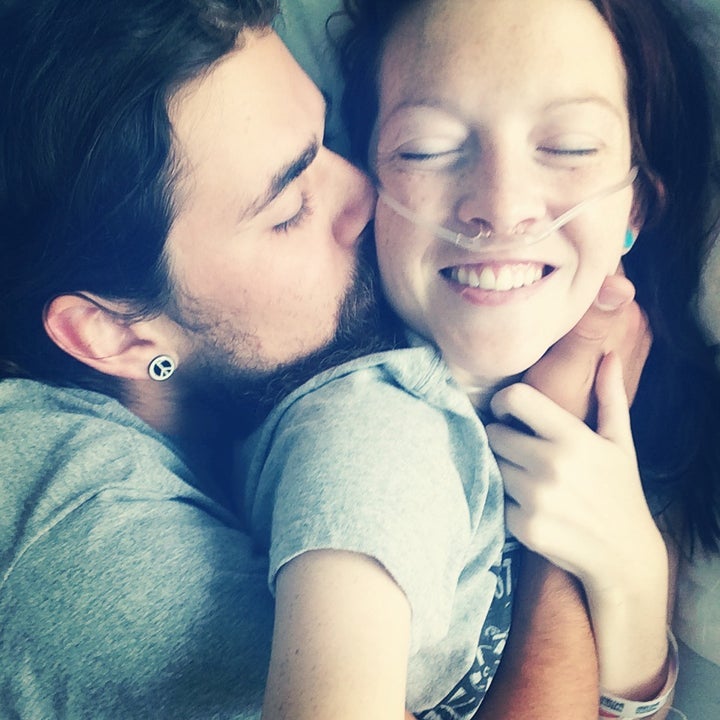 Ty always talked about music festivals and I wanted to experience it for myself. But because of my need for oxygen, breathing treatments, and airway clearance ― plus the IV antibiotics ― there was no way I could. Christmas of that year, there was another surprise. He had orchestrated a music festival called SamJam that was to be held April 2-5 of 2015. Half of the proceeds were going to the CF foundation, and the other half to my lung transplant fund. I couldn't believe it. Sixteen bands, live artists, vendors... all in my hometown. The weeks leading up to the festival, I was in the ICU on a non-invasive ventilator because I was retaining carbon dioxide. I was awake, alert, and devastated. By the Grace of God, I was weaned off the vent, and able to attend ONE day of the festival.
It was overwhelming! But it was also amazing that my boyfriend did this for me! He asked me to go on stage and thank everyone for coming, and I did. And then... I turned around to a chair and he asked me to sit down. He grabbed a guitar and started singing a song he wrote just for me that I had never heard. (Yes this is real life. Not Nicholas Sparks.) At the end of the song, "There's no denying, we're meant to be, so darling... will you marry me?"
WHAT. JUST. HAPPENED. In my head, "Breathe, Sam. Don't stop breathing. BREATHE!" Thankfully, I was wearing my oxygen! I said "Yes" while ugly crying. I said yes to the most amazing, selfless man I had ever met.
While the excitement of the engagement set my heart on fire, my mind pulled on the reins to slow down. I decided no wedding planning until my transplant. I didn't want my condition to force us to get married in a hospital, or me to be miserable walking down the aisle. Or not being able to dance until my feet hurt. At this time, I was using 15 percent of my lungs. I headed back to the hospital a week after the festival. Eleven days after the proposal, I was sleeping when two of my nurse practitioners woke me up to say "They found a match!" After four years of waiting, it was happening. I called Ty, my parents, my closest group of friends; the news came, and I was flown to Cleveland.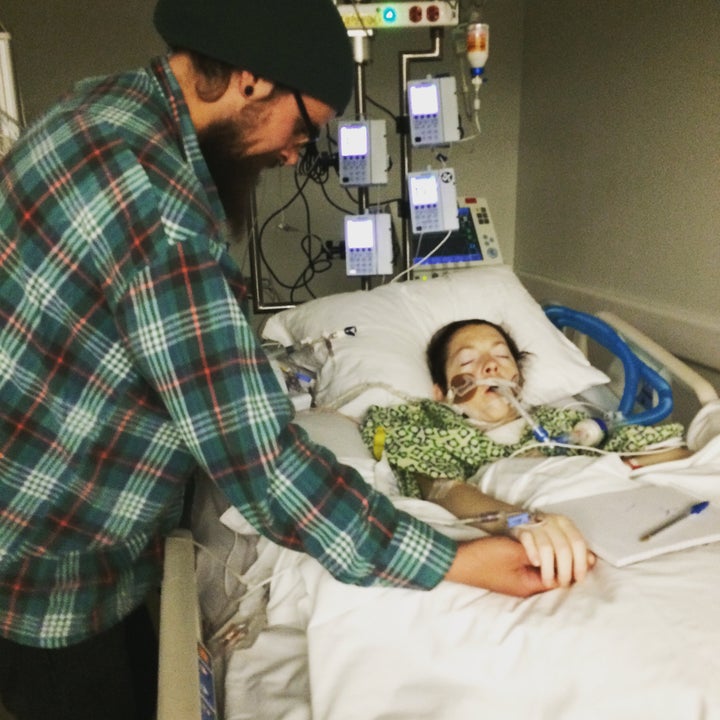 Surgery started at 8 p.m. on April 15th, and ended at 4 a.m. on the 16th, Tyler's birthday. Recovery was long and hard, but most of all, it was worth it. I have two new beautiful lungs, and with them, a new life. On June 4th, 2016, Ty and I got married in front of 300 guests. Including family, friends, doctors, nurses, musicians, anchormen, and everyone who has helped us along the way.
In a couple weeks, we celebrate our first wedding anniversary. With every new celebration ― birthdays, Christmases, etc. ― I think of my donor and their family. I don't know them, but I write them every November, in hopes they will someday write me back. I pray for them every day. It hurts my heart, on days I am rejoicing, that they are feeling sadness. I try to live for my donor every day. We've gone on many adventures already. A lot of hiking, snorkeling, swimming with sea turtles, St. John and Mexico, and can't forget rock climbing. We also enjoy a lot of pizza (which I HATED before my transplant. I know, I know... un-American... I know!) I'm even trying to write a book on our journeys in life, which turns out is much harder than I could have ever imagined.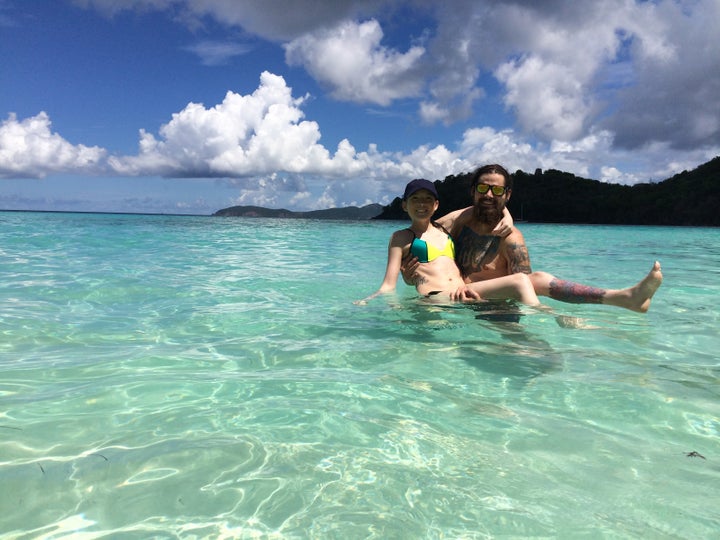 We're all put on this earth to help one another. I was given a second chance for a reason: To spread love, light, and inspiration. I try to give back as much as I've been given, but I don't think that will ever be possible. My husband is the kind of man who would look at me, but never see me as sick. He's always restored my hope, and always let me cry. He never complained about staying weeks in the hospital. He's given me so much life. In fact, I'm convinced he saved it.
I was once asked in an interview if I thought that I changed him. I responded with, "I won't say I changed him, I'll say love changed him. I think love changes everyone."