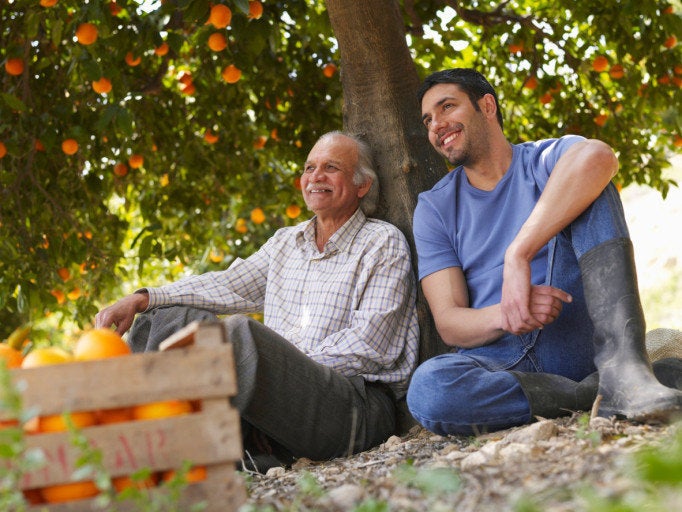 As much as I hate to say it, the Beatles were wrong when they said, "Love is all you need." It's just not that simple.
Love nurtures life, but we need much more. I think Andrew Lloyd Webber got it right when he wrote the lyric, "Love changes everything," for the musical "Aspects of Love." Love changes our lives, whether it's the openhearted, head-over-heels kind of love that makes us obsessed with our lover, or the kind of love we feel for a child. But love also changes our lives when it slowly begins to die in a marriage, or when it's betrayed by broken promises.
And the nature of love is forever altered when death visits the relationship.
Recently I attended the funeral of a young man in his 40s who died of glioblastoma, a terminal brain cancer that also took my sister's life 15 years ago. The young man's parents are dear friends of mine, and I had watched how they took the news when they first learned that he had cancer. Like anyone else, they felt shock, rage, disbelief and desperation. During a dinner I had had with the young man's father several weeks before his son died, he had told me how his mind darted back and forth constantly from rage at the injustice to love and gratitude for his son.
And while this had been going on, his relationship with his son had changed.
Despite saying that we want what's best for our children, we do have expectations. More often than not, we expect our children to live lives that are roughly similar to ours. And that often is fine if the child has a similar temperament, personality and worldview as his or her parent. But this was not the case with my friend and his son. My friend is a brilliant and disciplined scholar who loves philosophy, history and religion. Until recently, much of his attention was in the left side of his brain, which is more logical and less emotional. His son was a musician and lived much of his life in the right side of his brain, where creativity and sensitivity predominate.
So as you can imagine, there was both great love and great conflict in their relationship. And this is pretty typical of many parent-child relationships. After all, there is inevitably conflict, disappointment and resistance in most parent-child relationships. And all this conflict starts with parental love and our heartfelt wish that this precious child have an easy and happy life. But sometimes that tenderhearted love gets lost behind the stress of desire and expectations.
But after the diagnosis, things were different between my friend and his son. You see, the specter of death puts life in perspective. Expectations go away and historical baggage disappears. And when the light of life flickers, we open ourselves to the love that was always there.
In "Letters to Sam" I talked about the day my mother died. Although we loved each other, my mother and I also had a strained relationship, as we were constantly trying to change each other into the person we needed each other to be. On the day that she died, I arrived at the emergency room about an hour too late. The nurse escorted me back to the gurney where my mother lay. Because of my position in a wheelchair, I could only see her profile. The nurse asked if I would like her to put my mother's hand in mine. "Yes, please," I said. And there I watched those two motionless hands as I reflected back over her life. For the first time, I saw her as a woman and not just as my mother. I saw her as a wife and a daughter. I saw her struggles, the dreams she had realized, and those she had not. That day I felt a love and gratitude for this woman that was always present but rarely felt.
Those feelings recurred to me as I watched my friends love their son so fully, gently, and selflessly. Their love had become the kind that is experienced without expectation or desire for anything other than the opportunity to love him again tomorrow. It's what is called "altruistic love." It's the kind of love we all long for, the kind of love that nurtures one's soul whether it is being given or received.
In the poem "If You Knew," Ellen Bass wonders how we would be different if we knew the next person we saw was dying. How would we experience the encounter? Would we be more kind and gentle? What would life look like if we stopped trying to change the people we love and just sat with them and gazed in their eyes knowing that we may not see them tomorrow? What would it be like if we could do the same thing for ourselves?
Just yesterday my friend told me that he has a chance with his 10-year-old grandson to correct all of the mistakes he made with his son, that he had the rest of his life to practice loving this child without expectation or agendas, that he would practice the kind of openhearted love he had felt for his son these past several months.
This is indeed a blessing for my friend and a blessing for his grandson. My fervent wish is that we can all learn the lessons my friend learned.
Indeed, love changes everything.