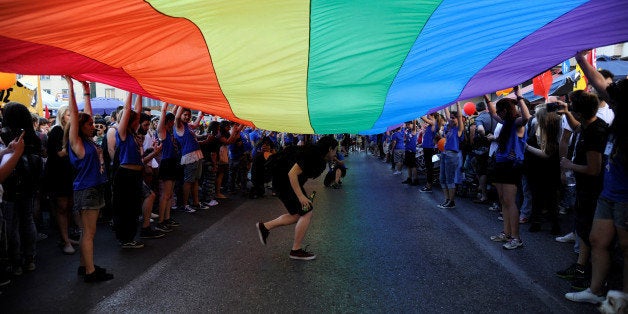 At this year's San Francisco Pride Parade, we had the privilege of marching with a special contingent memorializing all those killed at Pulse nightclub in the early hours of June 12. Organized with lightning speed by Richard Sizemore and many others, 49 of us held individual memorials, featuring the name and a life-size photograph of each of the victims. Hundreds of others wore shirts, stating simply "We Are Orlando." For the previous dozen years, we had made the trip down Market Street, cheering and chanting wildly for marriage equality. This year we marched in silence, dedicating each step to the memory of the person whose portrait we held. We were a means for them to have a presence in the parade. And instead of raucous cheering, the crowds greeted us predominantly with reverent silence or noble applause for each of those lost. Many fought back tears.
The vast majority of victims were Latinx members of the LGBT community. We wanted to hold the memorials of Christopher "Drew" Leinonen and Juan Ramon Guerrero. They were the couple that lived together and that news outlets reported hoped to marry someday. But instead, their families contemplated a joint funeral for them. Juan's sister Aryam described the couple to Time magazine: "They were honestly so in love. They were soul mates. You can tell by how they looked at each other."
We were struck by how much Juan's family and Drew's mother, Christine Leinonen, not only accepted but also celebrated Juan and Drew. Aryam described Juan's family as "really loving and accepting" of Juan when he came out and that Juan "was so much love and light." Catherine McCarthy, a lifelong friend of Drew, wrote in the Washington Post that Christine's "not just 'tolerating' [Drew's] sexuality, but truly loving him, all of him, allowed him to exist unfettered and undiluted." In a live interview on ABC television the morning of June 12, Christine, desperate to learn any news of Drew, told the world how "proud of him" she was for starting the gay-straight alliance at high school over fifteen years before, an accomplishment that won him the Florida Holocaust Museum's Anne Frank Humanitarian Award "to bring gays and straights together."As demonstrated by Drew's founding his high school's gay-straight alliance, Drew and Juan's love was not passive; it was powerful. Catherine McCarthy described Drew as "love, embodied" and explained that "[h]e had all the time for love because he left little time for anything else." According to the Orlando Sentinel, Drew and Juan's mutual friend Brandon Wolf, who himself survived the Pulse massacre, memorialized them: "[Drew] and Juan were the love we wish to see in the world, the kind that pulls people together, breaks down walls, the kryptonite to hate."
Nothing spoke more of the power of their love than Christine's urgent entreaties to the nation that Sunday morning as she searched for her son: "We're on this earth for such a short time. Let's try to get rid of the hatred and the violence, please." And she spoke of a different "club" from the Pulse nightclub, a "club" that "nobody wants to be in," that of loved ones of gun violence victims. She appealed to all Americans: "[P]lease could we do something with the assault weapons so that we could stop this club from ever getting any new members. I beg all of you, please."
When we married at San Francisco City Hall in February 2004 and found our lives transformed by the sense of dignity we experienced for the first time as LGBT people, we vowed to do everything in our power to make the dignity that comes with marriage equality something that all Americans could experience. We feel a similar urgency now. We cannot fully honor the lives of those lost in Orlando on June 12 unless we do everything in our power not just to reduce hatred but to eliminate access to the firearms that provide the means by which people carry out these types of massacres and other gun violence.
Drew's close friend Catherine wrote: "There will be a time to change our laws. A time when this sharp grief will shift into a hot and forceful anger. We will not let their deaths go unremembered, nor leave any questions unanswered." The American freedom to marry movement achieved something that often seemed unimaginable: nationwide marriage equality. It took millions and millions of us, our friends, families, and strangers doing everything we could and employing every skill we possess for our love, dignity, and common humanity. We never, ever gave up. It's time to do the same to silence the gunfire. It's time to embody love to become the kryptonite to hate.
Authors' Note: The activists who came together to make the We Are Orlando contingent a reality are too numerous to name here individually. However, we want to acknowledge the inspired leadership and dedication of Richard Sizemore, Mason Smith, Richel Desamparado, Tristan Moaveniyan, PSPrint, the Sisters of Perpetual Indulgence, and San Francisco Pride.
Stuart Gaffney and John Lewis, together for nearly three decades, were plaintiffs in the California case for equal marriage rights decided by the California Supreme Court in 2008. They are leaders in the nationwide grassroots organization Marriage Equality.
REAL LIFE. REAL NEWS. REAL VOICES.
Help us tell more of the stories that matter from voices that too often remain unheard.