 It's pretty safe to say that the world has fallen in love with Gabby Douglas. After helping her team triumph in thewomen's all-around final, and going on to grab her own gold in theindividual all-around, Gabby's captivating smile has popped up everywhere from television, to newsstands tocereal boxes.
The 16-year-old's accomplishments have certainly made every American proud, but her historical achievement resonates strongly, particularly for the black community. As the first African American woman to win an individual gold medal in gymnastics, Douglas stands in a category all her own. However, her history-making moment was soured by what began with a few nay-sayers on Twitter and evolved into a full-on debate about the teen's hairstyle.
In an effort to promote a more positive conversation and praise Douglas' achievement, two bloggers came together to create the "Love For Gabby" digital movement. Both Adrienne Smith of Eclectic A and Desiré Greene of Sukio decided to show some love for Gabby.
"It started because of the coverage," Greene told The Huffington Post. "We thought we should be focusing on the remarkable thing that she has accomplished and thought this would be a good way, especially among black women, to come together and celebrate her achievement."
Both Smith and Greene said they thought the discussion of Douglas' hair had gotten out of hand and highlighted an insignificant detail.
"I think that as a community we should get into a habit of celebrating excellence and focusing on excellence and not be so distracted by these things that don't matter," Greene said. "The comments on her hair, most of us just thought it was outrageous and shifted the focus."
The movement is still in its early stages. Since the women launched the campaign Friday morning, 15 other bloggers have joined, posting on their own websites, tweeting with the hashtag #LoveForGabby and following the Love For Gabby Pinterest board. But with Douglas' growing popularity -- not to mention an upcoming interview with Oprah -- they won't have difficulty finding others who share their sentiment.
"I think with social media, we tend to get a lot of snark," Smith said. "People love to hide behind their laptops."
They also said they hope to encourage the confidence Douglas' achievements have instilled in black girls.
"We see her as a little black girl," Greene said. "And we need to do things to support our young black girls. In no way should she ever hear a discouraging word from an African American woman."
To join the movement, express your love for Gabby Douglas on Twitter at #LoveForGabby

Before You Go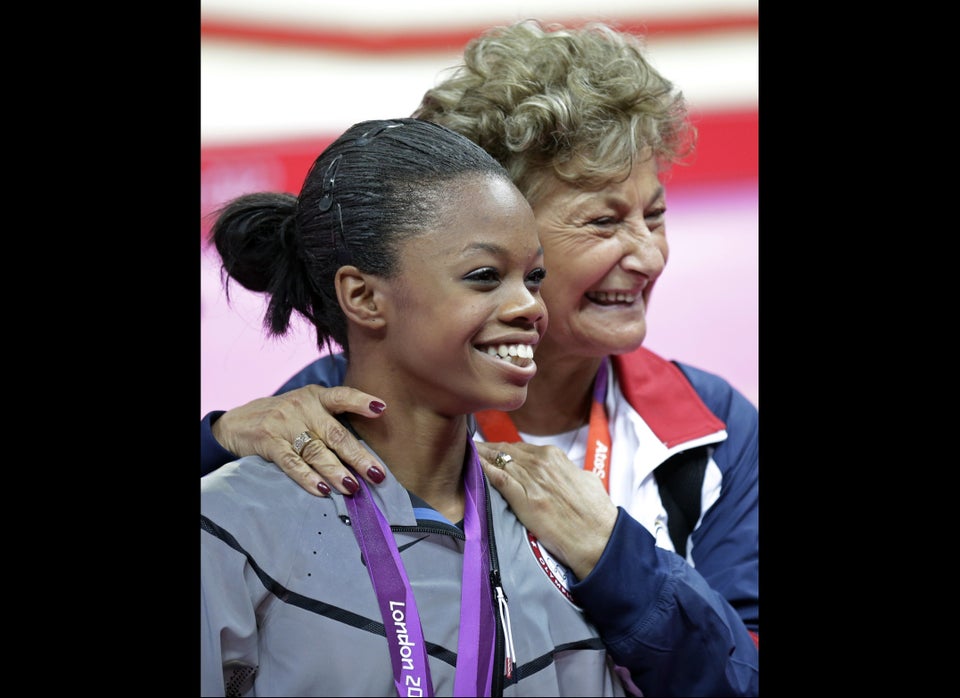 Olympic Gymnastic Moments
Popular in the Community