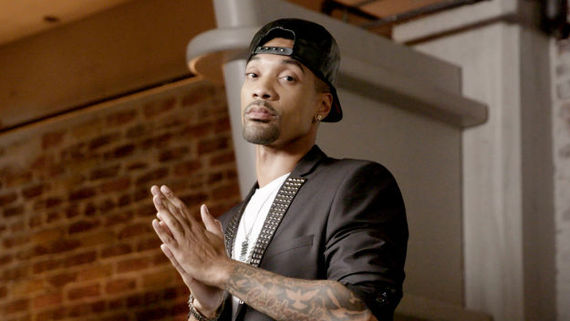 The producers of the VH1 hit reality show Love and Hip Hop: Hollywood returned to television last Monday, September 7th with one major storyline that has caught everyone watching by surprise. The relationship between rapper Miles aka Siir Brock and producer, rapper, model Milan Christopher shocked and stunned viewers watching on premiere night. I recall monitoring social media sites and the subject was trending across the board. If you're not up to speed allow me a moment to get you there. There was some chatter on the blogs about two gay cast members joining the cast of Love and Hip Hop all summer long but it wasn't until the premiere and that kiss between Miles and Milan that viewers knew for sure that the season was going to be like no other season, moreover, no other franchise of Love and Hip Hop, not Atlanta or New York would compare to the revelation of these two guys being introduced to the world as a black and in love same-sex couple. When you think about hip-hop, when you think about the music industry, for some people, I'll say those industry insiders they know that gay people exist in their world. However, to the many of us on the outside looking in being gay and a rapper doesn't mix well. So I wanted to take the questions I had and I'm sure many of you have to one of the shows newest cast members. I had the opportunity to chat and interview Miles and I found him to be smart, engaging, and ready to show the world that he's more than just a man who loves a man but someone who wants to entertain the world through his music.
KM: Miles, I'm happy to get the chance to talk you with. I have so many questions!
Miles: (Laughs) Oh no thank you Kelsey the pleasure is all mine.
KM: Oh, you're most welcome. So talk to me about the decision to join the show?
Miles: I was definitely hesitant about joining the show especially with how sensitive the subject of me walking in my truth and me being black-balled in the entertainment industry as a rapper and people not wanting to work with me, but you know I have gone through this for a couple of years battling with my comfortability in who I am and I'm just in a place where you either love me or you don't, this is my life and hopefully I am able to help people with my story and let the music speak for itself.
KM: You mentioned there about the doubts of people wanting to work with you. Earlier this summer there were reports that certain members of the cast didn't want to shoot scenes with you or Milan. Is there any truth to this?
Miles: I don't know where that came from honestly, it's a little crazy, I felt like that was just thrown out there from random source because other cast members are fine, we are all good. I don't know where that came from because that is absolutely not true.
KM: There are some people out there who may not know anything about you outside of this major revelation you just made on the show. So tell the readers more about Miles and your musical background.
Miles: Most people may not know that I was in an R&B group for seven years. I was the rapper of the group and we worked for a long time and we linked a lot with local west coast artist but unfortunately we disbanded and once that happened I was kind of down and out for a while and I almost wanted to give up on music but I didn't and I kind of pursued my own solo rap career which was scary for me because being outside of a group I had to establish my own sound and who I was as a writer and rapper. I love the artist that I'm becoming.
KM: How would you categorize your music, your sound, who are you as an artist?
Miles: I'm definitely a west coast rapper; I'm into party, dance club music. My music is definitely upbeat; you know that you would hear at a club.
KM: Who would you say are some of your musical influences?
Miles: One of my favorites is LL Cool J, I think he is absolutely dope and I love his swag and who he is as a person and his music. I also like Busta Rhymes; you know they are always keeping the crowd hype. They are definitely my two biggest influences when it comes to rapping. I also love Pharrell too.
KM: Okay, now the million-dollar conversation is about to happen. In the first episode it is revealed that you and Milan Christopher are dating. You are two black men and you kiss on national television. How difficult has it been to put your life out there?
Miles: Oh man, it has been extremely difficult, it's probably the hardest thing that I have ever done in my life. I'm living in my truth and putting myself out there, even before the show came out, the producers knew and then slowly it started to leak to the rest of the world. Then I had to talk to people from my past and people that I have to work with and with everybody knowing it's been extremely difficult.
KM: Why do describe it as being difficult, what's so difficult about it?
Miles: Being a rapper, being in hip-hop, well first being a man and saying that I'm bisexual you know people automatically judge you, being a black man and being in the urban community and people knowing that I lie down with other men, it's just natural for people in our community to come down on homosexuality and bisexuality. The LGBT community is just treated so hard and people look at it as one of the most embarrassing things that you can do and it's not respected so that has been the hardest thing for me.
KM: One of your reservations in the first episode is how your family would perceive you. So how has that been?
Miles: I think that the viewers will just have to follow along on this journey throughout the season to see how that turns out. I can say that my family experiences this reality TV journey with me.
KM: What are some things, if any, that people may not know about you?
Miles: I think one thing that people may be surprised to know is that I had just finished prerequisites before applying to medical programs. I had this dream of going to medical school and the dream is still there but my first love is music. However, I think the biggest thing that people didn't know is finally out in the open.
KM: What is it do you want people to take away from your story on the show?
Miles: I want people to know that you can be who you want to be, whether you're a rapper or a singer or a doctor, whatever you want to be you can be who you want to be and it's going to be okay. I want people to know that there will be hard times but you can get through it, you don't have to hid, you don't have to be ashamed of who you are, you can just be honest and walk in your truth.
If Love and Hip-Hop: Hollywood is a show you tune into then the season is expected to live up to the hype. I can honestly say that I was not a watcher of the show before the announcement of Miles and Milan. The two of them add a dynamic to the show that hasn't been seen before. In the case of Miles, his story isn't any different from any other black man living either in New York City or Boise, Idaho that has to come out to his black family but maybe the Miles effect on the show will spark a conversation and possible begin to spark a dialogue about what being a black man really means no matter if you are a rapper or garbage man. The idea of living in your truth is something I hope the collection of episodes in this season will definitely show.
Miles can be found across social media platforms under the name Siir Brock and look for his EP out Tuesday, September 15th.
REAL LIFE. REAL NEWS. REAL VOICES.
Help us tell more of the stories that matter from voices that too often remain unheard.