Adrian Grenier- The Cultural Creative
Adrian Grenier is a multi-talented individual. Producer, director, actor, musician, humanitarian top the list of roles he performers in this world and he discusses most of them with Deepak Chopra in this episode of "Love in Action." It is, however, his down-to-earth demeanor and interconnected humanness that takes full focus. In this spectacular episode of "Love in Action" with Deepak Chopra, a NEWSWIRE.FM production set in Grenier's hometown of in NYC at ABC Carpet & Home's Deepak Homebase, we see that he is on a mission to co-create a sustainable and beautiful world.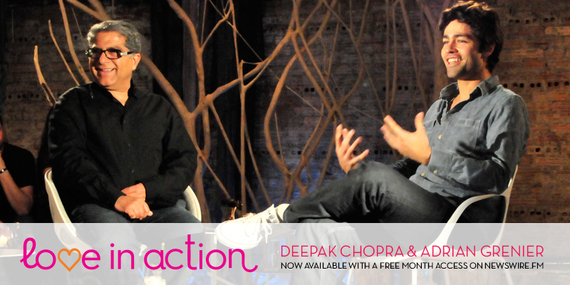 Deepak's admiration for Grenier shines as he describes him: "he is the representation of cool consciousness...you look at him, and he is a role model."
Among the myriad of Adrian's accomplishments, his goal of getting people "to question how they look at the standard way of doing things" is the focal point of his work. Grenier states that "it's in the wisdom of the shared experience that we find solutions." He is continually working to gather cultural wisdom, through the documentaries he directs and produces, on tour with his environmentally conscious band-mates The Honey Brothers, and with his with growing initiative SHFT.com.
SHFT.COM is a platform for people to connect, acquire, and interact in a more sustainable and conscious manner. The site provides sustainable and artisan goods for sale, offer tips on how to live more sustainably and offers content (videos from some of the top musicians and artists as well as farmers, artisans, and environmentalists who live by a sustainable code of ethics). Overall, SHFT.COM connects you to the story behind the image. By allowing you to participate in "the culture of today's environment," Grenier shares his passion as co-founder of this site that supports those seeking and participating in a sustainable and attractive consciousness.
As Adrian Grenier continues to use his many talents to bring awareness to the promotion of sustainability, a question does come to mind. What will he think of next?
Popular in the Community