World renowned for her sense of humor, her thick NY accent, and a spectacularly infectious laugh, it is none other than Fran Drescher who is featured in the newest episode of NEWSWIRE.FM's "Love in Action" series with Deepak Chopra, produced by ABC Home. Throughout the episode, Fran adds to her list of well-known qualities as she discusses her work as an activist for cancer awareness, education, prevention, and survival.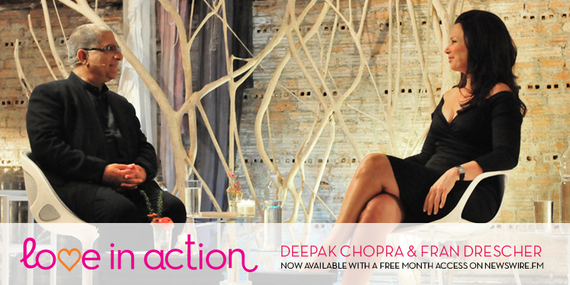 In the intimate setting of the Deepak Homebase at ABC Carpet & Home on ABC's mezzanine level, Fran sets an empowering tone as she discusses her life with honesty and openness. She shares her past experiences as a cancer survivor, a rape survivor, and a divorcee with Deepak Chopra. It is clear that even with the deep suffering she has experienced, Fran is still open and receiving life's many blessings. She has found a way to use her personal trauma to help others better understand the importance of life. With a beaming smile she shares with Deepak and viewers that "turning pain into purpose is extremely healing and that's one of the great life lessons that I've learned in my life and what I try and share with other people."
Fran Drescher's life as a cancer survivor and activist helped her to write the NY Times Best Seller, "Cancer Schmancer," and to create an organization by the same name to help individuals learn about the importance of early detection cancer awareness. "Cancer Schmancer" focuses on inspiring Americans to understand the importance of early detection and treatment of cancers as well as lifestyle shifts that are easily adaptable into our lives. The main goal of "Cancer Schmnacer" is to help make cancer less prominent in our world. Fran explains that her organization has a three-pronged mission: early detection, prevention, and policy change. She works and effects change within communities as well as at the national level by shifting the idea of 'patients' into 'medical consumers.'
Fran and Deepak share the medical as well as spiritual benefits that come from learning how to find balance in life, between love and pain, love and loss, and how to transform that knowledge into a better way of living. Deepak reflects at one point that Fran's life and work reasserts his belief that "love is the healing force." Love has recently been truly prominent in Fran's personal life with her recent marriage to email inventor Dr. Shiva Ayyadurai.
By acknowledging the importance of love through trauma, by changing the perspective of pain and suffering, and by educating her audience in a peaceful yet powerful way, Fran Drescher shines in her newest role as Health Activist for the American community.