"Human kindness is something that a society cannot live without. We will certainly decline and go into ruin without it." Goldie Hawn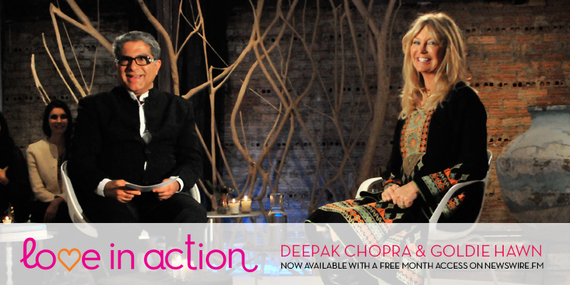 Here comes a rush of positive energy. Allow yourself to be fully imbibed with the magic of Goldie Hawn's message, presence and blissful connection to her passion in this NEWSWIRE.FM production of "Love in Action" with Deepak Chopra. The episode begins with a special gift from Deepak, he gives us a brief and wonderful meditation that helps us bring our awareness into focus before he begins his conversation with Goldie Hawn at the Deepak Homebase in the ABC Home mezzanine level studio.
Goldie muses that it was "from God to Go-Go: a perfect connection," as she discusses her early life, her relationship to God and the road she has traveled that has both supported her success and also showed her the pain that is sometimes required when you choose to be true to yourself. In this episode of Love in Action, Hawn discusses how her personal journey led her to a passion for helping children to thrive.
She shares with Deepak and the audience that her organization, The Hawn Foundation, is committed to helping improve children's lives by providing a sustainable core that teaches children to reduce their stress, expand their awareness and connection and improve focus in the classroom as well as in the outside world. One of the most successful programs supported by the Hawn Foundation is Goldie's MindUP program.
MindUP is a "research-based training program for educators and children" that brings a deeper understanding to children's needs within an educational context. The program includes 15 lessons created by neuroscientists and other social scientists, and includes mindfulness practices, brain-breaks and other activities for children that "gives them self awareness, engages them into their classroom, into their lives, [helping them to realize that they] all matter inside of what they perceive to hear." Hawn emphasizes that, "it is very important to have children feel that what they are thinking, feeling, hearing and perceiving has value."
Deepak Chopra praises Goldie's cause and expands upon the medical research that has supported aspects presented in the MindUP Programs that are now in schools across the United States. As the two share data that continues to confirm the positive benefits of teaching empathy and mind-awareness to young children he explains that "our best hope for a planetary civilization is the nurturing of our children and the care of our mothers."
This is a spectacular episode full of contagious laughter, powerful research and intelligent conversation all based around one of the most impactful aspects of humanity, the caring for our children...our future.
Popular in the Community