"People like JR are a force of nature." -- Deepak Chopra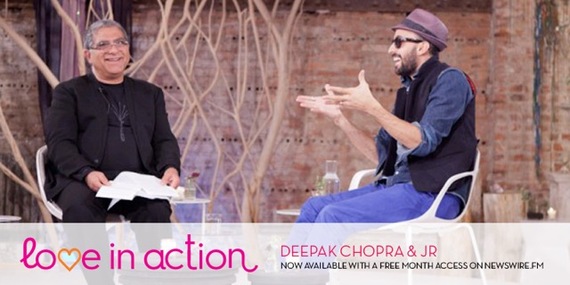 Dressed in a simple disguise that allows him to interact with the people of the world, while keeping his identity autonomous, JR shares his thoughts on art and the importance of shared power and inspiration.
JR speaks unreservedly in this episode of "Love in Action," and it becomes easy to understand how he has the energy to create his large-form artworks. The intelligence behind his work is a combination of practice, expertise and passion. In order to complete each piece of art he adds just the right amount of risk and then steps back, letting the art speak.
His art career began on the streets and subways of Paris at the age of 13. JR discovered his talent for providing art that has a layered impact on the viewer. His beginning tools were graffiti and black and white photos. Eventually, he realized that he could keep going, making bigger works of art that relayed bigger messages.
JR is now an internationally recognized artist and activist. He continually connects to people around the world and transforms their landscapes with large-scale artworks that reflect the surrounding communities. Working with the people of Israel and Palestine, in the favelas of Brazil, or on the streets of New York, he shines a much-needed light on the art of bringing people together.
In one of JR's largest project to date, Inside Out, he steps back from the role of artist, and simply acts as a printer. The process behind Inside Out allows participants to submit portraits to JR's team, they print out your photos in large poster form and send the posters back to you, allowing you to paste the photo anywhere you want. JR believes this allows "you to become an artist, an activist...a collector...a consumer." Once again, this project reflects JR's mission to give artistic power to the global community, allowing you to affect change and to become active in the artistic experience.
Deepak expresses his admiration of JR throughout the interview, and shares with him the idea that "what will influence is the world is not the power of the military, not the power of guns, but the power of speaking the soul's voice." And it is through JR's continued work that we hear that voice.
Related
Popular in the Community