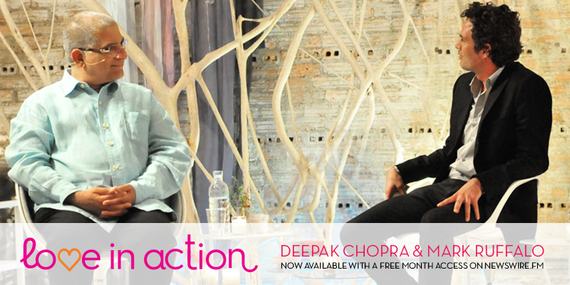 While his filmography needs no introduction, Mark Ruffalo's work as an activist for the clean energy movement is equally impressive. Mark recently sat down with Deepak Chopra for NEWSWIRE.FM's new series Love in Action to discuss his interest in environmentalism and the reasons he has become an outspoken protector of our planets natural splendor.
"I'm an actor, and what I call an accidental environmentalist", he joked with Deepak and the audience at ABC Carpet & Home's - Deepak Homebase during a live Love in Action taping. It started when he moved his young family to upstate New York to give his children a space in which to grow up that was more closely tied to the natural world. As it happened, upstate New York was undergoing a type of industrialization entirely at odds with the idyllic images that come to mind when one imagines the northeastern countryside. Hydraulic Fracturing, commonly referred to as fracking, was being introduced to collect natural gas from the bedrock and at the same time completely changing the landscape, polluting the water and disrupting fragile ecosystems.
"There are 1000 examples of contamination and there's a huge push in the gas industry to quiet people", Mark explained and like for so many other residents, this does not sit well for him. He tells Deepak that there is plenty of blame to go around, from Dick Cheney and Halliburton, to current New York Governor Andrew Cuomo but for Mark, it's less about placing blame and more about ensuring that fracking stops being allowed to contaminate so much of the water where he, his family and his neighbors are exposed to it.
As Deepak synthesizes this issue, "water is life" and we cannot afford to be complacent about what we allow to be dumped and pumped into our natural waterways. Mark Ruffalo is using his considerable influence to ensure that that doesn't happen. "We are at a moment now where we have to make a choice." The choice is to act now and make the move to renewables or let our children and our grandchildren suffer the consequences of our inaction. For Mark, that's a simple choice; but one person alone does not solve the issue. It is a choice we all must make; is the future of our planet worth the effort it takes to protect it? There is only one right answer.
Popular in the Community