This past week marked the 45 annual celebration of Earth Day. Robert Kennedy Jr., featured in this episode of "Love in Action" and nephew to the iconic president that helped create Earth Day, stands at the forefront of the environmental movement on a daily basis, fighting to make the world's waterways safe and pollution free.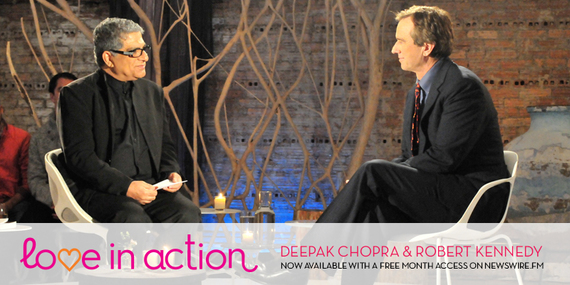 In this interview with Deepak Chopra, Kennedy reminisces about a moment at the age of 9 while he spent an afternoon at the White House. He was visiting his uncle, JFK, in the oval office discussing issues of pollution. Even at this young age, it was clear that his trajectory was set. Today he makes us all realize the power we have to help protect the earth for our future generations.
"The air, the water, the wildlife, the beaches...they belong to the public," says Robert Kennedy Jr. and he works to protect the "shared resources of our society."
As a leader in environmental causes, particularly with his work at River Keepers and Water Keepers, he champions political causes and defends the idea that "the fight for clean water is a fight for one of the most basic and essential human rights."
Robert Kennedy Jr. follows his passion for protecting the environment from polluters, whether in the form of dirty politicians or toxic remains from nuclear power plants, Kennedy consistently emphasizes the importance of everyone's involvement with making our water and our environment clean and safe. His simple idea matched with his intelligence and creative approach "as the voice for the world's waters," allows all viewers to join his movement.
Deepak congratulated Kennedy on being an "environmental hero for the planet enforcing the law as it should be, and restoring our rights and the rights of nature." This special episode of "Love in Action" connects audiences to the current environmental reality and allows viewers a chance to step into an action role, helping to keep our water and air clean. These are causes that are dear to Robert Kennedy Jr., but also, to all of us.
Popular in the Community