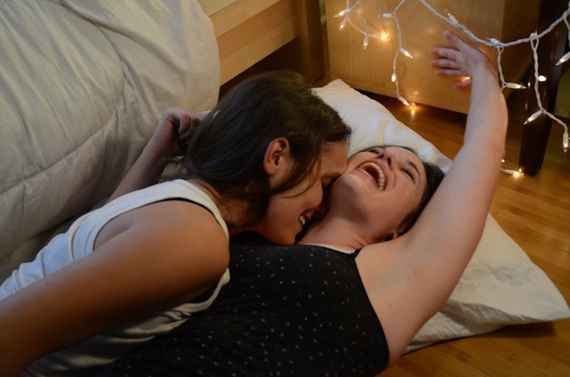 At the suggestion of a friend, I watched all 14 episodes of hit lesbian webseries Easy Abby this weekend while I was traveling through the south, getting stranded in airport terminals and on runways for hours on end with nothing to do but dig into all kinds of media on my to-watch list.
After taking in the whole first season, I absolutely see why Easy Abby is the most watched lesbian web series in the world -- boasting over 14 million views to date. The show is funny, the characters are likable, and it's all just so very human. Love is awkward sometimes, and this show manages to honor that experience in really charming ways.
Watch Season 1 of Easy Abby, then read my chat with show creator, writer, director and producer Wendy Jo Carlton just below.
Logan Lynn: How did the idea for Easy Abby come about? Is it autobiographical?
Wendy Jo Carlton: Isn't everything autobiographical? The show is about Abby, a 31-year old queer woman who is not sure how much romance she really wants in her life because she loves her freedom more. She loves the idea of love and she loves seducing women, in fact she is very good at it, but Abby doesn't believe in "forever" and would rather keep moving along, like a fish that has to keep moving to stay alive. I have had that outlook in my own life.
Maybe Abby is a younger, more cynical version of myself, mixed with observing awkward dating experiences over time. I follow my gut for casting and for collaborating, and after I met Lisa Cordileone (Abby), she had the talent and charisma that inspired me to want to write a character for her. Abby tends to give up before anything real can take root -- that's what I find intriguing about her and Lisa Cordileone does a great job of making us worry about her. I wanted this lesbian protagonist to walk real and to not have to try to be sexy, and not perform a more "female walk". I totally dig watching women move. And swim.
In Season 1 Abby enjoys affairs with women while working three jobs to save money to live in Costa Rica and study coral reefs. She has never left been to New York City or even left the U.S. before and she's eager to get out of the Midwest. By the end of season 1, Abby is love-struck for the first time in her life by Danielle, whom she meets while petting a puppy on the street. As Season 2 unfolds, we find Abby in a bit of a free fall as she is challenged on all fronts. Danielle has flown off to Italy, her best friend Sara moves to L.A. for school, and now Abby's dream of Costa Rica comes crashing down as she is forced to deal with someone she really can't stand; her estranged Mother! Which doesn't mean Abby won't still find the time to enjoy a bizarre love triangle and learn to frost cupcakes. She has a lot of energy. I can share this much on Season 2: Abby finally learns what being love struck feels like, how drunk you can get from dipping popsicles into vodka, and why it's important to hide your stash in different spots in your apartment.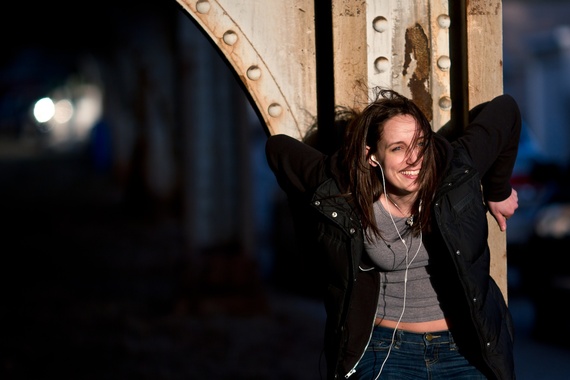 Lynn: (laughs) Spoiler alert! What are your dreams for the show? Do you have any plans to take it from the web to television or film?
Carlton: With 14 million views for Season 1, I think Easy Abby is primed to be viewed on a network like Comedy Central, Hulu Originals, Logo -- Nothing is stopping us from expanding our growth and fan base but a proper budget for marketing and branding! Meanwhile, after we get Season 2 in the can, I plan on making an Easy Abby road trip movie that picks up where Season 2 leaves off. It will be an entertaining mix of caper, buddy movie and a Smoky and the Bandit romance/friendship bawdy adventure!
Lynn: The show seems primed for some pretty spectacular cameos. Who are some of your dream guest stars?
Carlton: I would love to see Ashley Judd play Abby's Mom, Martha Plimpton or Sean Hayes as Mom's Nurse, Rumer Willis or Kristen Stewart as the 25-year-old queer troublemaker who bamboozles Abby, and Joan Cusack, Tracy Letts, Wanda Sykes and Lily Tomlin as fellow patients. I'm not afraid to dream. Sharon Gless starred in my first feature and she was incredible -- so let's go, baby!
Lynn: Who are some of your inspirations?
Carlton: Gosh, inspirations for amazing storytelling and personal voice would include Jane Campion, Patti Smith, Jeanette Winterson, David Lynch, Alfonso Cuarón --- Oh Geez, they're all a bit on the dark side aren't they? (laughs) Still counts! Oh Diablo Cody! Ep 6 of Season 1 references a Patti Smith song in fact. I have plenty of darker sadder stories in my heart and body that I could be making movies out of, but I'm way more interested in making work about connection and love. Love is also for losers -- love that maims, love that redeems, love that lifts you out of the shell of you and onto a floating dandelion wish -- stories about the ongoing promise of recognition and romance while we are here together.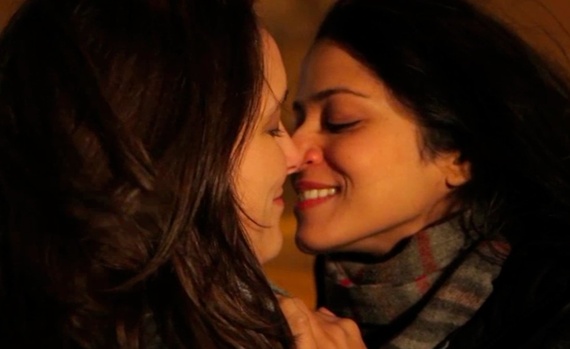 Lynn: I'm guessing since you're in TV you also watch TV. Any favorite TV shows?
Carlton: I've been really enjoying the BBC shows Last Tango in Halifax, Orphan Black, and Sherlock. The characters are alluring and complex. The dialogue is fantastic and often unpredictable. The Good Wife is smart and sexy and I like the contemporary American social and political topics it draws out. Orange is the New Black is up there too, mainly because the cast is so arresting (laughs). And it's not just the lesbian main love affair thread, it's a story of class inequity, sexism, and trying to hold onto basic human dignity.
Lynn: Yes! Since you bring up another online show, what are some of your favorites from the web series world?

Carlton: Since the term "web series" has been hijacked by some very deep-pocketed companies lately, I'll limit my list to creative folks making shows I like without the benefit of mega-marketing: The Julie Stiles "Blue" series from WIGS, Little Horribles, My Drunk Kitchen...and the Sonic Drive-Thru series, which are totally TV commercials but I love TJ Jagodowski and I basically grew up in a drive-thru.
Lynn: Someone with deep pockets needs to hijack Easy Abby! (cough, cough Netflix)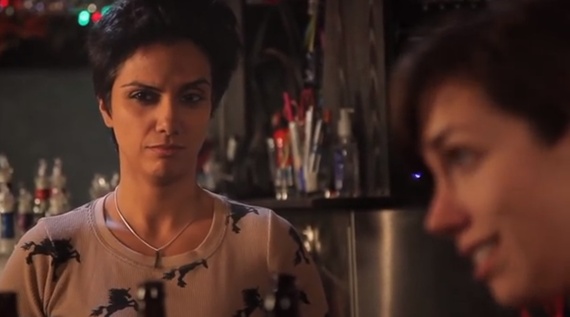 Lynn: What about the music on the show? It sounds to me like the soundtrack is cherry-picked and fairly central to the show. Do you have bands lined up wanting to be part of it?
Carlton: The soundtrack is very important to the vibe and voice of the show and for me is the warm drizzled icing that holds the Easy Abby cake together. I really love working with music and with sound design in post. Bringing the original songs together from all the talented singer/songwriters was so satisfying because these are hand-picked from a diverse group of artists who donated their music to the soundtrack, not just because we didn't have a budget for it, but because they like the show and trust that their music will be used in fun sexy ways. And most of them are women and/or LGBTQ identified. We have a folder of songs for Season 2 consideration. We plan on releasing the Season 1 soundtrack this Spring!
Lynn: Community-building through collaboration! Fun. What is one thing we will absolutely never see on the show?
Carlton: If you are watching Easy Abby you will not see a gun, physical violence (except for scenes of failed yoga moves), frontal nudity (except for various cleavages), or a central character left unkissed.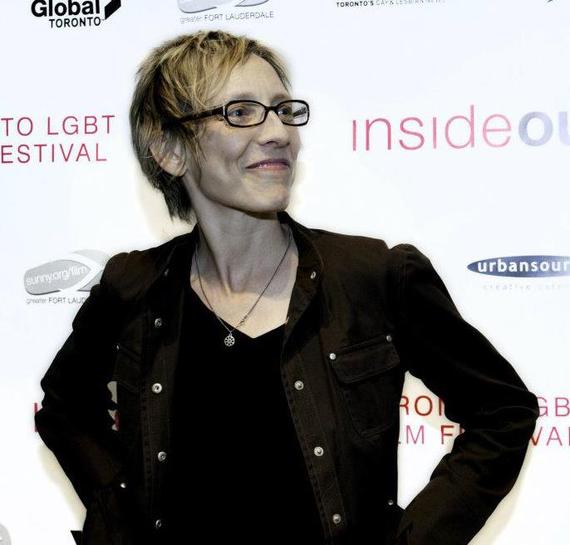 Lynn: Why do you think the show is so successful?
Carlton: I think we're getting big views and interest in the show, even without a marketing budget or celebrity cast, because it's all seen through Abby's doubtful bloodshot eyes - plus, it's chock full of dating tips anyone can apply!
Lynn: I wish you the best of luck with funding Season 2!
Popular in the Community