The final episode of "Love Is Blind" premieres on Friday and we'll finally see the couples say "I do" or "I don't."
But last week, we got to see the final days before the contestants make it to the altar, and, well, there's quite a bit to parse through. Drama with Jackie and Marshall ... and Josh, Kwame and Chelsea's interesting photo shoot, and a very tense meeting between Bliss' dad and Zack.
Catch up with Ruth Etiesit Samuel, Taryn Finley and Erin E. Evans for our commentary on the latest episodes.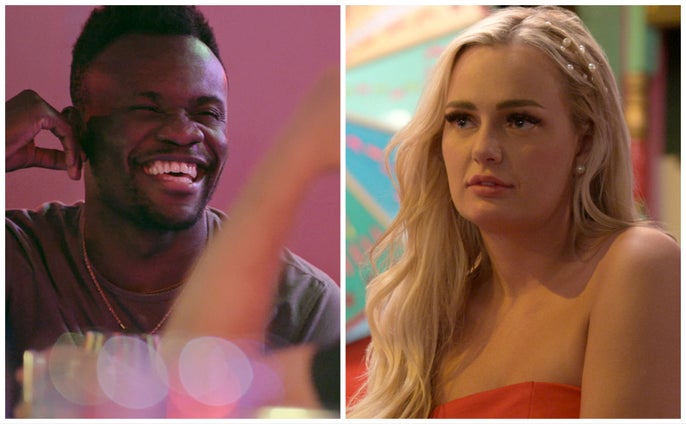 So Many Of These 'Love Is Blind' Contestants Don't Actually Live In Seattle
Yes, I understand that casting directors for these shows probably cast a pretty wide net to attract good candidates for the show. I also get wanting to participate in a show that's a couple hours away from where you live. But what irks me so much about this season is that at least two of the contestants want to spend a lot of their time outside of Seattle: Kwame lives in Portland and has a very messy apartment there, and Micah splits her time between Seattle and … Scottsdale, Arizona. (Brett also lives in Portland, but he and Tiffany never made it a big deal so I'm leaving them out of this convo.) It's not so much the locations for me, but the fact that, at least to the viewer, it seems like this is a nonissue UNTIL everyone is out of the pods and the proposals have already happened. Why aren't we seeing people wrestle with these conversations in the pods? Are they talking about this beforehand? Or is it just suddenly popping up? I know shows need to build in drama, but I was tired of hearing Kwame and Micah talk about their other places of residence like it was a deal breaker AFTER a proposal. — Erin

I don't have an opinion on this because I don't care to see either of these two win on this show, but I do hope Netflix goes to Atlanta again next season. — Taryn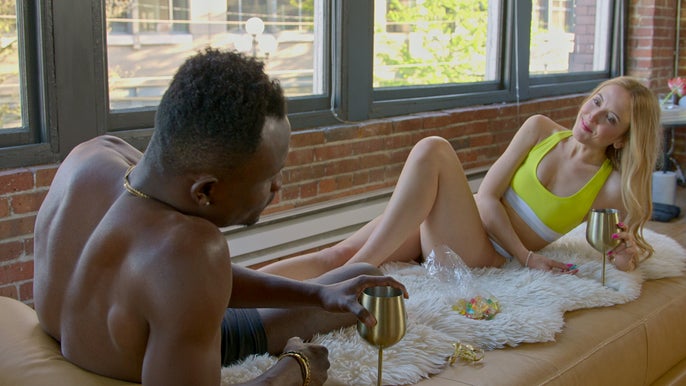 Chelsea And Kwame's Entire Relationship On 'Love Is Blind' Seems Like An Act
Y'all tried to jump me last time I said that when you marry someone, you marry the family, thus parental approval may bear some weight for
some
people. Yet here, we literally have Chelsea saying she felt sadness for Kwame over not getting his mother's blessing. She said, "Who wants to get in the way of that." Would you look at that!
On the note of siblings, I mean, it was nice to see them kiki a little bit. I don't know if they're particularly proud of their brother watching the season playback now, but um, they seemed very … used to his antics. Barbara gives "eldest daughter in an immigrant household" energy, which, if you don't know, is literally one of the
hardest roles anyone can have
. You're practically a second mother. (I am the baby of my family, so I can't relate, thankfully.) When she said, "I raised you well," that was a telltale sign.
Kwame's "strict West African upbringing" sob story did not move this Nigerian American woman in the slightest. I rolled my eyes so hard. "I didn't really date until I went to college" — OK, did you die?! You're not special, and you're not the only one to have gone through it. Does it explain why he values his parents' approval? Sure. Can he use it as license to back out of a wedding instead of just admitting he doesn't want a future with Chelsea? No, which is what it was giving. It was nice to have the siblings there in support, and I was pleased to learn that their father approved, but I'm still incredibly doubtful of Kwame's connection with Chelsea and the longevity of their relationship. He may like her, but love?! I don't know. —
Ruth

I don't comment on these two because it's forced. Every time Chelsea tells Alex, I mean Kwame, that she loves him and will kiss the ground he walks on, he nods and giggles. I cringe every time these two are on screen. Kwame doesn't want to do anything Chelsea wants him to do. But he's so deep in the process that I don't even think he knows how to turn back. I don't even know what to call this. It's all so weird. It feels like they're living all of her dreams and he is too caught up being everything but true to himself (and that seemed to have started long before "Love Is Blind") to say what he truly feels. Iyanla Vanzant is probably the only person who can address whatever Kwame has going on. —
Taryn

LMAO, yes, it's so awkward to watch them. Even when Kwame is reassuring her or vice versa, I'm always like, who is writing this stilted script? Kwame wants his mother to approve and two days before the wedding reveals he doesn't want Chelsea to take his last name until then. That … kinda makes sense to me, but it also feels like putting the cart before the horse because I don't even actually think y'all should get married? I like Chelsea; she seems like some good-natured person who happened to show up for a very wild experiment. But Kwame just irks my nerves like none other and I want them to give up what seems like such an act for the show. But also, that Calvin Klein underwear photoshoot was just awkward. When Kwame leans his head into Chelsea's torso I cracked up. — Erin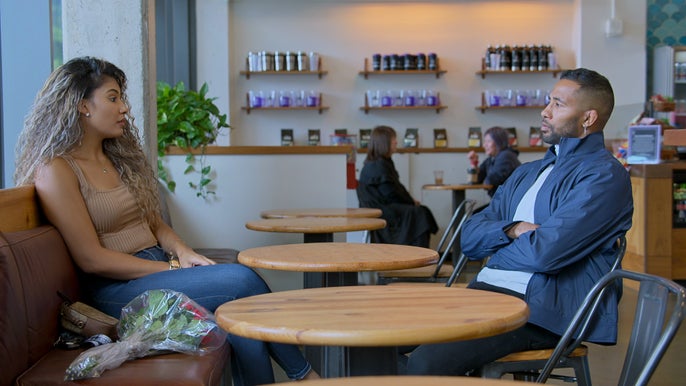 The Jokes Write Themselves With Jackie And Josh
I'm just like, girl, what the f**k? Do you even really like this man? The bar is already set low for your ability to be emotionally available in a committed relationship, but with annoying-ass Josh, the bar is in hell. We didn't see too much of Josh in this season (thank God), but from what we did see, I can tell that he ain't shit. When they met up for their little date and he told her, "Losing you is my biggest regret," I threw my hands in the air. Game recognizes game, and Josh is not only looking unfamiliar in that department, it's also looking like a forced TV moment. I don't like any bit of it.
But hey, I don't like either one of them, so they can really go off and live their emotionally unstable lives with their toxic relationship traits and immature stunts. Apparently they were spotted
at a baseball game together
recently, so I guess it's working. I don't know, girl. You like it, I love it. —
Taryn

I am not rooting for these two in the slightest. I do not wish either of them well. Sorry not sorry. —
Ruth

There's a point when Jackie is having a confessional moment and I just had to laugh at this quote: "I don't even know if I'm gonna be with anybody. Damn! I'm crazy. I need to probably do some self-work." In the moment, it almost felt like she was sick of her own shit, too. And that at least made me feel like she was being her authentic self. I still am not over Josh and his dangly earring. Over the weekend, Jackie was
doing damage control and said her coffee date
with Josh was actually AFTER she broke up with Marshall. — Erin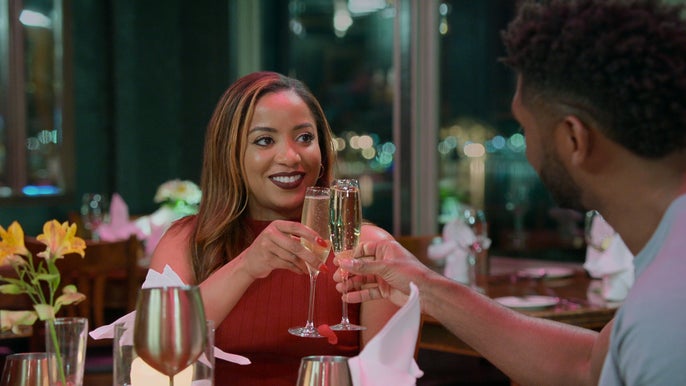 Tiffany And Brett Have Us All Wondering One Thing
Whole time I was looking at them like, "When will that be ME?!" It was SO nice to see Brett's mature response to Tiffany's wedding planning anxieties. His priority was making sure his partner felt at ease — and when he surprised her with the little candlelit dinner? Oh, I started tearing up. I love healthy Black love. Also, it was just really refreshing to see a Black male contestant on this show who did not have an all-white friend group, my goodness. — Ruth

I swoon every time I hear Brett sing his love for Tiffany. I know I sound like a broken record, but it's just so refreshing to see a Black man love on a Black woman so loudly and so respectfully. He showers her with adoration, and it's clear he's trying to make sure everything is right for her, down to the little things. More men like Brett, please! — Taryn

Every scene with Brett and Tiffany gives me a little bit of hope. I loved meeting Brett's dad and brother, and their moment together with Tiffany was really beautiful, too. — Erin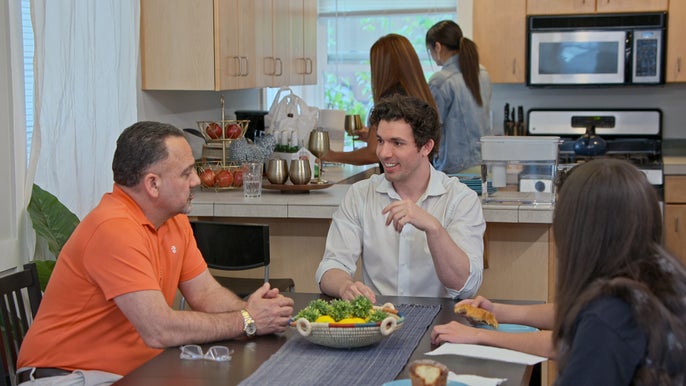 Bliss' Dad Was Not Here For The 'Love Is Blind' Experiment
Every week I kind of forget about this couple. Mostly because I don't believe they have any chemistry whatsoever. But here we are, still watching them go through the motions of this wild show. I was really concerned about Zack meeting any of Bliss' loved ones, considering he didn't choose her initially. I knew that would be baggage that any person would not want to carry. But Bliss' mom seemed to take the news pretty well and was very teary and happy for her daughter during the meet-up, and at the wedding dress fitting.
But when Zack met Bliss' dad? Whew. That tension was so thick you could cut a knife through it. Bliss' dad is a very direct person, and he was not here for the "Love Is Blind" experiment. I think Bliss could have brought home any man from the pods and her dad wouldn't have it. I laughed when he asked the producer if they'd vetted Zack and if he was really a lawyer. (My fellow "
Married at First Sight
" fans know these contestants sometimes lie about their jobs!)
Bliss made it clear that she did not care what her dad thinks about her decision to wed Zack. Meanwhile, the whole time I was on the dad's side thinking, "Bliss, baby girl, you really don't have to do this." I don't really have anything against Zack, but I also am not convinced that those two actually have a strong foundation for a relationship, let alone a marriage. — Erin
I ain't marrying nobody my dad doesn't approve of. Period. — Taryn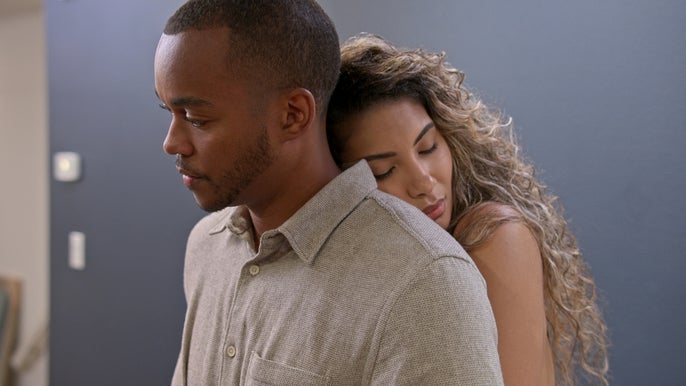 Jackie Ended Things With Marshall In The Worst Way Possible
OK, listen. I can't say I didn't see this coming to an ugly end. Jackie's style of arguing and emotionally retreating gave very much "she's a runner she's a track star" energy. Marshall begged that girl to come to a solution with him. You could see the hurt on his face and the exhaustion — or maybe it was apathy — on hers as Marshall asked her one final time, what does she need from him to make this work. Jackie, and all of her emotional ineptitude, wasn't interested in fixing anything (see: her complimenting his eyes instead of answering his question about the status of their relationship). At that point, I knew and he should've known just how foolish he looked staying. Jackie told him to "just love me," yet she never truly loved him.

But the f**king cherry on top was that Jackie was a no-show for the wedding dress fitting with the other "Love Is Blind" ladies. She told not a soul, not even Marshall, that she was so checked out of the relationship that she wouldn't even be there to pick out a dress. It's great that she finally realized that she needed to stop playing with Marshall's emotions and tap out. But the way she did it was disastrous. Meanwhile at the men's fitting, Brett told Marshall that Tiffany said Jackie was a no-show. In that moment, we all see Marshall's heart break. Jackie had run off with Josh (to live a raggedy life of sneaking and conniving, I'm sure). She only told him after the fitting that she was done. And that, ladies and gentlemen, is how cowards get down.

Marshall was not without his flaws, but he didn't deserve the emotional shitshow that Jackie put him through. Hopefully all of this reminds him to love himself first. — Taryn

When I tell you I screamed when she said "you have some pretty ass eyes," I yelled at my TV! And then he didn't hear it, so she had to repeat it and I was livid. Like, Miss Mamas, go somewhere, and that somewhere needs to be off my TV. We'll get to the Josh of it all later, but baby, I was so mad at Jackie. Especially since I was rooting for her in the very beginning. Tuh! — Erin

Not gonna lie, I was happy that Marshall asked to get the ring back. LMAO. When Jackie had the nerve to be like, "Well, take it easy … and I'll see you around," then he responded with, "Nope, no, you won't?" I YELPED. I have extremely little pity for her. Like, yeah, girl, go do that self-work you talked about. — Ruth
Popular in the Community