There's no real answer as to why someone would walk into a gay nightclub and viciously slaughter 49 innocent people. There is an answer, however, as to how to react to such visceral violence: love.
That's what Love Is Love, a new comic anthology released Dec. 28 and put together by indie comic publisher IDW in collaboration with DC Comics, sets out to remind readers.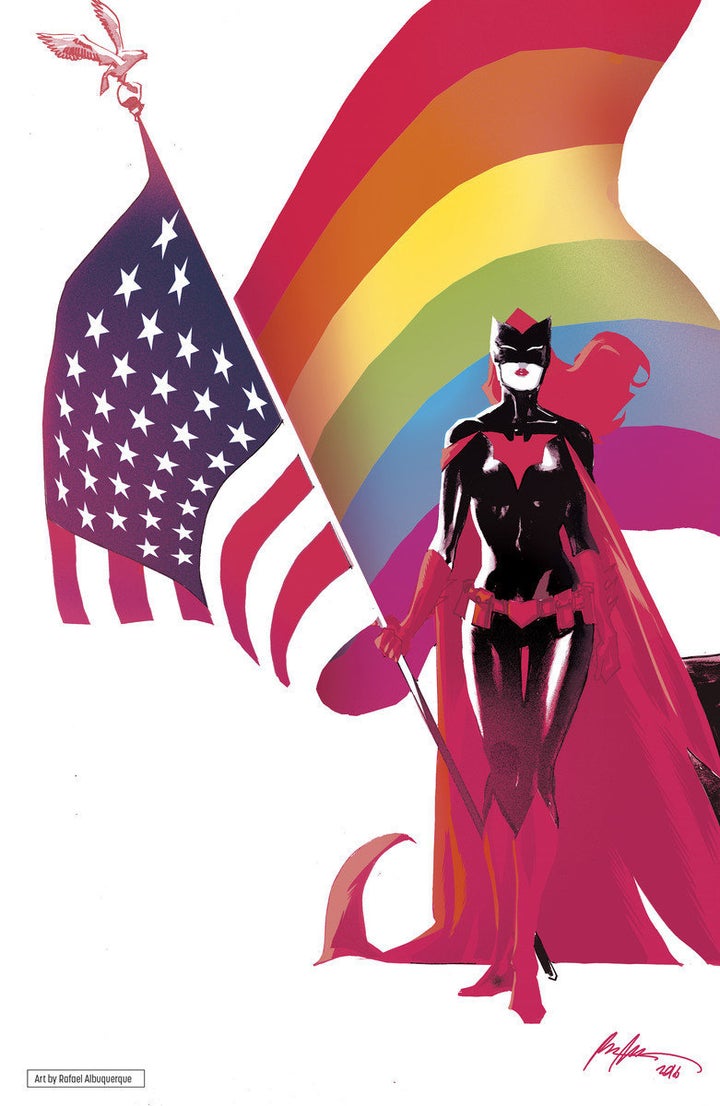 The anthology, an ambitious undertaking that includes more than 300 writers and illustrators, is both a tribute to the victims of last year's Pulse nightclub shooting in Florida ― the worst mass shooting in U.S. history ― and a therapeutic outlet for those living in its aftermath.
The 144-page comic offers vignettes ranging from personal essays and poems sharing grief, to more lighthearted strips reminding readers that being in the LGBTQ community is something worth celebrating. In one comic, writer Teddy Tenebaum makes the case that LGBTQ love is in fact different from straight love ― not because it's less than it ― but because despite hatred that the LGBTQ community faces, their love endures. It's "super-love."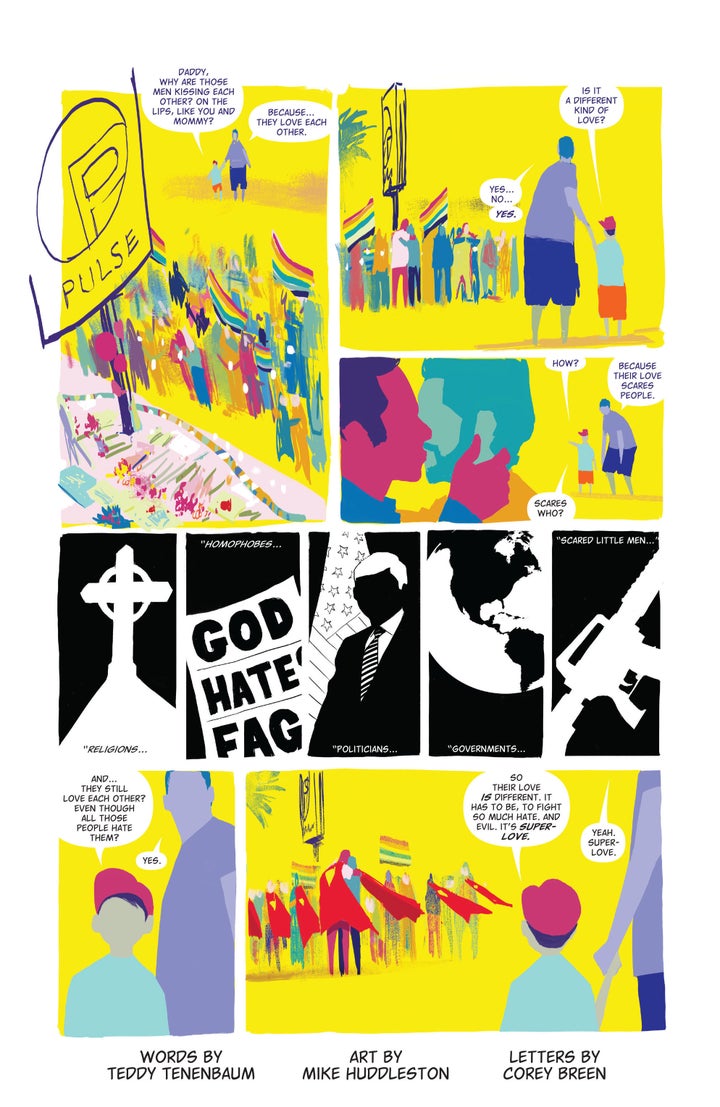 Mark Andreyko, who came up with the initial idea for Love Is Love, said his first instinct after the shooting was to make a comic.
"My body just clenched and I was ill," Andreyko told The Guardian last September. "I knew I had to do something, anything."
The author said most of the writers and artists he reached out to said yes before he could finish asking.
"It has been profoundly moving to see such a diverse, and often really busy, group take the time to be a part of this," he told the publication.
Superheroes must also find a way to cope with the tragedy in Love Is Love. In a comic written by Marc Guggenheim, Batman goes to investigate the scene of the shooting, searching for answers. He finds none.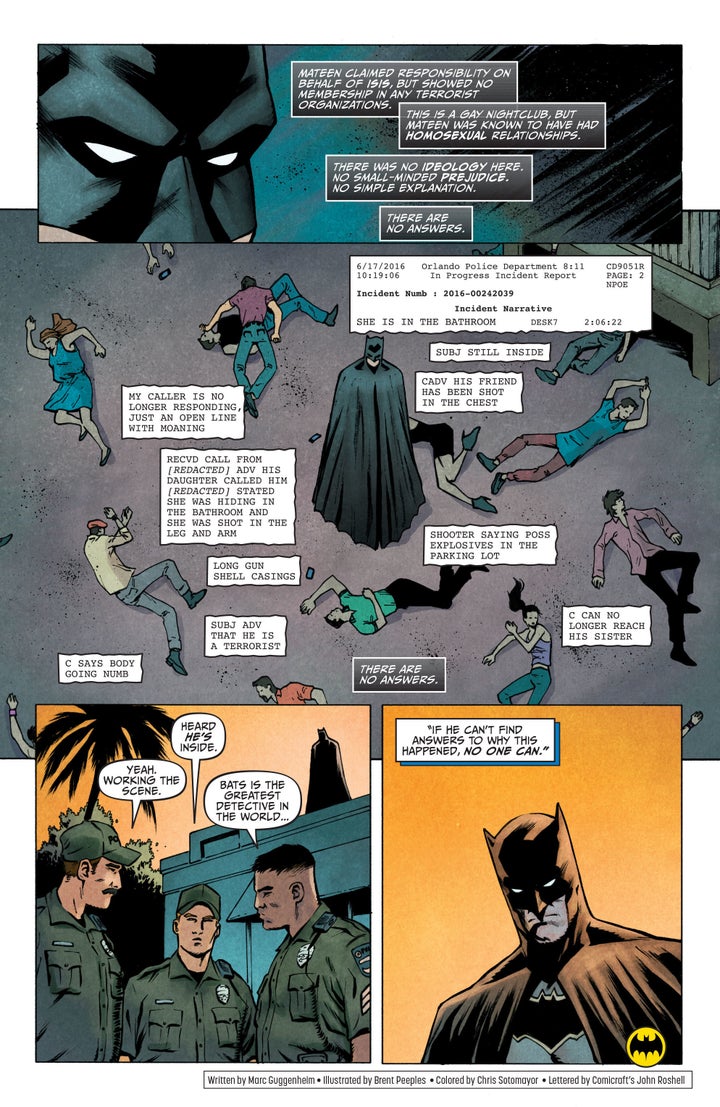 In another, written by Taran Killam, Deathstroke reacts to the news by doing away with his guns.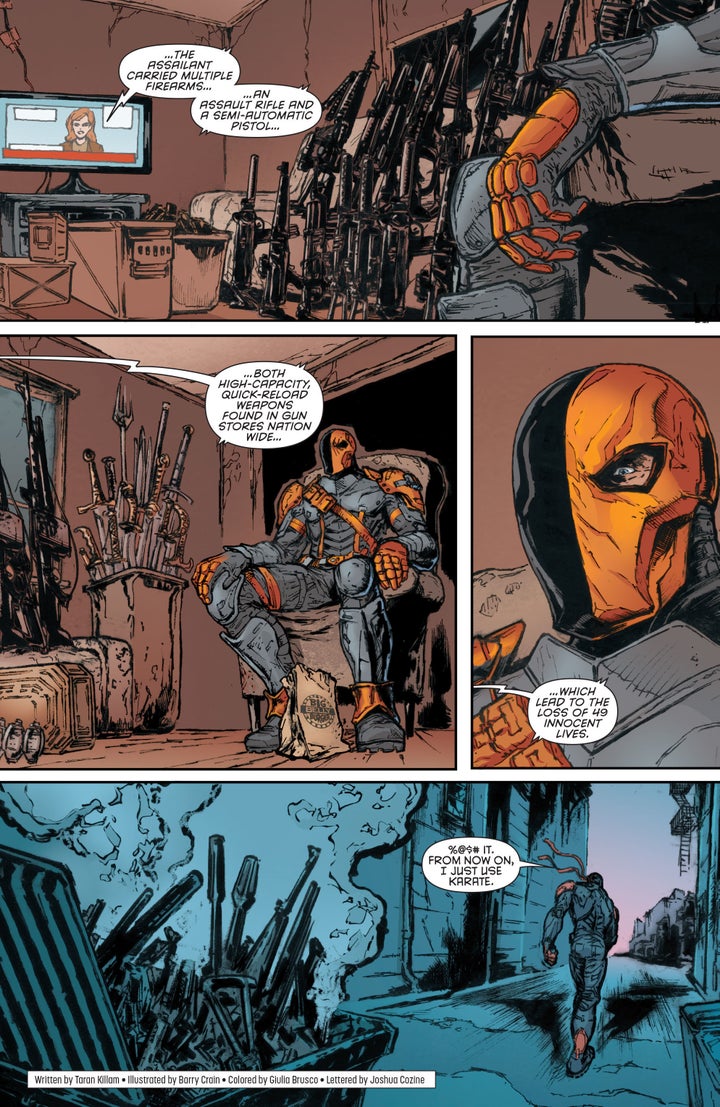 The anthology touches on subjects including gun control, acceptance of different lifestyles, and the enduring love that lets humans keep going in the face of unspeakable tragedy. The inside front cover of the anthology is perhaps the most touching page of all ― it gives the names and ages of all 49 victims who lost their lives that night.
All proceeds will go to Equality Florida, an advocacy group for Florida's LGBTQ community. You can pick up a copy at your local comic book store for $9.99.
Support HuffPost
Every Voice Matters
Popular in the Community