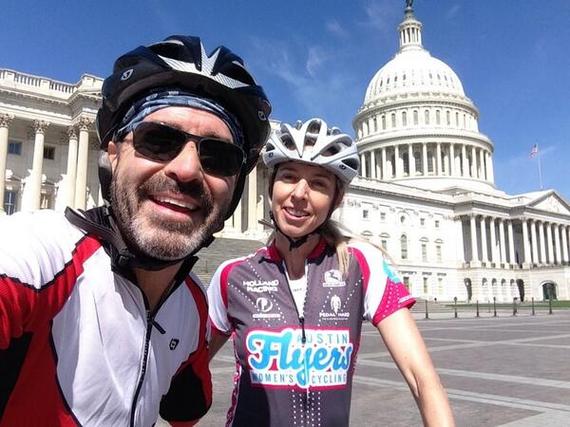 Miles O'Brien pictured above with Less Cancer's ride leader Suzi Tobias, who will be riding bikes in the Lesscancer.org ride across Michigan 300 Miles in two days.
The work of Less Cancer is not for us, but rather for those we love most: our children -- the next generation. The Lesscancer.org story is one that is devoted to a healthy future. When we were first founded as an organization we cut new trails for "less" -- less incidences of cancer as opposed to more treated cancer. According to the World Health Organization reported about half of all cancers are preventable by addressing lifestyle factors, such as smoking, alcohol consumption, diet and exercise. Today we continue to work with communities to provide strategies to improve health and the environment. This educational campaign initiated a cultural shift to healthier choices. On that premise we founded National Cancer Prevention Day, a resolution first introduced by Congressman Steve Israel.
Recently, The Huffington Post posted a picture of three small children with cancer, the blog titled "Powerful Portrait of Children Fighting Cancer Shows There's Strength in Numbers." The photo quickly went viral. While I found this photo heartbreaking, I understand the importance of support in the face of crisis. I am grateful to these families and the photographer for bringing awareness to the story of cancer in children. The picture is also a sad reminder that cancer is on the rise, with the World Health Organization reporting that the number of cases of cancer worldwide is expected to climb a whopping 57 percent over the next 20 years.
We are seeing more and more people seeking answers on prevention, including Less Cancer board members Margaret I. Cuomo, M.D., author of the book A World Without Cancer, and science journalist/television personality Miles O'Brien, pictured here with Less Cancer's ride leader Suzi Tobias. Miles and Suzi will be biking in the Lesscancer.org ride across Michigan -- 300 miles in two days. Both have been touched by the losses cancer brings.
In May we can expect to see the new movie Fed Up, produced and narrated by Katie Couric, which documents the global epidemic of childhood obesity. Couric commented in the Hollywood Reporter:
Knowledge is power and we hope that [by] creating a greater awareness about the food we eat we will inspire the public to change their habits and help our children lead the lives they deserve ... I hope [this movie] will help people in this country and all around the world lead longer, healthier lives.
I am interested in Couric's movie primarily because obesity is a well-documented cancer risk. The National Cancer Institute tells us that obesity is associated with increased risks of cancers of the esophagus, breast (postmenopausal), endometrium (the lining of the uterus), colon and rectum, kidney, pancreas, thyroid, gallbladder, and possibly other cancer types.
Prevention is on the minds and in the hearts of many. As we work to raise awareness and educate individuals and communities, more and more people are beginning to understand that when we work to prevent cancer we in turn address many illnesses, including obesity, heart disease, diabetes, and more.
Knowledge is power -- it is the power in all our choices, from the food we choose to put on our tables to who we vote for in our local and national elections. Less Cancer must be everyone's priority, and I am grateful to the many people who have joined the fight.
REAL LIFE. REAL NEWS. REAL VOICES.
Help us tell more of the stories that matter from voices that too often remain unheard.