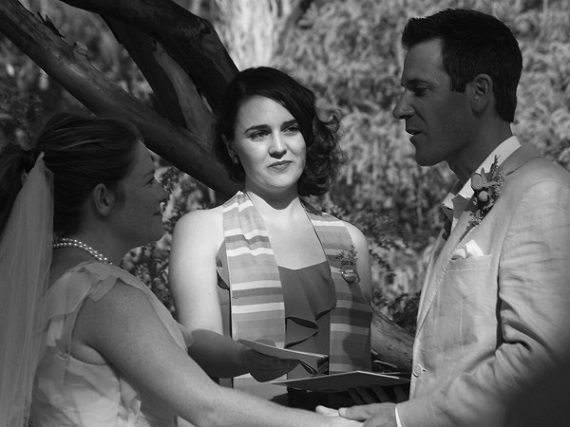 A wedding ceremony with a twist in the Australian bush
Student Interfaith Minister Amy Firth reflects on delivering her first wedding ceremony and the loopholes of hope that made it possible...
My dear friend Sasha and I are settling into our new East London apartment. London's winter is a fierce one, freezing the canals and coating our outdoor BBQ with three inches of snow, quite a novelty for two Aussie gals still adjusting to the UK's winter temperament.
It was an otherwise normal day when Sasha arrived home wide eyed and flushed, in a dazed daydream, gently pin-balling off our lounge room furniture unsure what to do with herself.
'What's up with you?' I asked.
She gingerly sits herself down, her face breaking into an electric crackle of a smile.
She slowly raises her eyes to mine and says: 'I've just met the man I'm going to marry."
I paint this picture because: this is how effortless love can be.
Not for all of us, not all of the time, but in some cases - love can surge forward in an instant of cosmic collision and bind hearts together for life.
This was the case for my friend Sasha and her beloved Brian.
Their effortless love was quick to evolve and soon enough our home was filled with the glorious harmony of their laughter. Everything rained at the right time for them as if their union was supported by the entire cosmos, nourished, nurtured and fed by the love they had found and unlocked in each other.
You could imagine my delight a couple of years later when they returned from a summer holiday engaged... and pregnant! In a heart-wrenching act of trust, they made the decision to leave London and move to Australia to start their family on Sasha's family homestead in the beautiful bush wilderness of rural New South Wales.
It was now early 2014 and around this time my curiosity in the One Spirit Interfaith Seminary training was deepening into passion. Founded in New York in '81 with a sister school opening in London in '96, the One Spirit Interfaith Foundation trains independent 'freelance' ministers who serve people of all faiths and none, working in their diverse communities as celebrants and spiritual counsellors. A number of serendipitous collisions left me without a doubt that this path was right for me.
Once enrolled I started sharing the news with my loved ones and from across the world an excited Sasha & Brian were quick to ask me to conduct their wedding ceremony which was planned for the following March. I flapped into an uncomfortable flurry of excuses explaining that I wouldn't be ordained by then, I wouldn't have even completed my first year of training! Let alone the complexities of Australian law and the certification required to be a legal marriage celebrant. Sasha's classic bull-at-a-gate mentality quickly put me in my place:
"There is no one else on this planet more certified than you to marry us!
In a nervous panic I started looking into how I could complete my Australian celebrancy certificate from London in order to legally solemnise their marriage. After the faffing of fees and online enrolment I arrived at the crux of the course - the Australian Marriage Act of 1961. In this outdated monster of a document I came face to face with the words that Australia is currently campaigning so hard to change:
"Marriage, according to law in Australia, is the union of a man and a woman to the exclusion of all others, voluntarily entered into for life."
This very sentence, word for word, must be said out loud by the celebrant in order for the marriage to be legal. Everything inside me recoiled. Whilst the rest of the modern world has evolved its laws to embrace love in all its forms, my homeland is achingly backwards. And as a woman who is in a committed relationship with another woman, I realised that I would be marrying my friends unto a law that does not apply to me. This inner conflict was a slow burner but gradually prompted me into a conversation with Sasha & Brian where they shared my concerns (and frustration).
Undeterred they persevered and masters of the loophole that they are, they phoned a few months later with the plan. They had found a local celebrant who would deal with the mandatory sections of the service but otherwise let me do the entire ceremony. Before I know it, it's early March and I arrive in the gorgeous gold-mining town of Sofala two days before the wedding to meet with this legend of a celebrant.
His name was Glen and he was all heart. We greet each other like old friends even though we'd only ever conversed on email. He empowers us to craft a ceremony that is right for Sasha & Brian. It was agreed he would bear silent witness to the proceedings and state the legally binding sections in a private moment with us and the bridal party.
I sit with him to express my gratitude - he simply shakes his head and smiles.
"This is how it should be done!" he says in a matter of fact, darling Aussie drawl.
"Surely once upon a time this is what all weddings used to be like - family and friends gathering together in nature, to witness and support a couple who are celebrating their love. It should be that simple."
My heart smiles. Yes, yes it should be that simple.
Choosing love over bureaucracy.
Finding loopholes of hope that catapult you over the hurdles of doubt.
Trusting the Divine will align you with allies - those who are committed to fighting the same good fight and letting love run free.
Forging a future where life's big ceremonies are able to be effortlessly sacred and inclusive.
And, enabling us to truly be of service to the ones we love.
I felt wonderfully earthed, held and full of gratitude as I got Sasha & Brian's wedding ceremony underway:
"Today is a celebration of love.
Despite any differences, love is what we all share - it's the great unifier, our one universal truth - that no matter who we are, where we've come from, what we believe, we know this one thing: love works."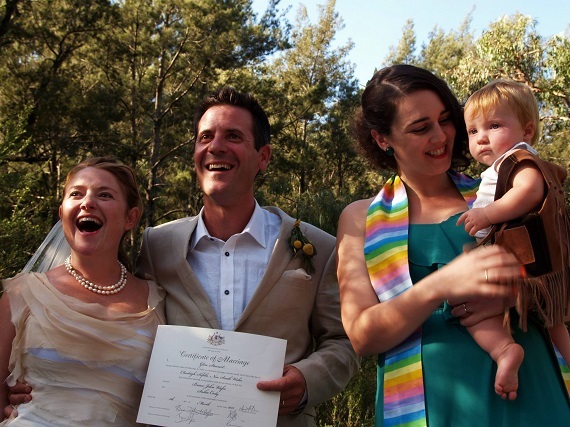 The happy couple - and the happy celebrant - with their son (and my Godson).
Photography by Ben Morris
REAL LIFE. REAL NEWS. REAL VOICES.
Help us tell more of the stories that matter from voices that too often remain unheard.