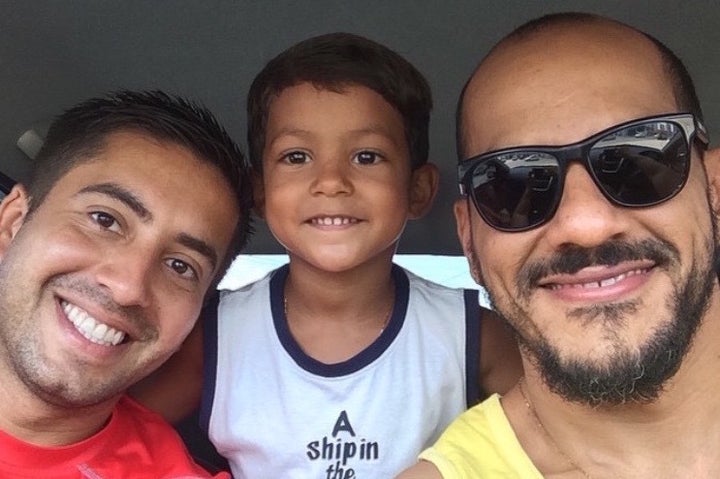 Ewerton Brito, 43, and Jonathan Dantas, 32, are dads to 5-year-old Matheus in Natal, Brazil. In this interview, Ewerton, a professor at the Universidad Federal do Rio Grande do Norte, shares their story of becoming a family – and what gay family life is like in Brazil – with Gays With Kids. (A note: The interview is translated from its original Portuguese version by the author.)
Gays With Kids: We love a good love story. How did you two meet?
Ewerton: Jonathan and I met about four years ago through Instagram. After the first photo comment, we started talking through WhatsApp, and after three months we met in person. Soon after, we began dating.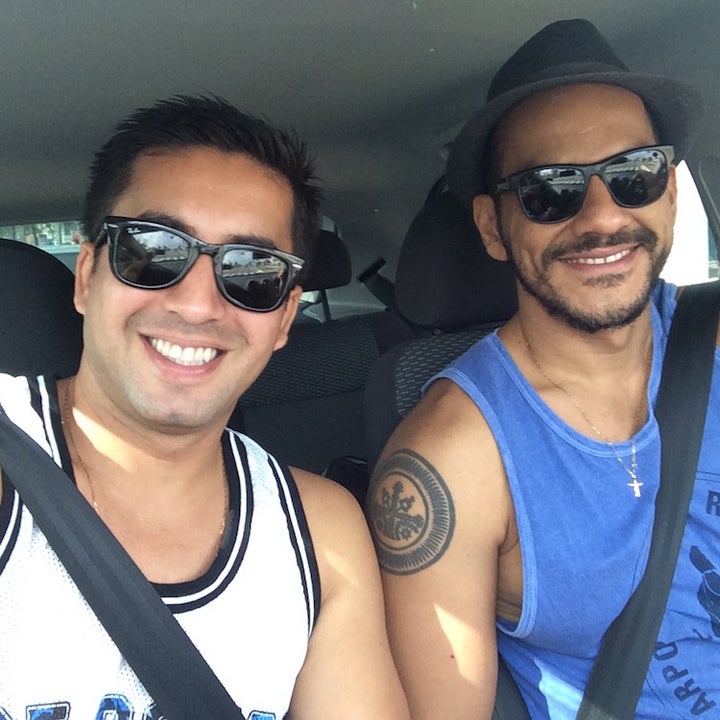 Gays With Kids: How did the two of you decide to adopt a kid together?
Ewerton: The first time we met, we talked a lot – and we talked about wanting to be fathers. At the time, I said that despite wanting kids, I felt it would be tough to make that dream happen because I did not think I could do it alone.
Six months later, we were living together and talked again about the possibility of adoption. We talked a lot, let the idea germinate and a few months later, we went to the Children's and Youth Court for information on adoption. We were very well received by the local adoption agency.
Eighteen months later, we met Matheus, who, at that time, was 4 years old. It was love at first sight! We were delighted with Matheus. In less than 15 days, Matheus was living with us on a temporary custody release. I always wanted to be a parent and adoption made the most sense to achieve our goal.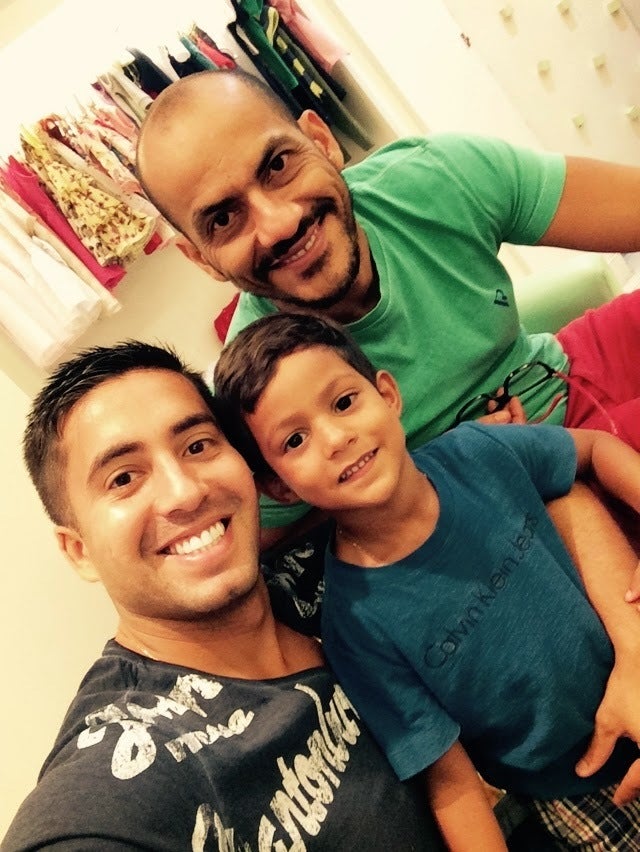 Gays With Kids: What's life as a gay dad like in Brazil?
Ewerton: Matheus was very well accepted by our families. Everyone loves him! We had no difficulty with his acceptance in the building where we live, at school or with our friends.
On the contrary, everyone shows great affection and admiration for the fact that we adopted. He goes to a school that is quite open to new family structures, and he is well adjusted for a boy his age.
For his part, Matheus is thrilled to have two dads. When we go to the mall, the beach or other public place he'll grab people's attention by calling out "Papai" and "Painho" [the variations of "daddy" he calls each of us]!
Gays With Kids: What struggles have you overcome as parents?
Ewerton: Despite that gay adoption became legal in Brazil a few years ago, we faced some obstacles after the adoption, like difficulty getting some documents, such as civil registration, social security, etc. In general, we are very well received and accepted everywhere, though often, we encounter curious glances and comments from people who wonder about the situation.
When Matheus arrived, I realized the need to make my sexual orientation public. Not that I'd lived hidden "in the closet," but I had not made my personal life public at work. This was a great gift that he gave me – I am much happier now.
I knew Matheus would be asked frequently about having two fathers. So when we gained full custody of him, I wrote a Facebook post announcing the adoption. The result was wonderful: many messages of support and solidarity!
I am more active in the GLBT cause now. I am delighted to promote our cause and encourage others to do the same.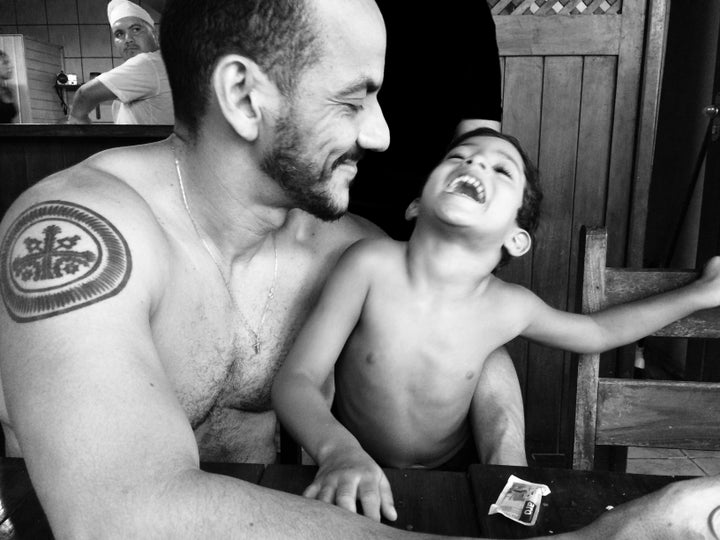 Gays With Kids: What is your daily family life like?
Ewerton: Our day-to-day is like that of any family with children. Matheus wakes up at 6 a.m., and along with Jonathan, gets ready to go to school. (He goes to the same school where Jonathan works.) I wake up a little later, at 7 a.m., go to the gym and then go to work.
At noon, I pick him up from school. Usually, I take him to Grandma's house to spend the afternoon while we are at work working. Once a week, in the afternoon, he goes to the psychologist. In the evening, we usually have dinner together. Matheus goes to sleep early, at 8 p.m., but not before brushing his teeth and praying with us.
On weekends, we go to the beach or the pool at our condo building, go shopping or go to the movies. Sometimes we just stay home (and he loves staying home with us playing superheroes!)
Gays With Kids: Are you part of a community with other gay dads?
Ewerton: We do not participate in any organized group or community but have an interest in getting to know other people who live in situations similar to ours. Gays With Kids and other Instagram profiles connect us, virtually, with other families, especially gay couples with children.
Gays With Kids: What advice would you give to gay men considering becoming dads?
Ewerton: I recommend that everyone wanting children learn about the adoption process [and] realize their dreams. Matheus changed our lives for the better. Before we were a couple; now we are a family!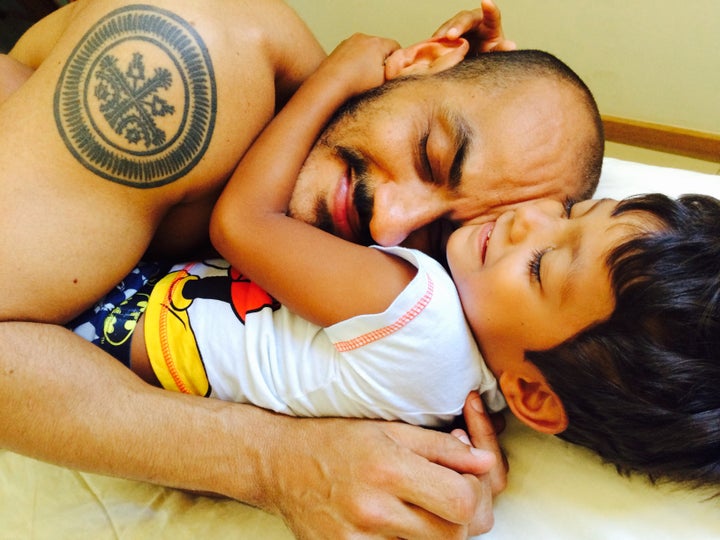 Calling all HuffPost superfans!
Sign up for membership to become a founding member and help shape HuffPost's next chapter