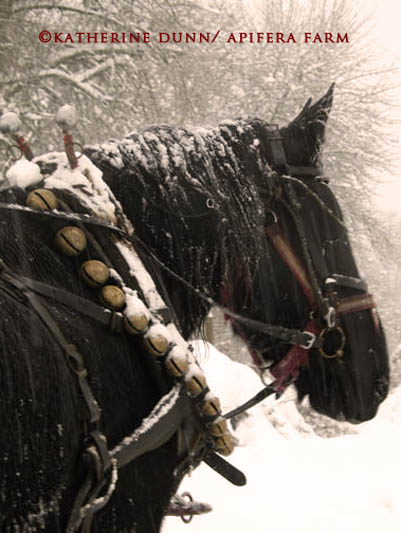 It has been many years since I've written, but I was reminded of you this week when I saw photographs of the heavy snow fall in my old homeland of Minnesota. As an Oregonian, I rarely experience snow anymore, but I'll admit, when it does come, I think of writing you -- but I always get busy.
Seeing the drifts of white fuzz in a photograph can carry me back 50-some years -- in an instant -- to Christmases where I would wake to fresh snow blanketing the world outside. It was so quiet but snow has a sound of its own, even when at rest. I'm sure you know exactly what I mean. I suppose it is the little flakes melting into their next life as puddles.
I wrote you often back then, always with hope and anticipation. I remember the year you and I actually met, or at least I saw your back as you left the darkened area where our Christmas tree stood. My parents and my older brother didn't believe I'd seen you, but to this day, I knew it was you. The next day I had perfect proof you had been there. The huge imprints left in the thick rug in our house didn't fit anyone's boots or shoes. Our feet were all meek compared to yours.
Each year you always came through with many items on my Christmas list, except the one I wanted more than anything -- a horse.
Every year I asked for a horse, and you never brought me one. Oh, you did bring me horses made of china, horse dolls, horse books, horse boots and riding lessons, and horse sketch books. Thank you for those.
But I began to feel your magic had waned, that perhaps you were overworked or even bored with your position as chief gift giver. Or worse yet, that you didn't hear me. My friend said you were a fake, but I told her you were not a fake, and I would prove it to her when you brought me a horse that year. Fortunately, she moved away before Christmas, and I did not have to face her at the neighborhood parade on two feet, versus in my saddle.
It was then I quit writing you.
Not long ago, we had a heavy snow -- the kind that shuts things down in rural Oregon. Martyn and I (yes, I did finally marry even though I wrote you once I never would) took a walk down our long road admiring the beauty of it all. We heard not a truck, human, or even a farm animal, only the faint ticking of the large flakes hitting our coats. But off in the distance, we heard bells, like jingle bells. As we lifted our legs in giant high steps, we came to the main road and the bell sounds grew closer. The snow was falling heavily and there was a mist, making it hard to see. But out of the cloudy distance came a sleigh, pulled by two horses. It was a nearby farmer delivering hay to his cows the only way he could in the heavy snow -- by a Percheron-pulled sleigh.
We stopped and chatted and they went on their way, the bells becoming more distant as they slid down the road. We made our way back to the house, and smoke was coming out the chimney and the barns were all buried in snow cocoons. I heard my horse whinny from his paddock, his red coat stuck out from the white background and his mane was flecked in flakes. I saw the heat rising from his body into the cool air, but I knew without a doubt that mist was really you, Father Christmas.
"My child, I did get you that horse, it just took awhile."
You sounded just as I remember so long ago.
And I had to write you, Father Christmas, and say "thank you" for the horse.
Related